A year of bridal bouquets: June
Does June count as late spring or early summer in the growing calendar?  Whichever you call it, it marks the time when seasonal abundance really starts for the flower grower and the home gardener. Julie Bircher, of The Cutting Garden, Gloucestershire talks us through a bouquet made up of June's bounty.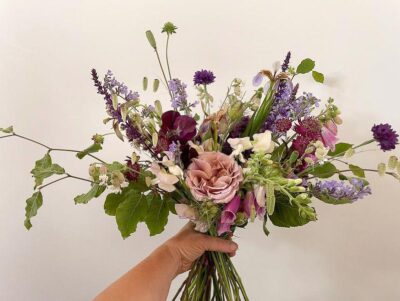 As June is one of the most popular wedding months,  I'd like to share an asymmetrical front-facing bridal bouquet put together from a mix of perennial and annual flowers, most of which you may typically find in your own garden. I would usually make this size of bouquet for a more petite bride, but could be scaled up for someone taller. It would also work as an arrangement in a shallow bowl for venue decoration.
The reverse of the bouquet is flat – comprising mainly of beech foliage so there's no chance of a bride holding it the wrong way round – one less thing for her to think about on the big day!
In this garden-gathered June wedding bouquet, sweetpeas, rose and nepeta provide wonderful scent, and that for me is one of the absolute joys of putting together British flowers at this time of year. To be able to put your nose into a bouquet and inhale the sweet fragrances is one of life's simple pleasures. A scent, caught on a breeze years later will always take you back to the day you got married.
June is the first month where the word abundant can readily be used to describe the variety and numbers of flowers, herbs and foliages to be found in the cutting garden, and you may wonder why I haven't included more roses, or luxurious looking peonies?  Whilst I do really love these glorious blooms, my heart will always be drawn to the daintier stems, smaller details and less blousy flowers –  I love really looking into a bouquet and noticing every delicate ingredient and tiny detail. I hope you enjoy it too!