An intimate wedding
Hati Colvin of The Dahlia Wood remembers her first wedding of the season, and the special feeling of flowering an event for only the closest friends and family.
It was an early spring wedding, the first of the season on April 8th with just 20 guests. Immediately I knew that each person would play a significant part in the bride and groom's life; being invited as the florist to such a handpicked event felt a real honour.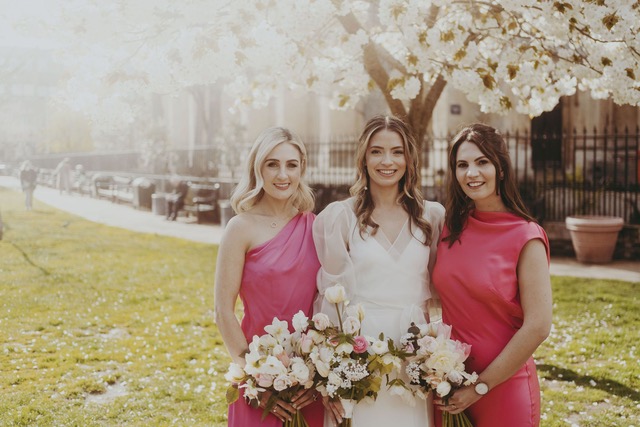 Building a connection with the bride is always of utmost importance but at an intimate event it feels even more critical. This bride had chosen only her most treasured people to attend her day; and likewise, every one of the flowers would really matter. Understanding her vision and presenting the options to create it is the job of the florist. Much like the guests, every colour, design and flower would be handpicked.
The bride and her mother came to the farm for our final consultation. They put their complete trust in me to fill their day with flowers. The bride herself was Welsh, but as she was getting married in London it was my job to bring a little bit of home to her day. Everything was therefore grown in West Wales – mostly from The Dahlia Wood but with additional stems from nearby growers.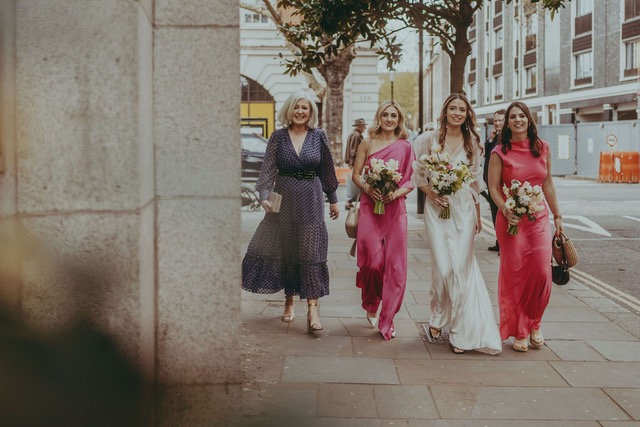 The brief, much like the guest list, was minimalist but contemporary and chic. Bouquets and buttonholes for the bridal party, vases for the tables, bud vases for around the room.
The colour palette was a white base, flowing through to pastels and finishing with bold punctuations of colour. The palest pink double tulips and white ranunculus ran through every aspect – bridal bouquet, bridesmaids bouquets and table displays. White and peachy narcissi featured throughout the bridesmaids bouquets and the tables. The table vases had a vibrant cerise pink ranunculus to shine as the celebrations commenced. Woody cuts like viburnum and pear blossom in the vases softened the pristine blooms, giving a different shape and texture to the arrangements.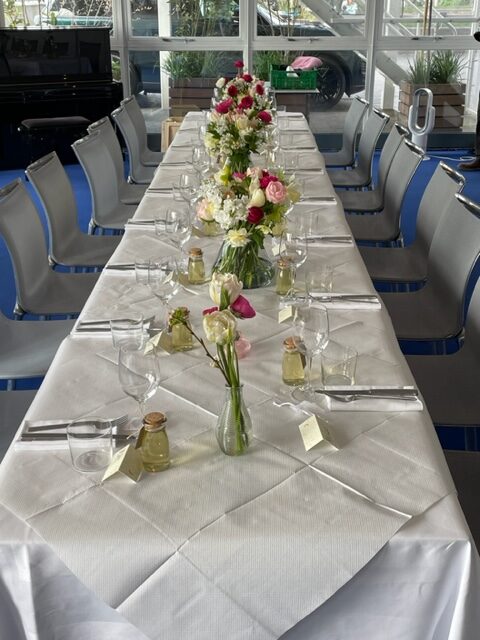 This event served as a good reminder to me that a wedding is about connection: the florist and their flowers, the bride and the florist, the bride and their motherland, their roots. Not forgetting, of course, the bride and the groom!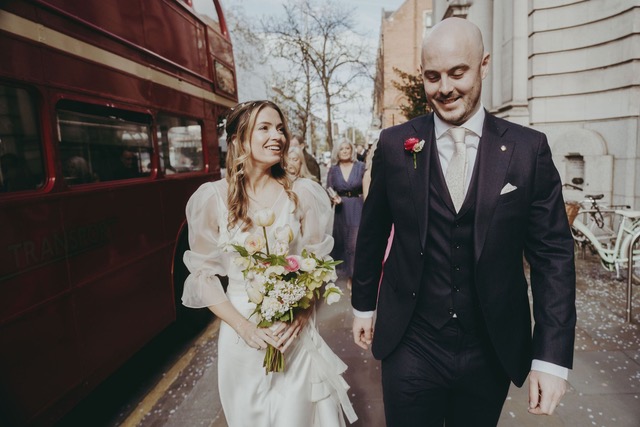 For more examples of seasonal British wedding florals, visit our Wedding Inspiration page.