Designs and designers of the Strawberry Hill House Flower Festival, Part 1
The doors have now closed for another year on the Strawberry Hill House Flower Festival and its unique showcase of seasonal British cut flowers, creative floral design and sustainable floristry. Conceived and curated by Leigh Chappell and Janne Ford since 2019, the Festival was for the first time this year produced in association with Flowers from the Farm. The contributions by nearly 30 floral designers and farmer-florists proved beyond all doubt that beauty need not be sacrificed for sustainability. Meet the artists here, in their own words, and see their exquisite work photographed by Janne Ford and Anne Schwarz.
Alice McCabe Flowers – Alice McCabe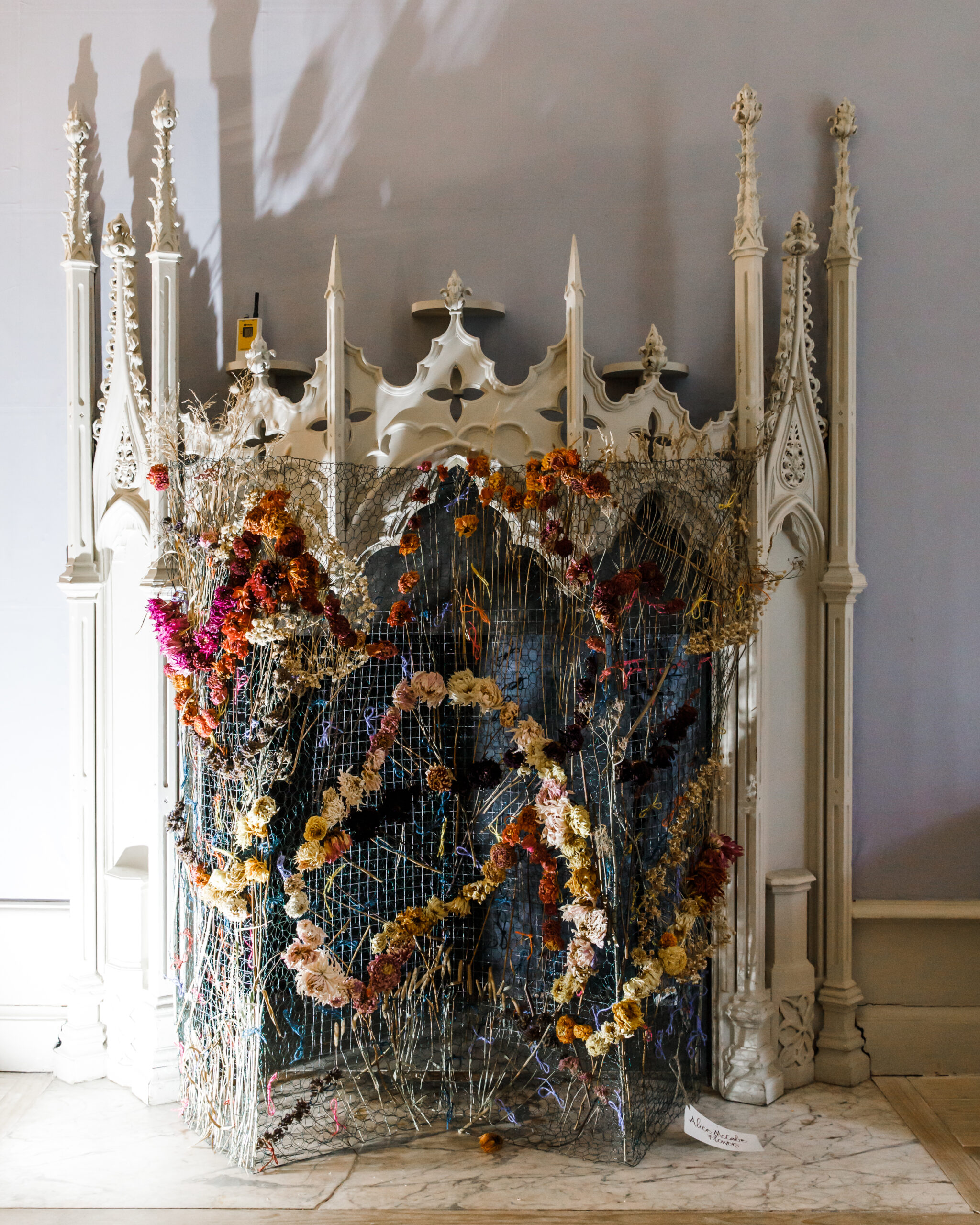 I am a practising artist working at the intersection of art and flowers, and also director at Metafleur. Metafleur is a floral design studio based in south-east London, specialising in creation of large scale floral installations and the loan of floral art for events, films and exhibitions. Integral to my practice as a floral artist is to create both sustainable and conceptual designs, drawing attention via flowers and their meanings to contexts beyond their beauty.
Scorched Floral Firescreen was created as a response to this summer's extreme heat. Although clearly not a functional design, the materials it used were well and truly tested.
It was made with dried grasses and flowers from Char Johnston Floral Design and dried dahlias from Justdahlias.
Annadbell__branchout – Anna Bell, assisted by Megan Mundy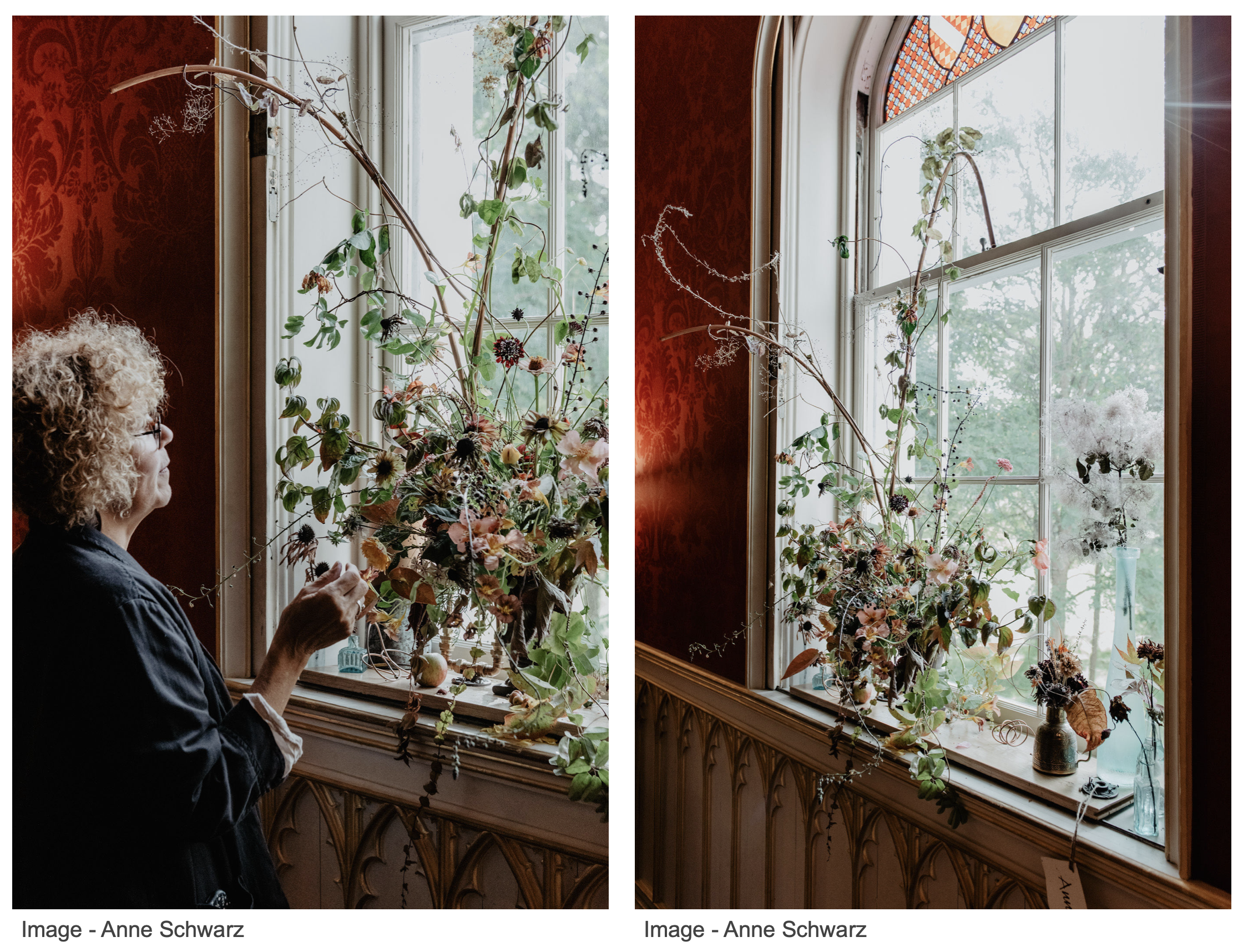 As a flower grower and designer, I use flowers and foliage from my Yorkshire garden for bouquets, events, small weddings and workshops. Our workshops offer a holistic, mindful experience, incorporating a stroll through the gardens and the opportunity to cut and create a floral design, along with a little yoga practice and the chance to transfer the floral inspiration to watercolour painting and sketching.
I feel extremely privileged to be able to create work from seed to vase. This design, using branches and vines, created an arc encasing bowls of seasonal florals, whose rich autumnal hues are mixed with softer tones, ageing foliage, and trailing stems. Through the arc the eye was drawn to two tall copper pedestals at differing heights, the first holding a small bowl of beautifully ageing florals and the second showcasing dried seedheads with scattered seeds.
Additional flowers were supplied by Wildwood Corner
Botanical Tales –  Bex Partridge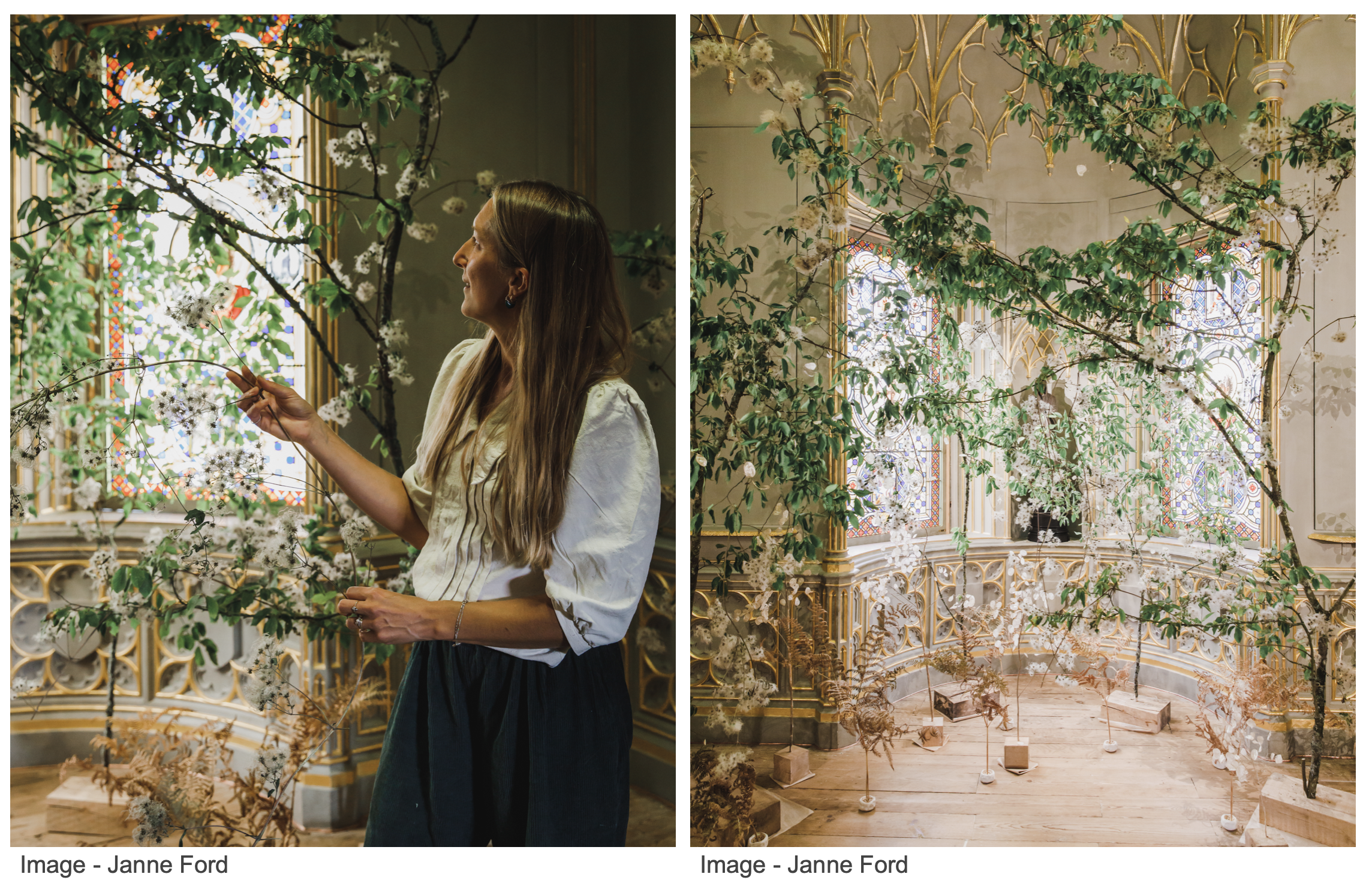 I ​​work as a floral artist creating long lasting installations and art for people's homes and spaces. My focus and speciality is within dried flowers, of which I grow all my own on my Devon flower farm. I have written two books – 'Everlastings' and 'Flowers Forever' – and I run workshops, both online and in person, and flower weddings and events too.
The Tribune room is a thing of beauty in itself, and with this design I wanted to complement and reflect the soft golds and muted tones that adorn the walls and ceilings. Working with the very best that nature has to offer us at this time of year, this design was borne from the wild. Naturally glistening honesty seed pods and fluffy clematis vines came together amongst tall bowing branches to create an ethereal display to capture the imagination. I wanted to encourage and inspire others to see the beauty in the other side of nature, the one less celebrated; in the faded branches and soft billowing seedheads that fill our hedgerows and forgotten spaces at this time of year.
Christophe Berreterot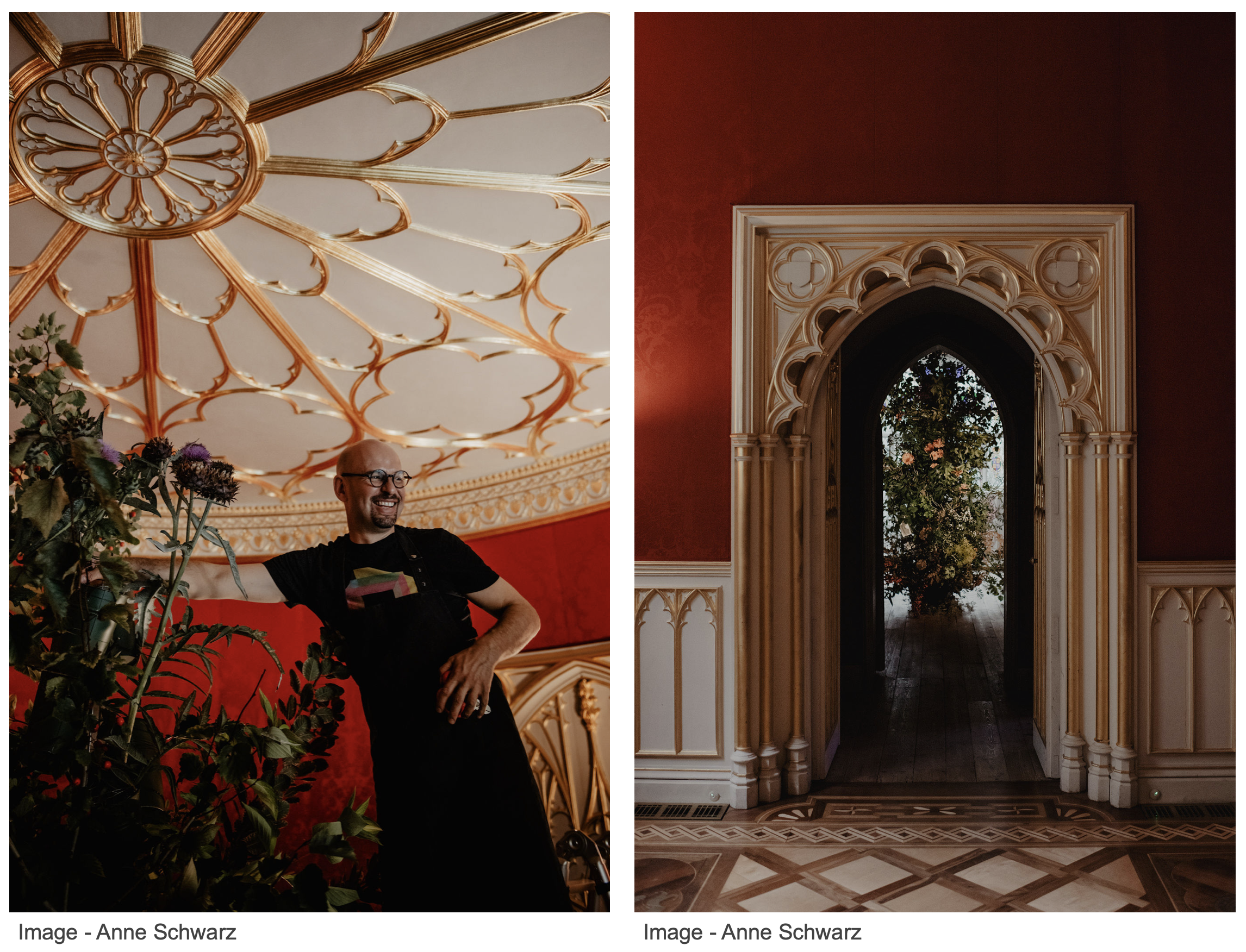 I have been a florist for 25 years. I'd been teaching floristry in London until recently, when I returned to working as a self-employed florist. I wanted to be part of this great showcase for British flowers and sustainable floristry after visiting the festival last year. This is my first solo project since leaving my full-time job.
Dorset Sent showcased the beauty of the nature that surrounds us. For me, walking in nature is the manifestation of pure magic. I wanted to capture that magic through a diversity of species, textures, shapes and colours on a column, inviting the viewer to walk around it and be surprised by what's coming next.
Flowers and foliage were sourced from Spindle Flowers and Black Shed Flowers
Compton Garden Flowers – Sarah Wilson – & Clementine Moon Floral Design – Clare Wilder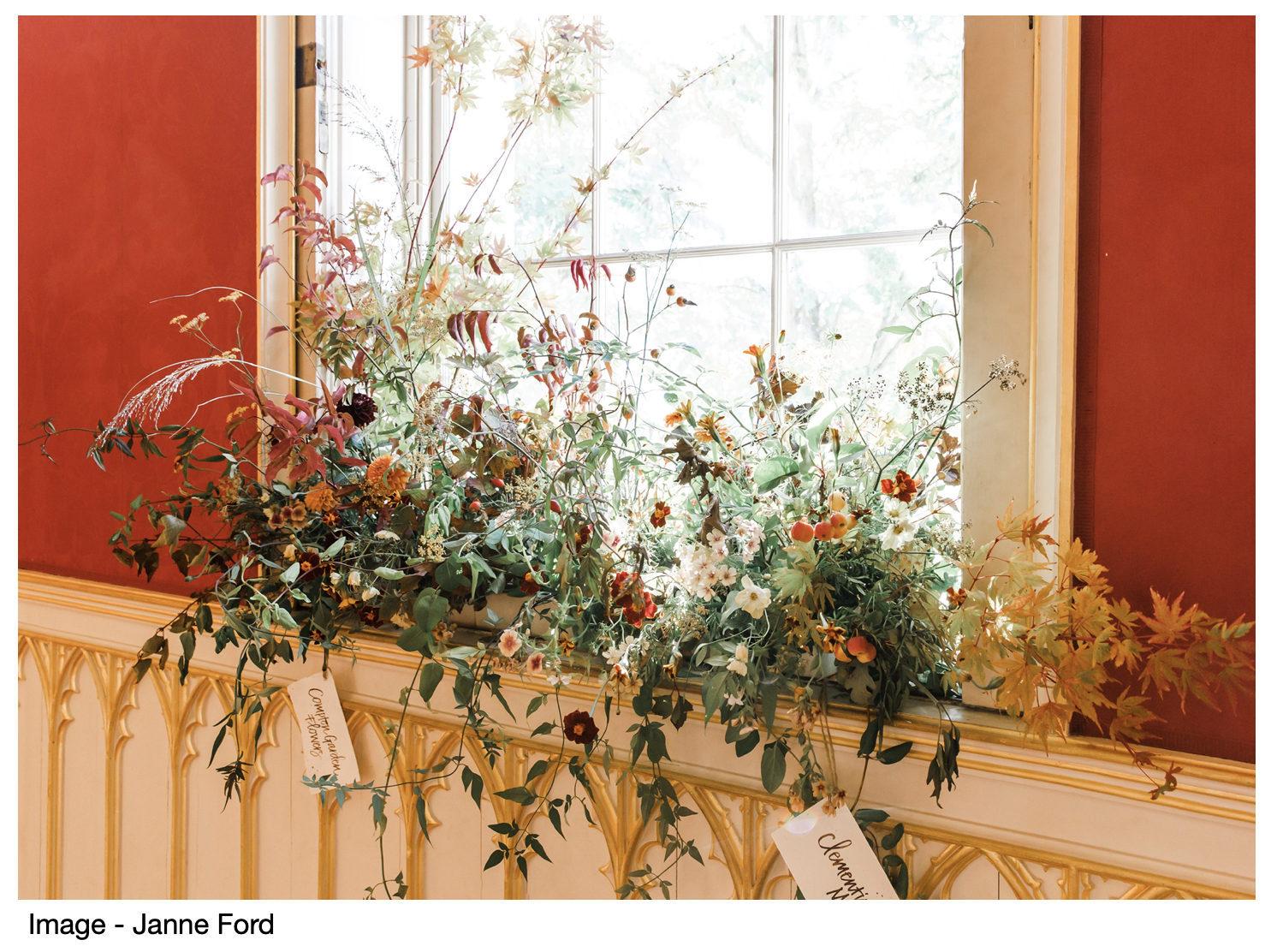 Sarah: I combine floristry with growing flowers. British flowers have always been central to the bespoke floral designs I create for my own wedding customers, and now I am thrilled to be able to supply beautiful seasonal flowers to some fabulous local florists.
Clare: I have always been passionate about using British flowers wherever possible in my work, which is wedding and event floristry. I design effortlessly elegant wedding flowers, mainly in the South West of the UK, and I believe that incorporating British flowers in my work gives it that extra special touch.
Window into Autumn was inspired by the rich and vibrant colours of the red and gold Gallery. The soft reflective light from the windows reminds us of dappled shade on an autumn day, as the sun is low in the sky, throwing shadows, and the wind whispers through the garden enhancing the gentle movement of each individual flower. Our chosen colour palette was hues of red, orange, yellow, and gold using flowers, foliage, grasses, seedheads and vines of varying heights.
Electric Daisy Flower Farm –  Fiona Haser Biony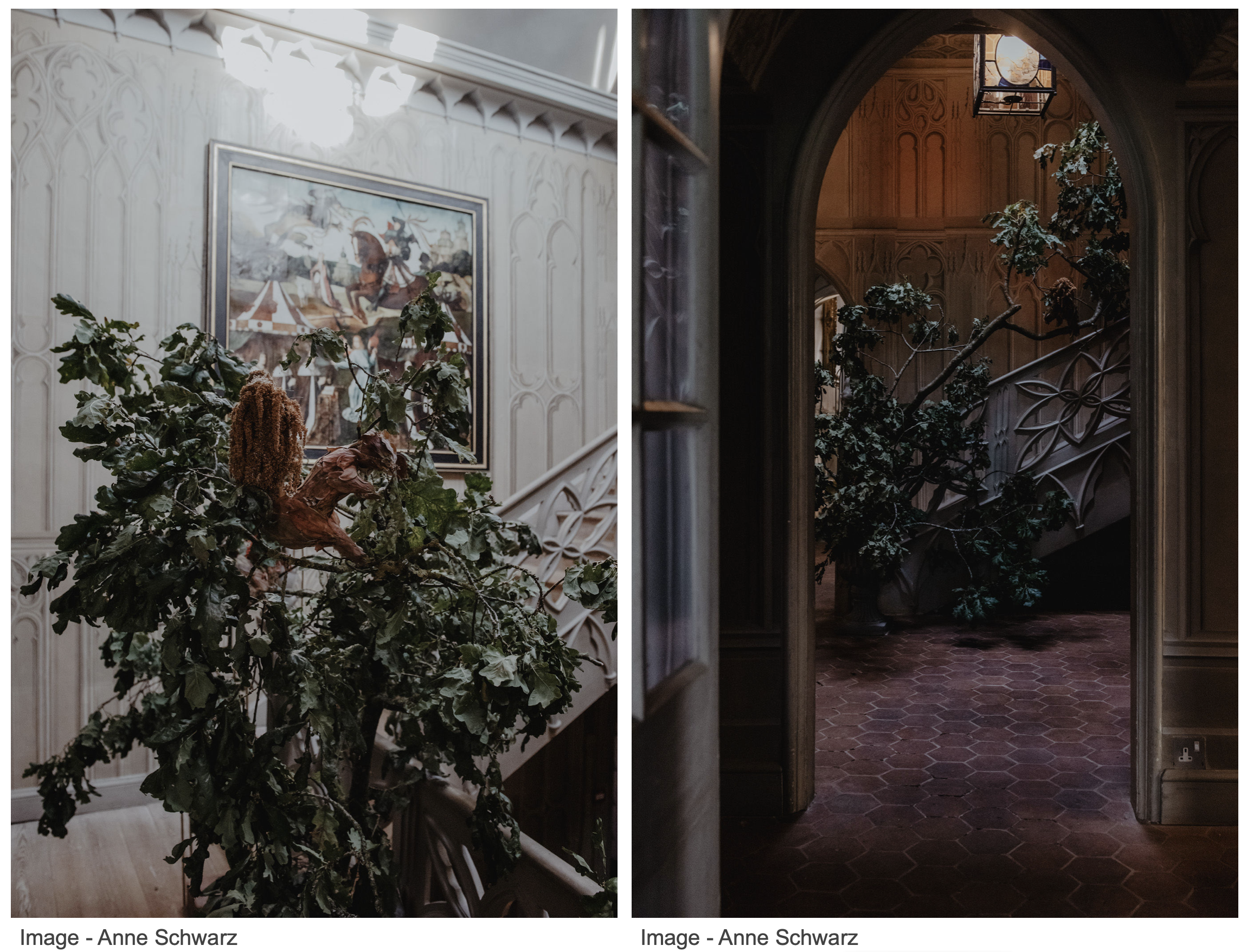 We are an organic flower farm in Somerset, supplying our flagship florist shop in Highgate, London. We do ambitious installations for corporate clients, as well as events, weddings and funerals, always and only using our own organic flowers.
Stairway to Heaven was inspired by stories of Horace Walpole feeding his tame squirrel at the table. It was an installation that celebrated the flighty, jumpy nature of these wild creatures on an upward spiralling trajectory into the tree canopy, using our own foliages picked fresh from the farm.
Frances & Rose – Marianna Slater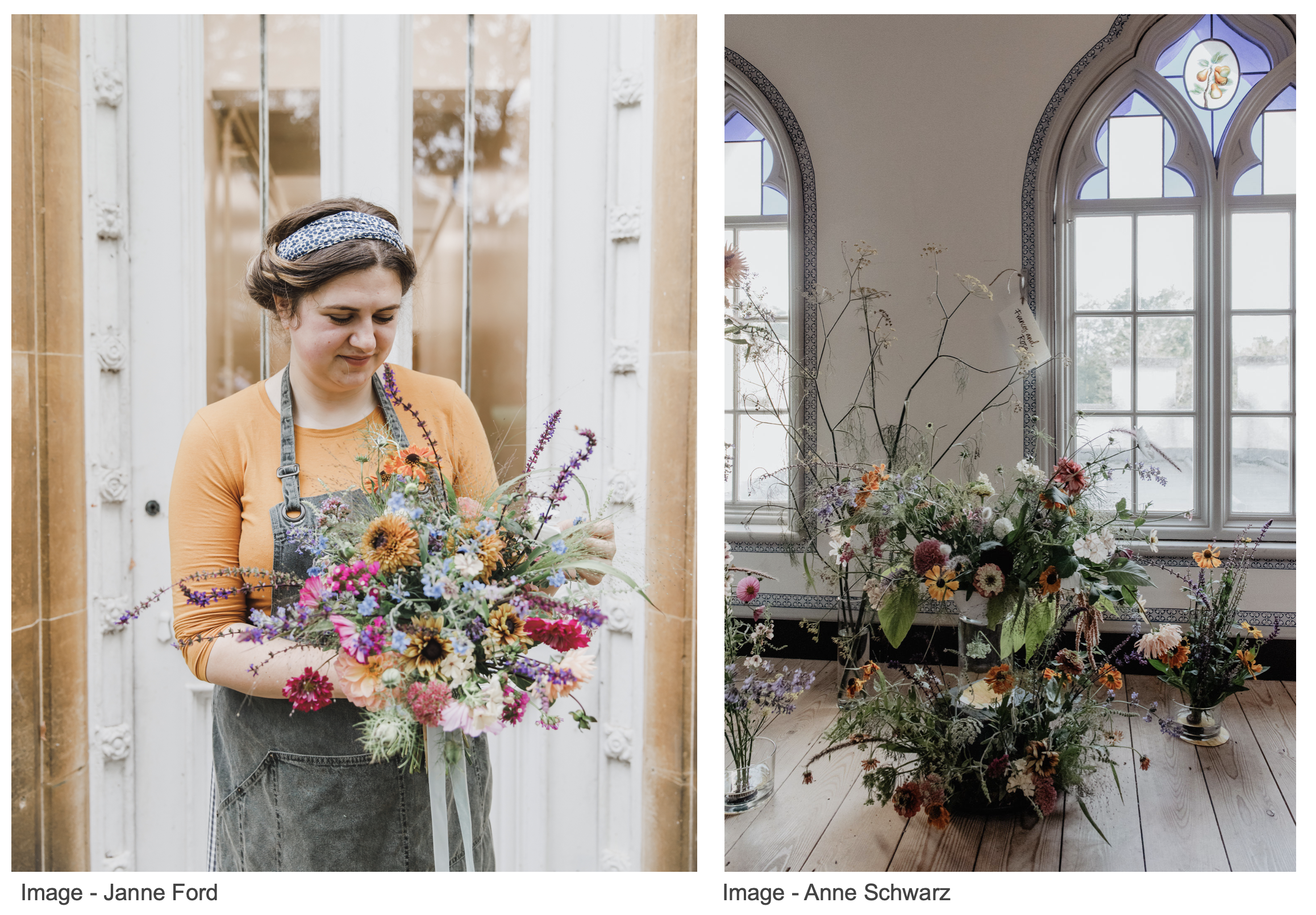 I mainly focus on workshops and events, specialising in creative learning and teaching about cut flower growing for everyone to enjoy. I am an artist and photographer who uses flowers as my medium, through installations, print products and demonstrations. I am committed to sustainability, using only British grown seasonal flowers in my work.
My wild, country garden style rambled throughout my design, focusing on texture and an expressive use of colour. Soft grasses, statement blooms and unusual seedheads were all pulled together with lush foliage to celebrate an autumnal colour palette.
Flowers for this installation came from our cutting garden and local growers in the north of the UK, The Little Wild Flower and Wild in the Country
Gentle Blooms –  Nicola Hill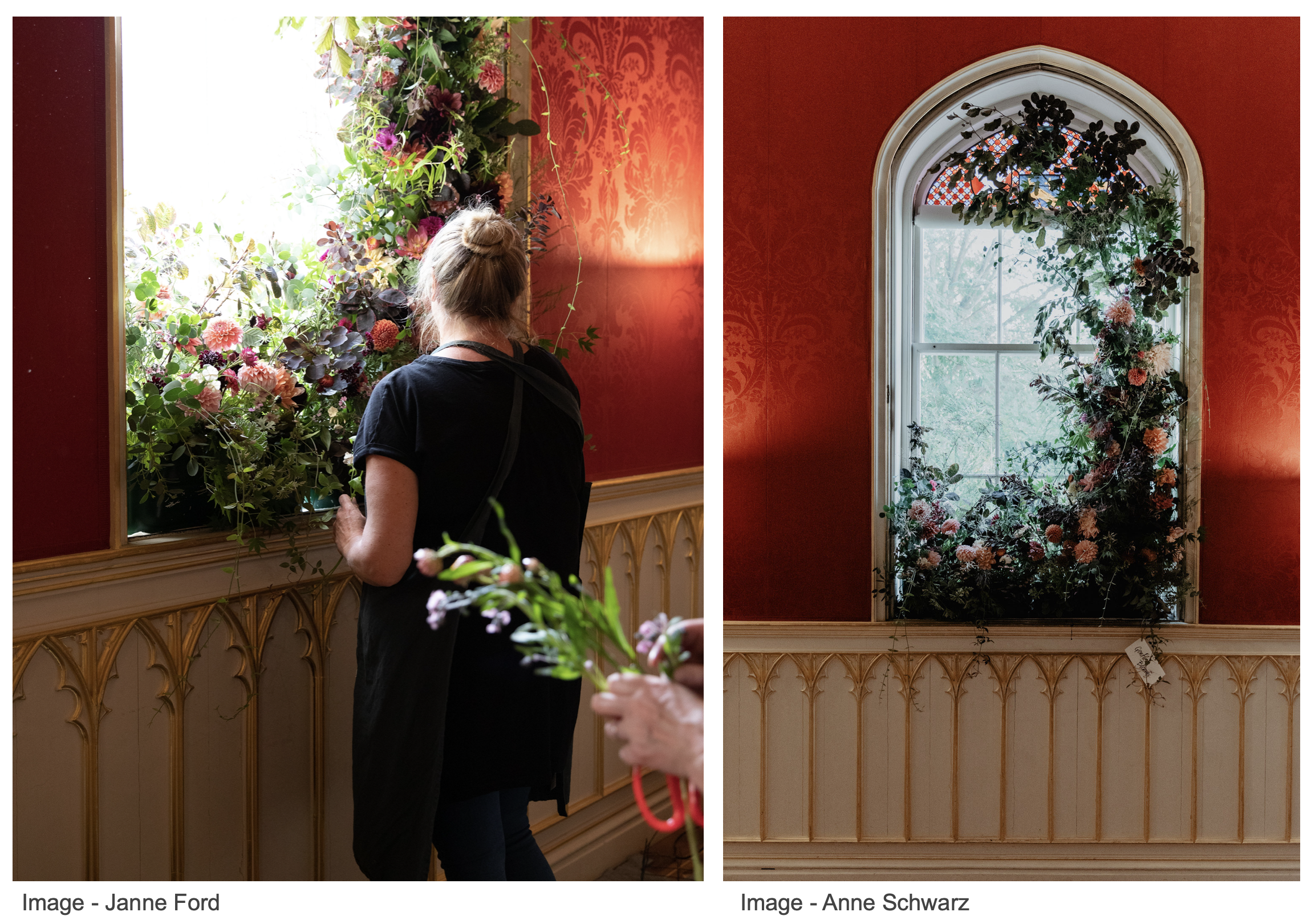 I am a farmer-florist based in Warwickshire, and my work comprises mostly bouquets and farewell flowers. I offer fully compostable arrangements, and my style is very natural, using unusual perennials, grasses and seedheads to add texture and interest. I hope to expand into wedding work next year.
The Red Wedding was named after an episode of Game of Thrones. I celebrated the Gothic architecture of the house with big bold colours and structure, and counterbalanced the perfect symmetry of the window and surrounding features with an asymmetrical design. I used my own flowers and branches of foliage such as Cotinus and Physocarpus to create rich dark colours, with airy pops of natural gold from dried grasses, reflecting the sumptuousness of the gilded red room.
Happy Roots Farm – Laurenne Hopkins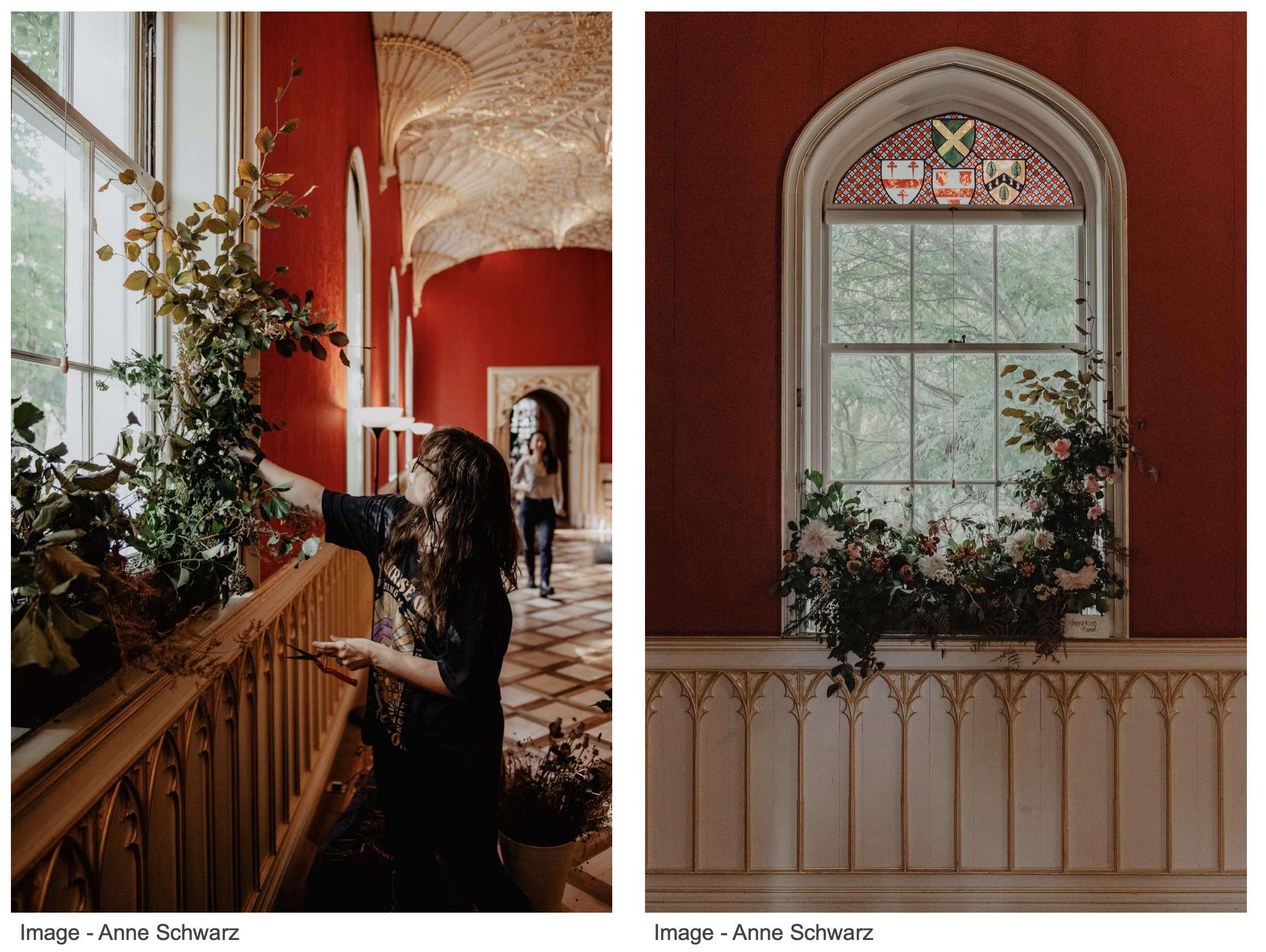 We started off growing veg on our little Derbyshire farm with a small patch of flowers for pollinators and to cut for the house. I absolutely fell in love with growing and arranging flowers, and it has since become the main part of our business. I make weekly and occasional bunches, and do weddings, funerals and events in a natural, cottage garden style, using only sustainable mechanics.
Late September Scarlet used Café au Lait & deep luscious red dahlias, scarlet strawflowers, Cherry Brandy & Sahara rudbeckia, red zinnias and gorgeous golden, naturally dried grasses. My design was a celebration of the beautiful and abundant late-summer/early-autumn transition of late September.
Flowers were grown primarily on my farm and by Hollybrook Flower Farm