Foam-free floristry
There is increasing awareness of the environmental cost of floral foam. Louisa Butcher of Brunstead Blooms gives an insight into how easy and affordable it is to create alternative mechanics for home arranging, with whatever vessel you might have to hand.
No one would have expected floral foam to make the headlines in 2022, despite the #nofloralfoam movement gaining momentum on social media.  But that's exactly what happened in February, when the Church of England were asked to consider banning its use in funeral arrangements.
Why?
Floral foam is effectively a type of single-use plastic, and it won't break down or degrade anytime soon.  It also crumbles very easily and, when it does, releases micro-plastics into the environment.  Even the alternatives take a lot of processing, so from a sustainability perspective, there is no better way than doing away with it altogether and going foam-free!
So, how do you go about making foam-free flower arrangements whilst achieving the same height, volume and impact that you may be used to when using floral foam?  How do you also not break the bank in ditching it altogether?  The truth is, it's not as hard as you think! There are lots of resources out there, but to start you off, here are my tips for making a foam-free arrangement (the great thing is, the principles and tools apply no matter whether the arrangement is for a table, pedestal, in milk churns – the possibilities are endless…)
What you'll need…
Chicken wire – this will be your best friend.  It can be used again and again and again (and again). Yes, agreed that it doesn't biodegrade in the environment, but it is accepted as scrap metal and can therefore be recycled.  Even better from a sustainability perspective is to use chicken wire that's on its second life – it might be broken and not good enough for chickens anymore, but will work perfectly for arranging.
Water-tight vessel – this can be as simple as a bowl from your house, or – a personal favourite for a lower table arrangement – an old takeaway food tray.  You can also use urns, buckets, or old china potties (yes, I have used all of those things).  If you're doing a large arrangement for a milk churn, or something like the tall buckets in the photo below, then best to find a shorter vessel that will sit inside the larger one.
Twine or wool – now, you can use florists tape, which is pretty sticky but is also plastic-based, however twine or wool works just as well.  You'll need this to secure your chicken wire in the vessel.
Here's the how…
Decide which vessel you're going to use, then cut (with wire cutters) a piece of chicken wire accordingly. The chicken wire needs to be about three times the size of the width/length or diameter of the vessel that you are using.  This is because you then need to fold the wire to form three layers, which are misaligned, to give you structural support.
Pop the layered wire into your vessel and add some water – you can top up the water level when you've finished the arrangement.
Now you can secure the wire into the vessel with twine or wool.
Feel free to test the length of stems that you can use in your pot/tub/bucket/vase/china potty, which is exactly what I was doing here: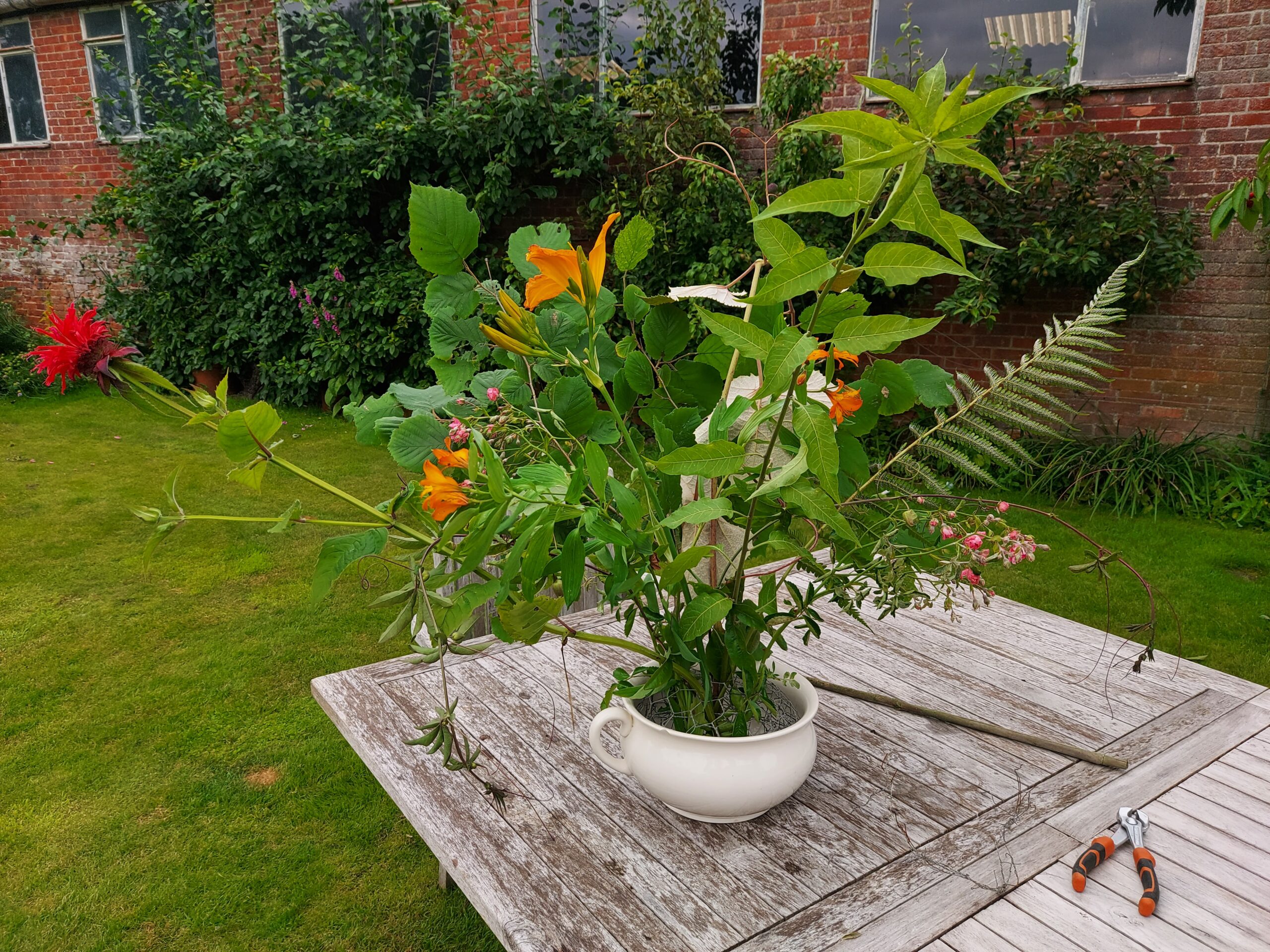 And just like that, you're ready to start adding your gorgeous British grown flowers and foliage! I did say it wasn't as hard as you might think…
There are SO many other options for foam-free arrangements – flower frogs, pebbles, moss (sustainably sourced, of course) wrapped in chicken wire.  Foam-free wreaths are also fabulous – you can use a natural woven base, or a wire base with moss added.  The moss and foliage can be secured with twine or wire.  Using flowers in lots of small jars or vases is also a great way to add impact.
Give it a try – make a small change that can have a big impact.