What's in flower in October?
As autumn begins to set in in earnest, there is still lots to choose from for British flower farmers. In fact, for many, this is one of their favourite times of year. Jess Roberts and Katie Stone of Featherstone's English Flower Company take us on a tour of their plot, and the varied array of crops they are now harvesting.
There has been a definite change in the air on the farm as autumn creeps upon us.  Mornings are decidedly chilly, so we are hunting through our wardrobes to find the woolly jumpers and socks once again. The production on the field has slowed down, but there is still plenty for us to choose from for our harvests.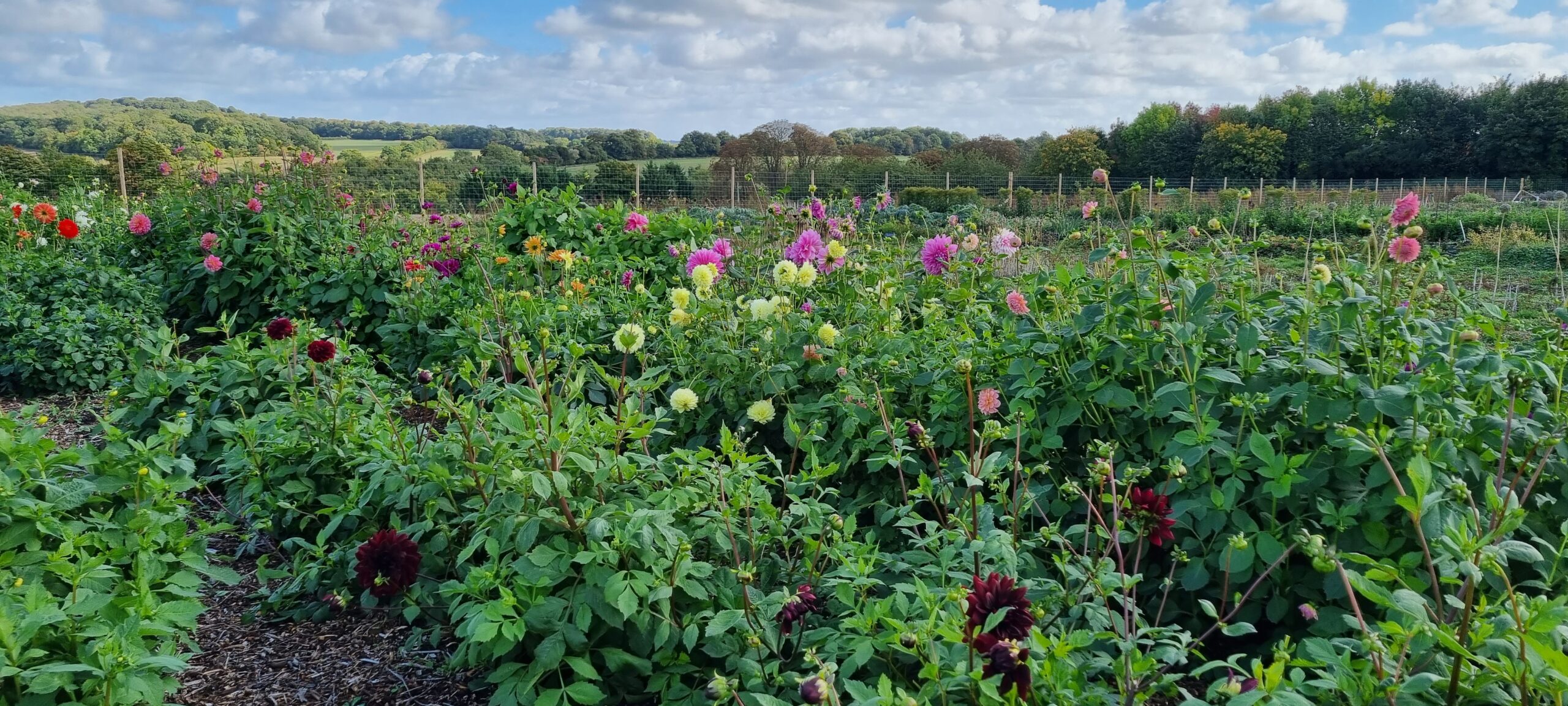 The cooler temperatures and recent rain have encouraged the dahlias into full swing, giving us a huge range of colours, shapes and forms – perfect for autumnal weddings. Alongside these we are harvesting a range of annuals from the open field, including snapdragons, cosmos, scabious, statice, gomphrena, zinnia, rudbeckia, verbena, campion, sunflowers, strawflowers and chinese forget-me-nots.
In the protection of the polytunnel the final successions of phlox, mallow and lavatera are still going strong, with the chrysanthemums just about to hit their stride as we head into November. Our alstroemeria give us a good harvest each week, but as with all perennials it is a fine balance of not taking too much from the plants to ensure they will be healthy next year. The scented pelargonium 'Attar of Roses' and basil 'Mrs Burns' Lemon' have proved extremely popular for their glorious scent and should keep cropping for another couple of weeks.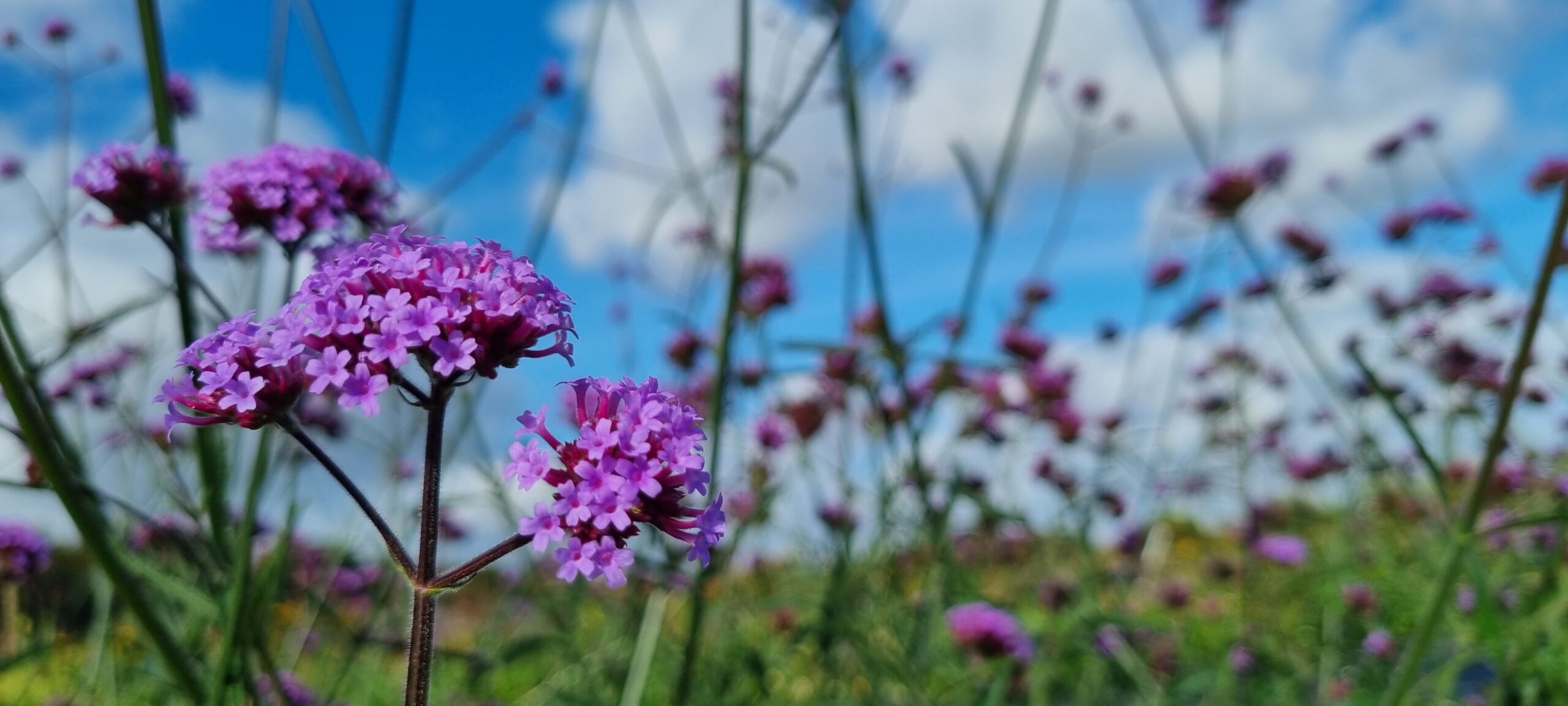 From our perennial patch we have had a second flush on the achillea, and the roses are treating us to a few buds each week. The goldenrod (Solidago rugosa 'Fireworks') has flowered a gorgeous golden yellow, lending a wonderful harvest feeling to our market bouquets. We even have a few brave delphiniums giving us a final flourish before they retreat underground with the rest of the herbaceous perennials for the winter months.
Autumn would usually be the season we celebrate one of our favourite crops – the grasses. Sadly, our grass collection has suffered with the lack of rain over the summer months, but we are hoping to rectify this for 2023 by sowing a whole new range of annual and perennial grasses. Other flower farmers around the country will be harvesting their perennial grasses such as calamagrostis, pennisetum and miscanthus.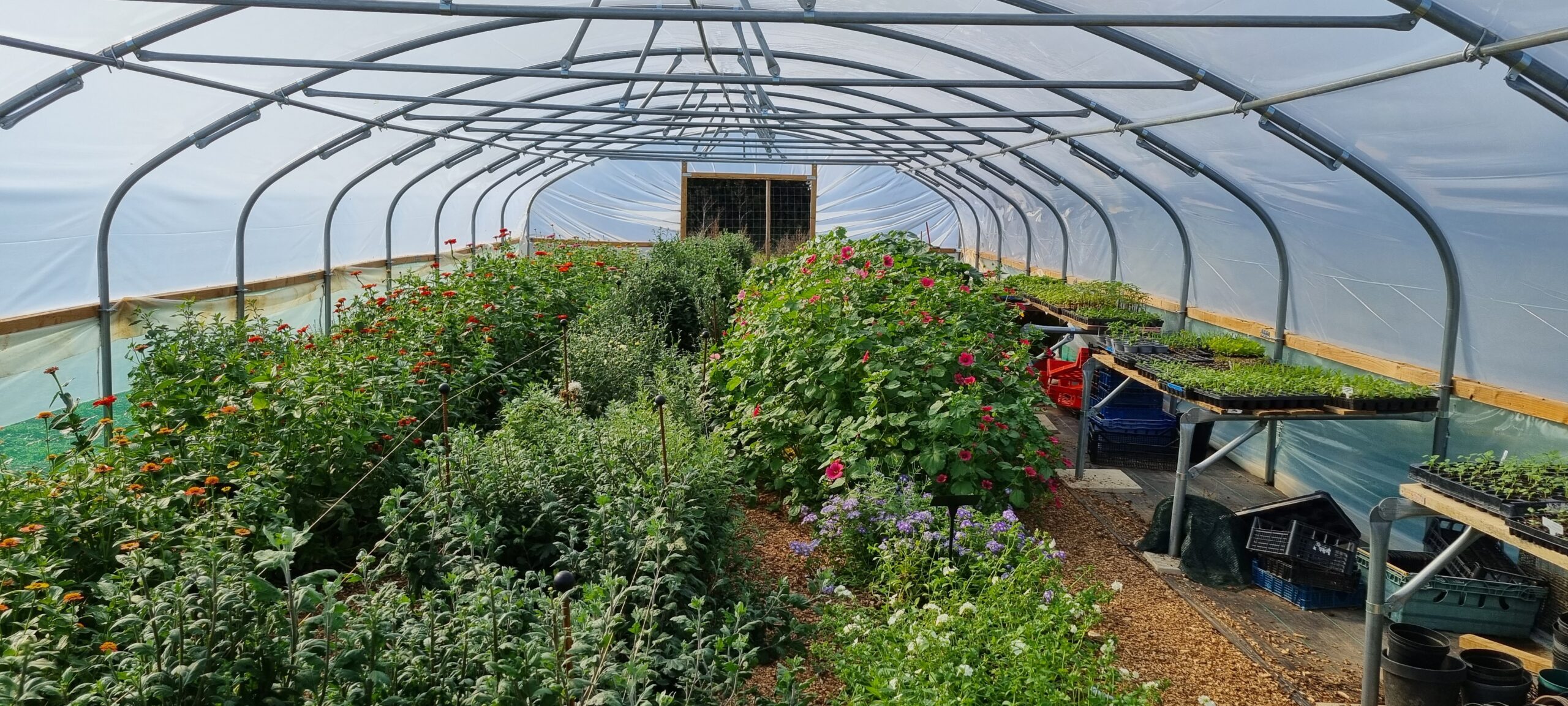 Autumn is also the time that British foliage really comes into the limelight. A few favourites are abelia, cotinus, eucalyptus, Chinese Lanterns, physocarpus, ivy, spindleberry, rose hips, and weigela. All are a wonderful addition to bouquets and event arrangements at this time of year. Combined with grasses and the later flowering chrysanthemums as we head further into autumn, the colours and textures of British foliage more than make up for a reduced flower choice to create truly stunning seasonal displays.