Why we love: anemones and ranunculus
These vibrant early spring flowers are always a welcome sight after the long, dark winter months, but growing them is not without its challenges. Susie Ross of Wivenhoe Flowers explains why they remain a flower farmers' favourite, despite their tricky reputation.
It is safe to say that flower farmers have a complicated relationship with anemones and ranunculus, which are two of the earliest major crops they can produce in spring. Both can be expensive plants to buy, and the chance of seeing your investment disappear over winter into the bellies of hungry rodents (who cannot resist their fleshy roots) is terrifyingly high. If you manage to get past that hurdle (I employ industrial amounts of garlic and chilli as a deterrent), you find yourself in a Goldilocks situation: ranunculus in particular demand conditions which are cool but not too cold, not wet but not too dry, and with plenty of air flow but not too windy. Whenever flower farmers get together, ranunculus woes are very likely to come up in conversation, and I suspect that those who have managed to produce a trouble-free crop keep quiet for fear of sending the rest of us into an even greater depression.
So why do we keep growing them? Not least for their luxurious beauty that would hold its own amongst the most opulent summer blooms. Ranunculus share their soft, pillowy form with peonies and roses and are available in just as wide a colour palette, from pure white, through delicate pastel shades into strong orange, purple and magenta. Anemones are known for rich jewel tones of purple, pink and red, although I think my favourites are the white varieties whose snowy petals contrast with their purple-black centres, giving them a mysterious and painterly quality. Both flowers absolutely demand to be used in bridal work, and I can't imagine anything more lovely than a spring wedding with cool sunlight or candlelight adding to their elegance.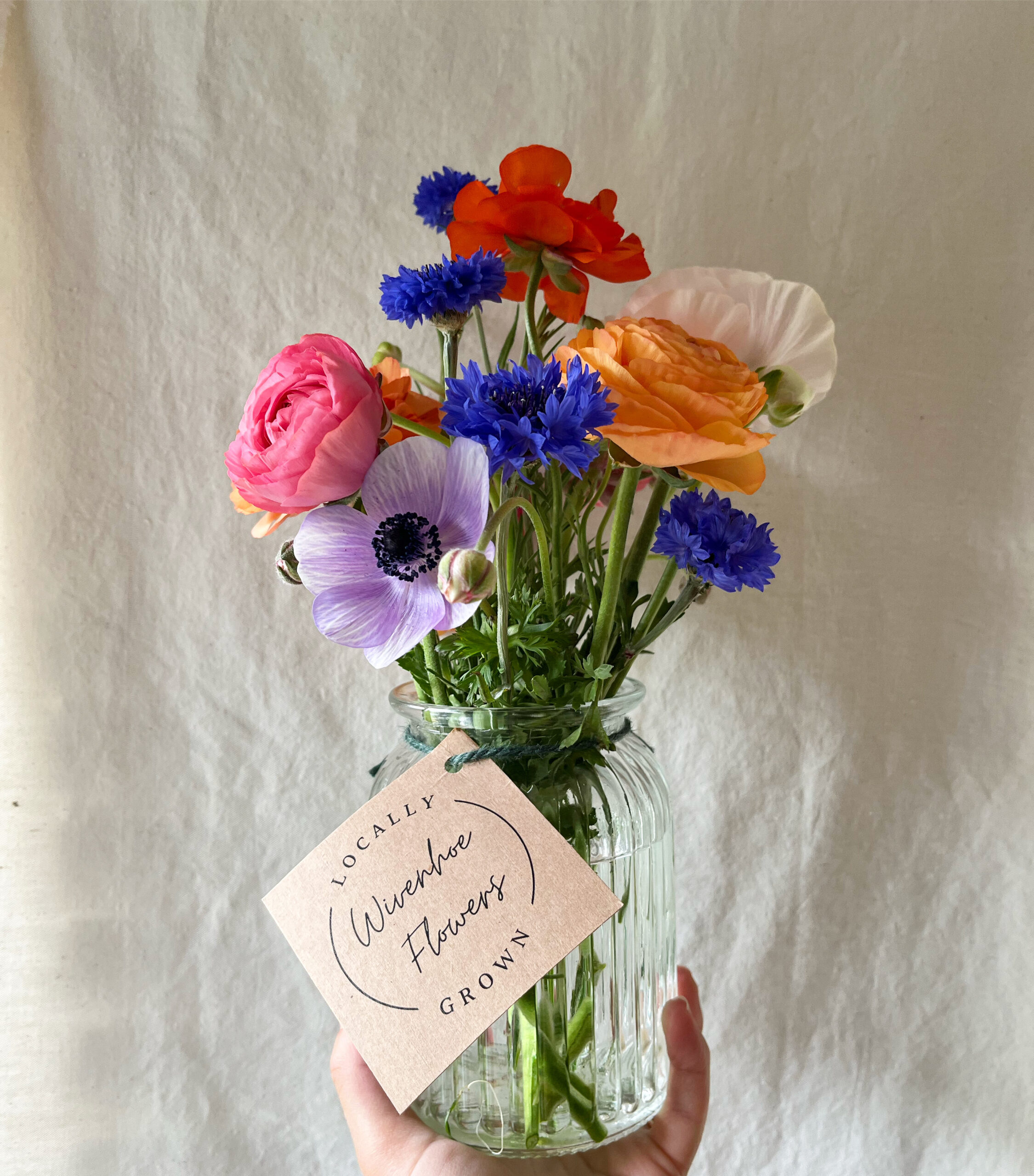 But it isn't just their beauty that makes us love and grow these crops – and our customers adore them. It is that they produce their delicate-looking blooms so early in the year, without the need to be grown in a heated glasshouse. Because of this, they represent a much more sustainable alternative to imported roses and other out of season flowers that might otherwise be used to create a similar sumptuous effect. Despite all the work involved in keeping them protected over the winter, anemones and ranunculus actually thrive in cold weather and are ready to produce flowers weeks before other overwintered hardy plants. And as if this wasn't enough, those flowers also have excellent vase life, continuing to develop and change in their beauty as they open.
You can find out more about some of the other main crops in the British flower farming year – from tulips to roses to rudbeckias – over on our Learning Resources page.