A week at Sammie's Flowers at Kiddal Quarry Farm
Sammie Hall takes us through an October week and it's clear that no two days (or weeks) are ever the same in the life of a flower-growing business!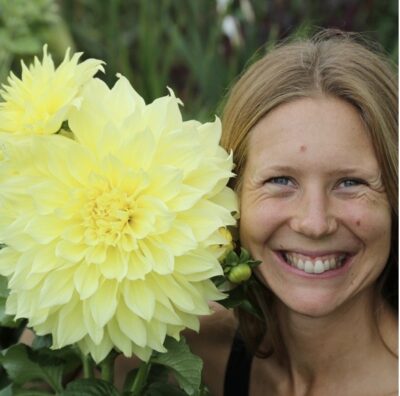 Hello everyone. I'm Sammie Hall of Sammie's Flowers at Kiddal Quarry Farm just outside Leeds, West Yorkshire, UK. I grow flowers for retail and wholesale on our family livestock farm and I'm coming to the end of my second growing season here, after moving back to England from Canada at the beginning of 2022.
Writing this at the start of October on a grey and blustery day, a 'normal' week has changed significantly from the height of summer. Although I'll still be selling fresh flowers for another week before shutting up for a few weeks' rest, the quantities and frequency of cutting has dropped off significantly. I still have flowers in the field, such as dahlias and zinnias and cosmos and sunflowers and rudbeckia, but the rate at which plants are producing new flowers has slowed right down, and those that remain are getting battered by the wind and the rain. Frosts and autumn storms will pretty much put a stop to outdoor production later this month.
For the time being, I'm doing a little bit of everything. Still cutting and conditioning and making bouquets and still cutting for a few florists and a wedding and a harvest festival. But also cutting for drying, and bringing the bunches of partly dried flowers indoors from my drying shed. I've already stored boxes of fully dried flowers indoors, but these needed sorting, and I've been rehanging the flowers that need drying for longer, as the cool damp shed is no longer the right place for them or they'll go mouldy.
I've spent some time this week making dried flower bouquets and wreaths, and peeling honesty, although not as much as I would have liked. I love these jobs, especially at this time of year when the weather puts me off being outside and my fingers get cold in the greenhouse. I also just love the creative and meditative elements of my work, I love making things and seeing other people enjoy them, and I've missed this over recent weeks as I rush to get ready for winter.
This week I've also started making autumn wreaths, cutting and weaving our own willow and binding the base with moss to cover in seasonal foliage and berries. I've done some without moss too, making little bunches and tying them onto the base, but these will dry out faster and I personally prefer the mossed base for the big wild style that can be achieved, although I acknowledge it is less sustainable, but still preferable to oasis, something I never use due to its environmental impact.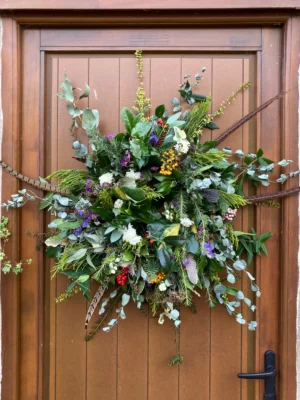 Also on my jobs list this week has been spending some time in the greenhouse. My perennials that I'm not planting out needed potting on, and the last of my biennials needed planting out. I've been frantically sowing my hardy annuals too, and battling with the mouse that has taken up residence in the greenhouse and loves to eat my freshly sown seeds. And I planted out a tranche of perennials only to dig them back up and bring them inside because of the slugs, a nemesis that I thought might have gone to sleep for the winter or been eaten by the ducks, but alas, sadly not.
And it would be remiss of me not to mention all the time spent behind a screen this week, organising our FFTF North East regional conference for February, writing my monthly subscriber newsletter, updating my website, posting on social media, and responding to messages and emails, including quotes for wedding flowers. Another big commitment this week has been writing a speech for the Yorkshire Agricultural Society's Women in Farming Autumn gathering. It was an honour to be asked, and I'm looking forward to spreading the message about British flowers to the local farming community, but it's another job on my weekly list that isn't yet finished at 5pm on Friday.
There are so many other things I had hoped to get done this week, including replanting all those daffodil bulbs that some naughty garden visitor dug up, and moving the perennials that are in the wrong spots, taking cuttings, and doing another last minute bulb order. But that is the case every week, and as far as I can tell that will always be the case, as a flower farmer's work is never done.
The challenge is to walk away, and to do something else with a long list of tasks outstanding. So I think it's important to mention all the things I did this week that weren't flower farming. I prepared and taught a vinyasa flow yoga class, I meditated and journaled every morning, I took flowers and coffee and pastry to a friend who needed support, I went to choir and to my Buddhist group, and I attended yoga twice. I spoke to my best friend and I walked my dog and I planned a gathering with friends. I read my book. Tomorrow I will go to ecstatic dance and for a wild swim. Managing to make time for so many activities in one week is rare, and impossible over the summer, when the light evenings demand many more hours of productivity in the garden. But more balance between work and play is something I am continually striving for, and it takes commitment and determination to take time out.
Every week is different. Every season is different. Every year is different. And that's part of the reason I love this work. Last week I did a funeral flowers arrangement and organised and ran a Flowers from the Farm meet up, next week I'm attending another Flowers from the Farm event, and hosting workshops and volunteering at the farm. Next month I'll be hosting Christmas wreath workshops and Christmas markets and planting bulbs. Next spring I'll be planting out the seeds I've just sown, and (hopefully) watching my tulips appear from their sleepy winter.
This is a job of constant flux, of flowing with the seasons, of busy days and endlessly unfinished lists, of grubby nails and stained jeans, of beauty and decomposition and everything in between. And honestly, despite the highs and the lows and the occasional complaints, I wouldn't change a thing.
Explore