A week at Lotts and Lots
Charlotte Smith of Lotts and Lots shares a typical July week in the life of a back garden flower grower.
Hello and welcome to a week in the life of my tiny back garden flower farm nestled amongst the houses in the heart of Leigh-on-Sea, Essex. This is my third year of growing and supplying flowers to my community. I've gradually built up some wonderful local customers as well as stocking bouquets to local stores and supplying flowers to restaurants. This year, I've also begun flowering weddings and funerals.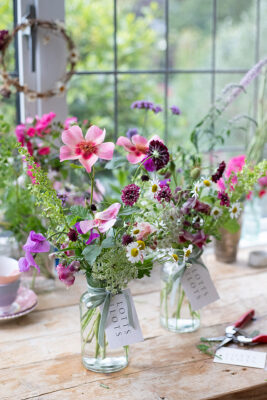 Last week was a busy one for me, I had end of term teacher presents to create in the form of 'thank you' jam jar posies and larger bouquets, as well creating wedding flowers for a beautiful back garden wedding. Growing in such a small space means I have to be really careful with my stock levels and was grateful for my overflow beds at my parent's allotment. I was delighted to use my  fantastic crop of Ammi 'Green Mist' which I grew from seed saved from last year's flowers. Its vivid green and frothy white umbels provided a wonderful backdrop to colourful snapdragons, marshmallow and scabious. I love using my own grown flowers in arrangements where every stem becomes its own star and I'm really able to show-off how wonderful and unique British flowers are.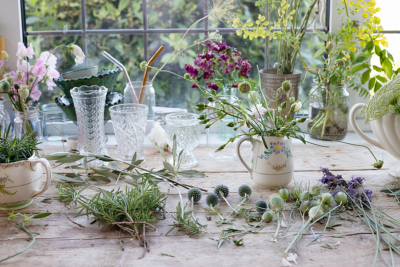 I've been working with the bride since last autumn, sowing ammi and prepping and priming flower beds. I share a lot of my process on Instagram (you can find me @Lottsandlots) and I love building up a relationship with my customers at every stage. Knowing that the bride could see exactly where her flowers were coming from really made the experience special. Having a direct reaction to what I was growing meant that when it was time to cut the flowers to make up arrangements, nerves gave way to excitement and I was able to deliver some really gorgeous blooms. For this small, relaxed and intimate wedding I provided two huge flower-filled baskets, mantle urns, a bridal bouquet and buttonholes plus table flowers and chair ends. I'm so pleased with how everything came together and knowing that the flowers hadn't travelled more than a mile gave it that extra splash of magic.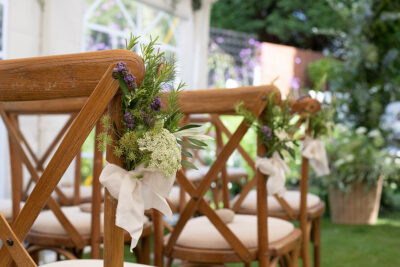 I hope this post shows what's possible to grow in a small space. I'd love to have a bigger plot at some point so I can grow a few more varieties but for now I'm really happy with how my garden works and what it is able to produce.