Young farmer focus: Harriet Mullins
In the first of a new series featuring younger members of Flowers from the Farm, we talk to Harriet Mullins of Sweetpeas and Sunflowers to get her perspective on British flower growing, and some of the issues facing the industry.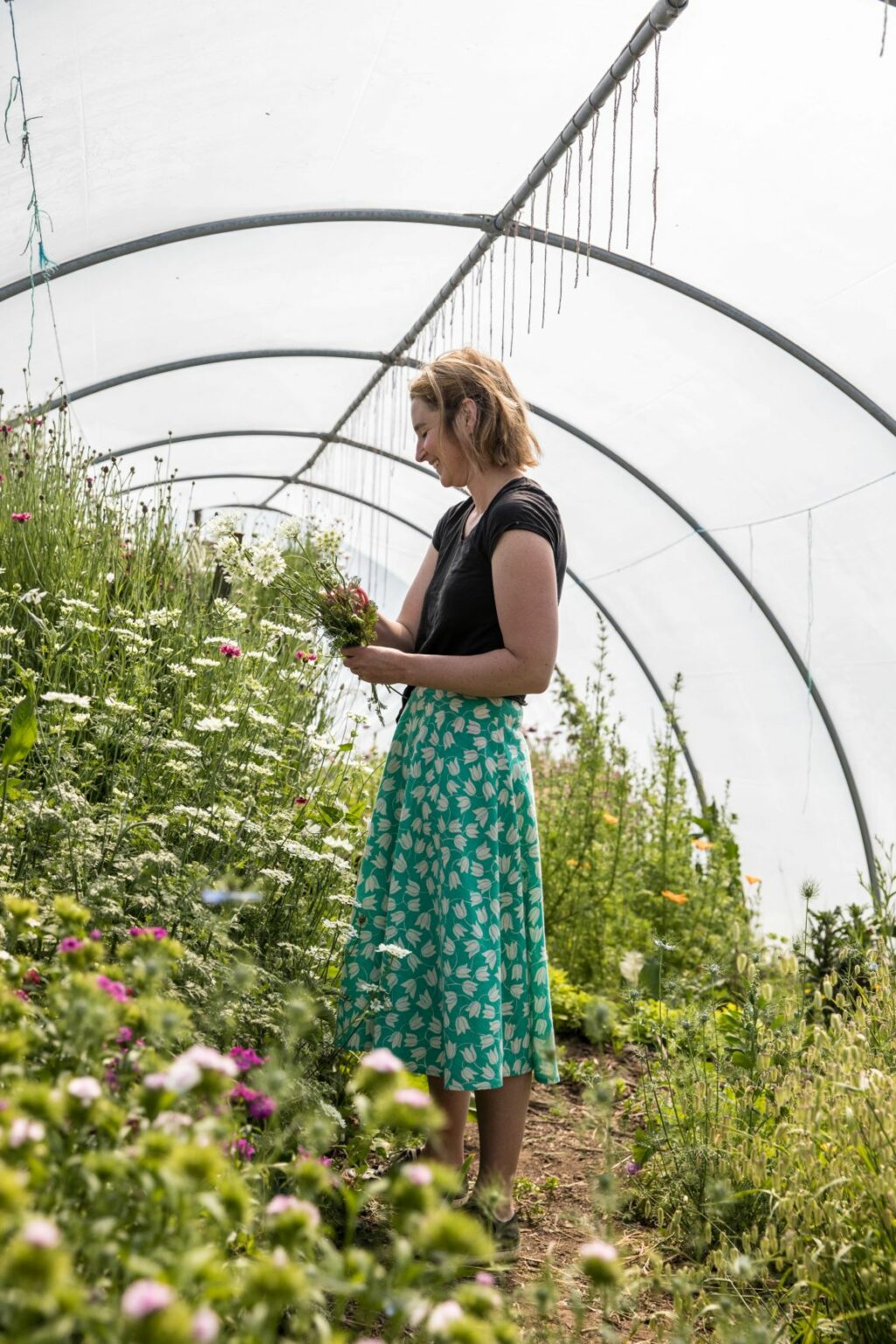 Describe your business in a sentence
My business is called Sweetpeas and Sunflowers, I grow seasonal flowers, without the use of chemicals, for weddings, events and local deliveries around North Devon.
What motivates you?
My main motivation is creating a sustainable business – in all senses of the word. I want my business to have as little impact on the environment as possible, whilst also providing me with a regular, reliable income to enable it to thrive in the long term.
Why should people care about locally grown flowers?
I'll be the first to say I can't live without flowers – but really, in the grand scheme of things, they are a luxury item. Therefore, I believe those flowers, which bring us so much joy, shouldn't be damaging the world in which they are produced. I think we are all quickly learning that something we can get seasonally, as close to our door as possible, is better than something shipped or flown across the world. If 'locally grown' means grown in its natural season, without added inputs like heat or light and without the use of damaging chemical fertilisers and pesticides, this is always the best option. Plus the added bonus that these will be the freshest flowers you have ever received and, I would say, probably the most beautiful.
How could we engage more young people in sustainable flower growing?
This is a tricky question. Land is so hard to come by, especially for young people, and while there are some great courses out there on flower farming, you have to have the ability to fund them. So as an organisation, I think Flowers from the Farm should be aiming to be proactive in petitioning for courses to be available in colleges. I don't think young people are unwilling to enter this field – most young adults I know are some of the most knowledgeable and enthusiastic people pushing for sustainable change in the world. I think it's just finding a way to show them flower growing is a career option.
How did you become a career flower famer?
This could be a long story, but in short I have always loved flowers and gardens (although my teenage years involved lying, reading in them, rather than actual hard work!) With the privilege of being able to rent some land and the discovery of Flowers from the Farm, a spark ignited and I was off! It has been a slow process for me as I have been working on a shoestring, but after 5 years I am now flower farming full-time, and I'm frequently amazed at what this small idea has become.
Where do you see yourself in 5 years?
Before flower farming, I was never ambitious. I always enjoyed my jobs in childcare, but never wanted to become a manager or progress in that way. Now I am constantly thinking about how I can expand, sell more, grow more, and be more efficient. I hope in 5 years I will have reached my goal of growing on 1 acre, and I am currently researching foliage for wholesale – so if I get a move on with that, I may be selling some in 5 years' time! I am also experimenting a lot with floral design, and would love to do more work for fashion and photo-shoots.
If you could only grow one crop, what would it be?
This is an impossible question! My first crops were sweetpeas and sunflowers (hence the name), so they always hold a special place in my heart. But I think I would have to say roses. They bring me incredible amounts of joy and never fail to amaze me with their beauty and scent – a garden rose can evoke so many memories for so many people, I don't think I would ever get bored of them!
What does FFTF mean to you?
Asking me today – after spending a few days this week in a room with 20 or so other flower farmers – I would have to say it means inspiration and it means friendship. Whenever I meet with other growers, I come away buzzing with new ideas and a rekindled love of my work. Flower farming can be a lonely occupation, and while I enjoy my own company, just being in a room of people who understand the job makes me feel part of something bigger. I think this is an exciting, growing industry, and I cannot wait to see what else FFTF can achieve. Plus, other 'normal' friends don't appreciate the joys of a good compost heap…