Looking ahead: hopes, plans and highlights for 2022
January can be a hard month for flower farmers to get their head around. Michael Hardy of Ravenshill Flower Farm shares some of the things he will be thinking about to keep him motivated until the arrival of spring.
First of all, a very happy new year and welcome to the first FFTF blog of 2022!
January is traditionally the time for new resolutions and new beginnings. For British flower farmers, however, the time to begin again in earnest is still 6 weeks away, when there will be enough daylight to start sowing seeds – and it will be another 6 weeks after that until the first crops fully hit their stride.
This can make mid-winter a tricky period, not just because of the inevitable drop-off in income, but because it can be difficult to adjust to a slower rhythm, and find different ways to feel productive.
Though the UK growing season is relatively short, it's also extremely intensive, and so it's important that farmers (and florists, no less) do take the opportunity for a physical and mental break – especially if they've been wreath-making in the run up to Christmas. But there is always that voice saying: "you could be doing more" – more planning, more research, more promotion; anything that will benefit your business in the long run.
Looking ahead in a structured way can nonetheless be reassuring, and give you confidence that you'll be ready come the spring to make the most of a new season. So here are a few things I will be focusing on to make 2022 a successful year.
New ways of working
It's easy to forget sometimes that the British flower farming movement is still a relatively young one. Flowers from the Farm celebrated its tenth anniversary only last year. This means that knowledge and experience is still held within the industry in a very personal way, and newcomers like myself have much to learn from those who have been in it from the start.
I was lucky enough to attend a workshop with Cel Robertson of Forever Green Flower Company back in the autumn, which has furnished me with a huge amount of advice as to how to develop my business going forward. The next few weeks will be spent revisiting Cel's models, and making sure I translate them into some meaningful changes at Ravenshill.
New plants
One of the chief excitements of a new season for a flower grower is the opportunity to grow something new. There are many places to look for inspiration – seed catalogues, gardening magazines, nurseries and garden centres, and of course the work of fellow growers and florists.
One thing I'm particularly drawn to – as someone with a gardening background – is garden plants that are not necessarily known for producing good cut flowers. There are a number of ornamental areas at Ravenshill where I can introduce plants and trial their suitability for cutting, and I relish the double challenge of fitting them into existing planting schemes and finding out how best to cut and condition them (if possible!) for sale.
Perennial plants too are an increasingly important part of my outlook, as they should be for any grower that's interested in reducing their workload as well as the environmental cost of their production.
A new site
The switch to perennials at Ravenshill has in fact influenced my decision to take on a new growing area on a separate site – a small plot at one of the local farm shops I supply between April and October.
Over the past couple of seasons I have built up a very good trade here, to the point where I thought it was worth expanding into a dedicated space to meet demand. This will allow me to grow – and, hopefully, sell – more in terms of volume, but also free up the more specialist stock I produce at Ravenshill for use in other projects.
Because the new site is unfamiliar ground, I'll only commit to growing annuals until I have a better idea of the conditions and how representative varieties perform. There is also no sense in investing in perennials until the arrangement has proved to make good business sense in other ways.
It will be a relief to be able to grow in a more straightforwardly productive fashion. Ravenshill is my family home, and so I'm always at pains to make the productive areas here as sympathetic to the rest of the site and the surrounding landscape as possible. The farm shop land, by contrast, is out of public view and can be treated as purely functional.
Flower Farmers' Big Weekend
An important annual event in the FFTF calendar is the Big Weekend, which sees members opening their farm gates to the public to spread the word about locally grown British flowers. This year the dates are the 5th – 7th of August, and for the first time I'm hoping to take part.
It's entirely up to members what kind of open day(s) they host, so this is something else to think about over the next couple of months before the pace of life on the farm accelerates again. Just giving people an opportunity to see for themselves where and how your flowers are grown is often enough for a "light-bulb moment" that highlights the difference between a local product grown with care for the environment and the mass-produced, imported fare available from supermarkets.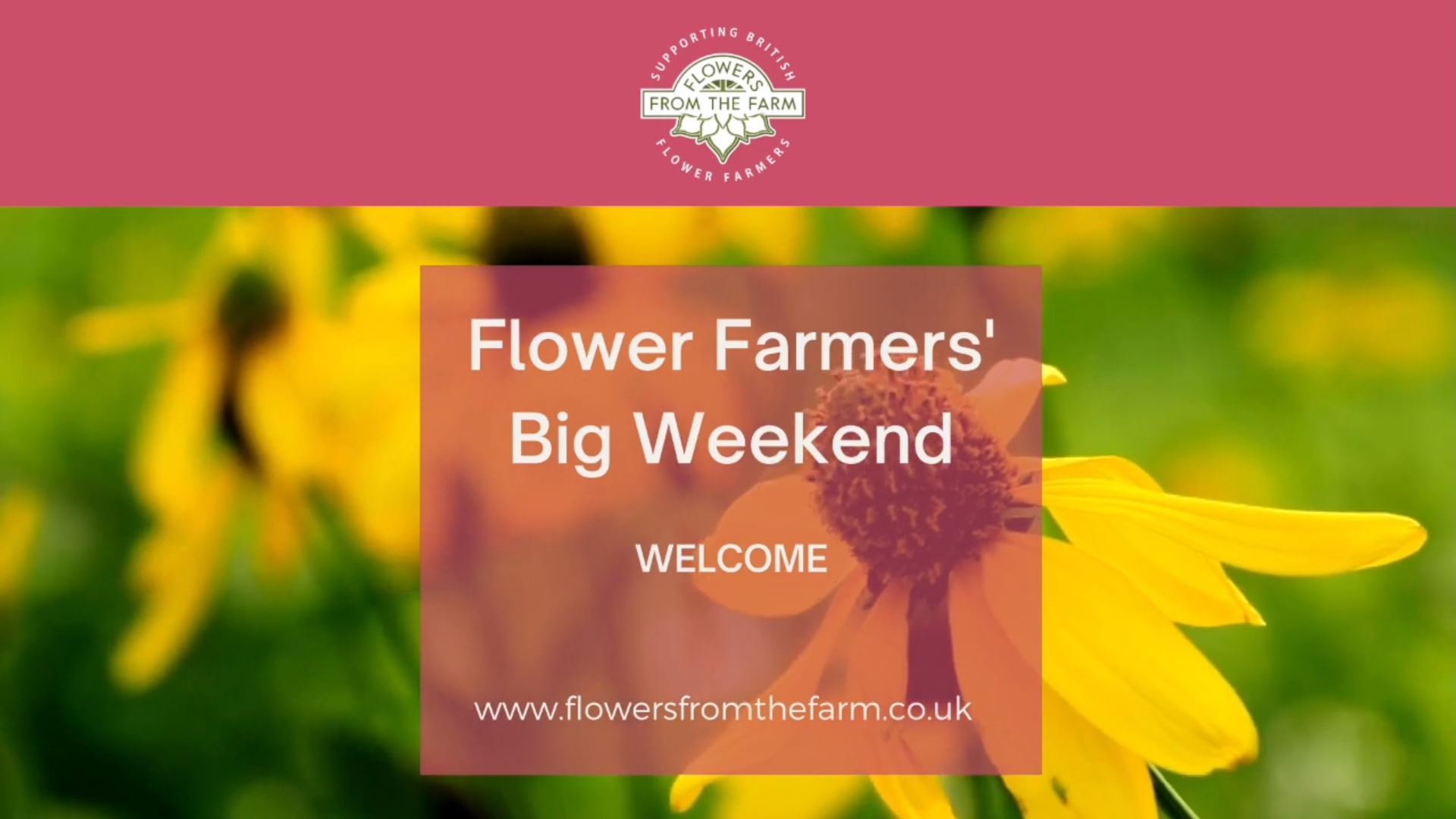 Two late summer festivals
Before the slow wind down into the long nights sets in, I've found it helps to finish peak season on a high. It's good to have some special memories to cherish as autumn slips into winter, and remind you of the all the rich sensations of summer.
This September two flower festivals return that both have the message of seasonality and sustainability very much at their heart. One will be held here at Ravenshill, the second Ravenshill Flower Festival, and the other will take place just a few days later in London at Strawberry Hill, the fairytale gothic mansion of Horace Walpole.
Last year I was privileged to be involved in the Strawberry Hill festival as well as the Ravenshill event, alongside many other FFTF members including Twisted Sisters, Fig and Fern and Justdahlias. It was – and will be again – a brilliant showcase for the creative possibilities of working with seasonal British flowers, with several large-scale installations created out of dried materials alone.
The subject of dried flowers brings us full circle to the mid-winter months, and ways in which FFTF growers and florists are able to keep flexing their floral muscles. You might be surprised at how colorful and vibrant dried florals can be – so if you are thinking of treating someone to flowers to help beat the January and February blues, why not seek out your local FFTF member and see if they can offer you some dried summer sunshine?
Thank you for reading, and very best wishes for 2022.