A year of bridal bouquets: February
Continuing our monthly series of bouquets made from the best of seasonal British flowers, Kate Hurst of Camomile and Cornflowers presents a late winter show stopper, mixing some of the first flowers of the year with delicate stems and foliage – some familiar from our native hedgerows, others a little more off-beat.
For the last 6 years I have used only British flowers all year round, providing gift bouquets and posies to locals who appreciate that flowers are supposed to reflect the seasons, and that you can't always have lilies and roses in this temperate country of ours. I struggle most in December and January when the days are short and so much of our flora goes into hibernation. So I welcome the resurgence of dried flowers and feel truly blessed that my 3-acre garden is full of mature shrubs and unusual trees that provide a continuous supply of foliage.
When I look out of my window in February, I see muted greens, whites and reds with a splash of bright yellow as the daffodils burst open in gardens and along our grass verges. This is the month when spring feels just round the corner with the first blossom, clumps of nodding snowflakes, and patches of purple and yellow on our lawns as the crocuses break free. It's still cold and we could get a flurry of snow or a deluge of rain, but nature is waiting with bated breath for the longer days and warmer sunshine.
Any bouquet in the UK during this month has to feature the daffodil, and at the moment you can buy British daffodils almost anywhere. Usually they're still in bud, but a little warm water and a sunny spot will soon encourage them to shine.  Daffodils can flower so early because the sap in their stems acts like antifreeze. The only problem is that this sap is toxic to other flowers, and so if you want to put daffodils in a mixed arrangement in a vase, leave the daffodils in water on their own overnight and don't recut the stems – and then change the water in your vase regularly after that.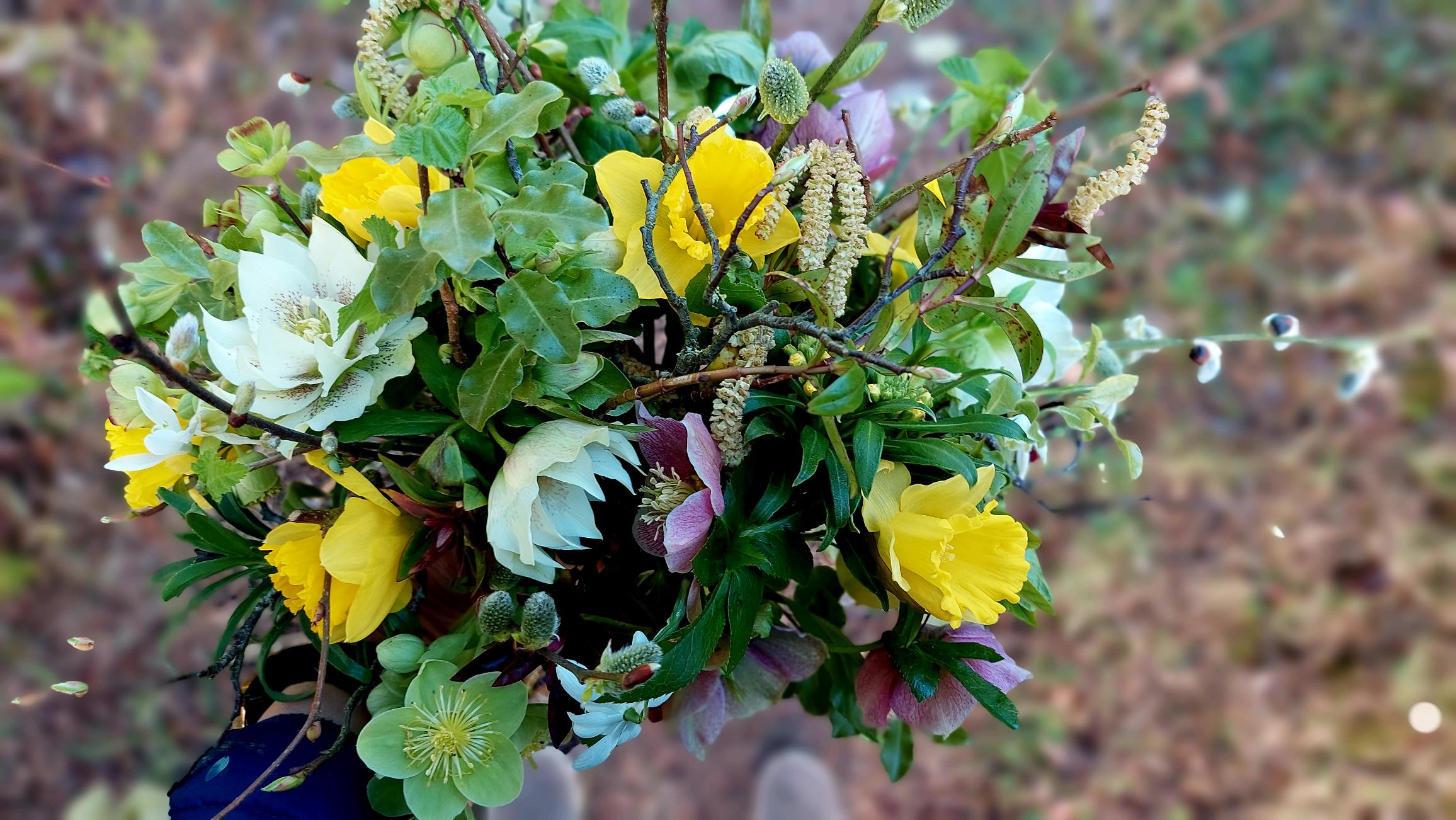 My cutting patch at the moment is still in hibernation, covered in cardboard to smother the weeds. There is only one patch of colour where the wallflowers have just started to flower – little buds of red, yellow and orange which are a welcome addition to any February bouquet.
In February, snowdrops, those charming and much loved flowers, can certainly add a little floral cheer, but they are usually very small and flower for only a short time, as well as being protected in the wild. I'm lucky enough to have patches of snowdrops all over my garden, and those in shady areas tend to grow longer, so I pull rather than cut these to get the stems as long as possible, and then wire them to their leaves for protection.
My favourite ingredient for any February bouquet has got to be the hellebore. Those big round frilly faces looking down to the snowdrops below bring subtle colour and structure to any floral arrangement.  They have adapted to our cold wet climate with their tough thick stems and love of water, but they are often seen as an unpredictable cut flower. I make sure not to cut any flowers until they're about a week old, then score the main stems before soaking them in deep water overnight – it usually works a treat.
For foliage I love to include twiggy bits at this time of year – catkins, or pussy willow – and my favourite, the Juneberry or Snowy Mespilus Tree, is just in bud now ready to produce a profusion of star shaped white blossom. Filler foliage still has to be evergreens, such as hebe, pittosporum or eucalyptus
Add this all together, and you'll see that February in the UK can produce an absolute bundle of beauty.
Kate runs Camomile and Cornflowers in Worcestershire, and is one of the founders of Sustainable Church Flowers, an organisation advocating and educating church florists about sustainable techniques.