Designs and designers of the Strawberry Hill House Flower Festival, part 2
Continuing our review of this year's Strawberry Hill House Flower Festival, meet the artists in their own words, and see their exquisite work photographed by Janne Ford and Anne Schwarz.
Harebell & Bee – Shanna Ludwig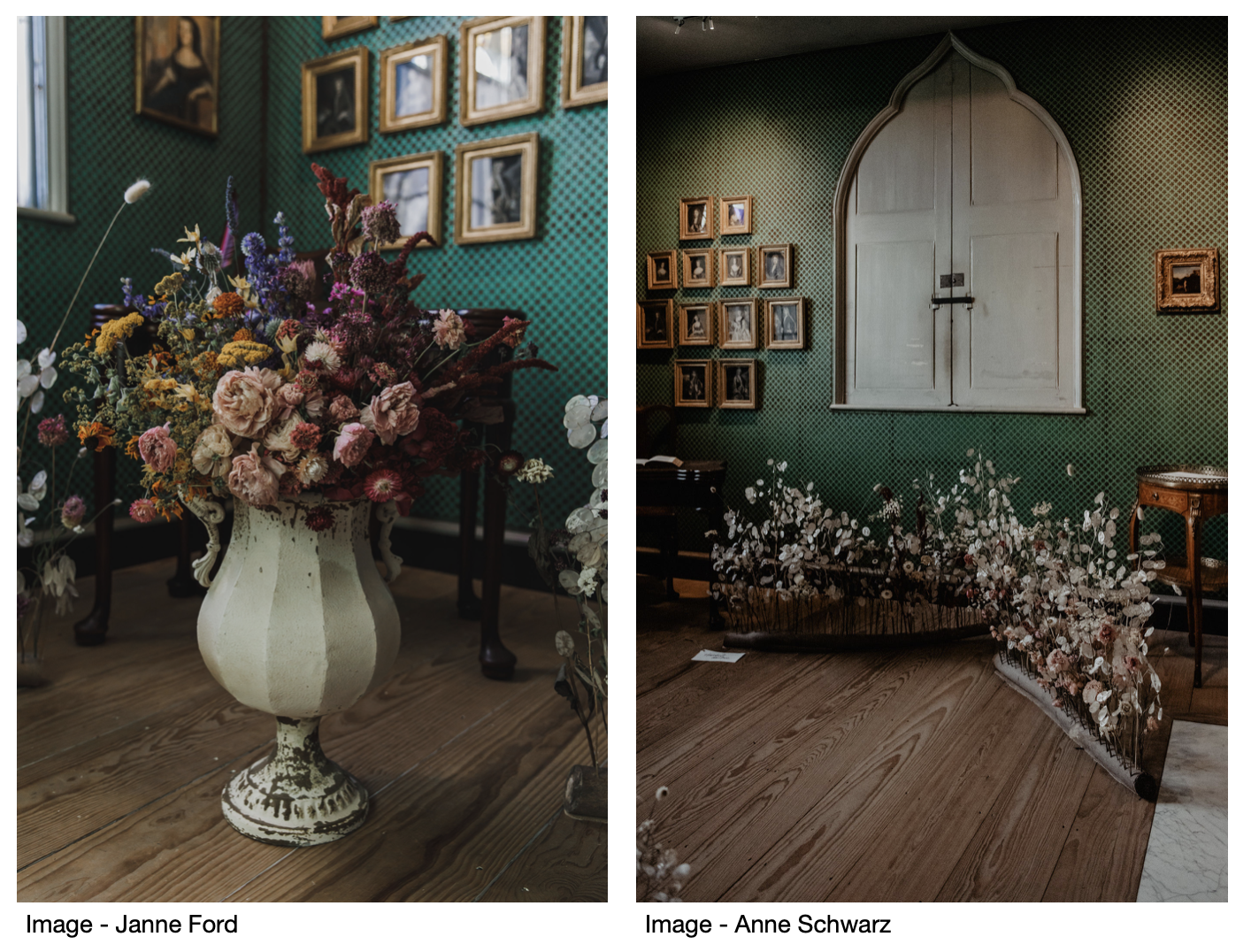 The focus of my work is dried flower floristry. I'm fascinated by the colours, shapes and textures that are preserved in and emerge from flowers and leaves as they dry and age, and I love to combine them into designs that celebrate and memorialise the natural beauty from my garden in Gloucestershire.
Using my own dried flowers, this design reflected the bright white of the Strawberry Hill House exterior and vibrant hues of the rooms within. I love to work with colour gradients and wove a rainbow of flowers through a white meadow, leading to a large urn overflowing with colour.
Hazel Gardiner Floral Design – Hazel Gardiner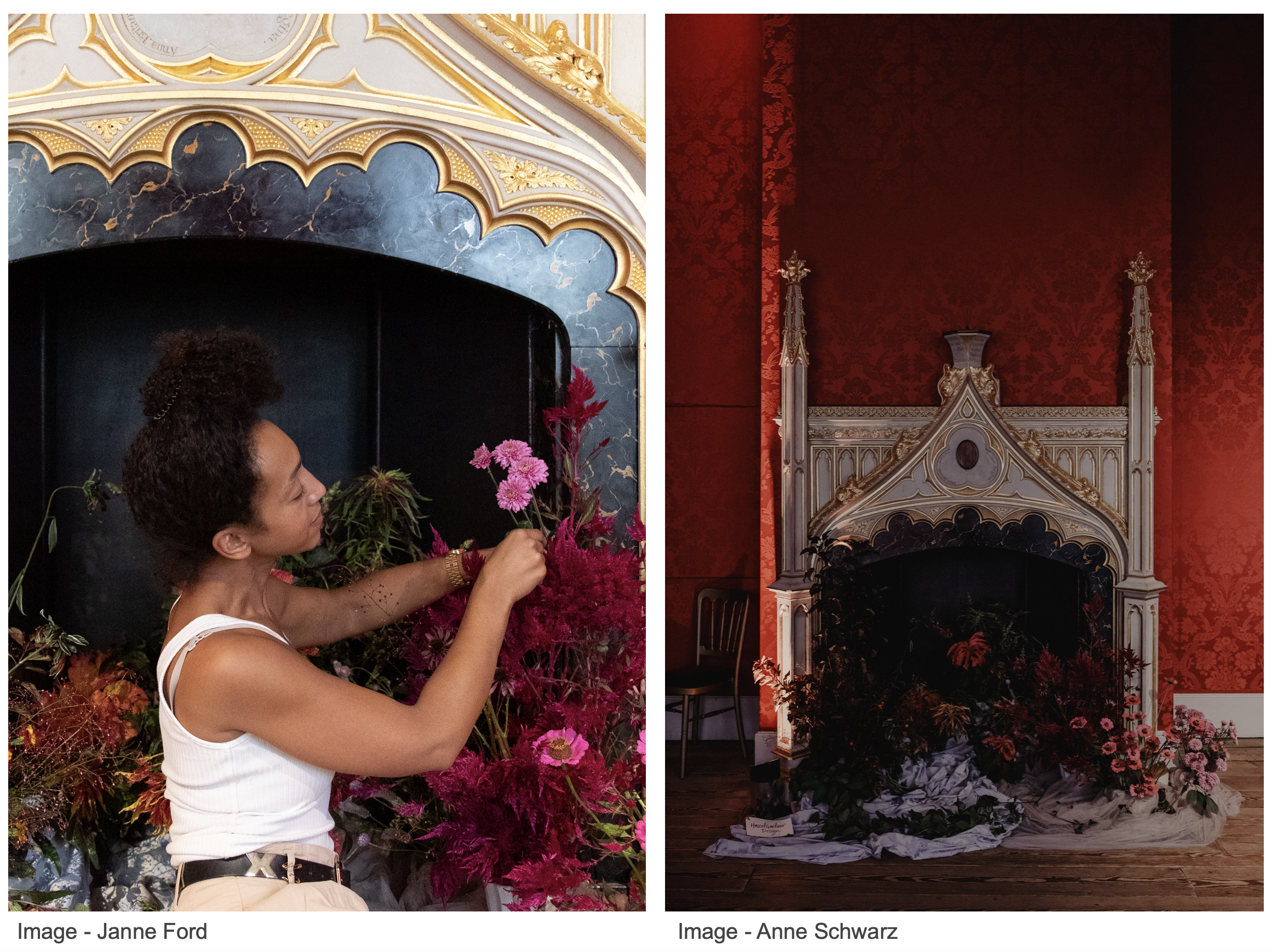 I am a Hackney based floral designer, broadcaster, gardener and Garden Museum diversity and digital trustee. My business has established its own narrative in floral design. The studio's signature style is naturalist and exuberant, often merging fresh, dried, silk and paper materials. This distinctive storytelling combined with sustainable practices has led to work with a large roster of high-profile clients.
Our design was inspired by Horace Walpole's unique taste. His interior choices were bold and unpredictable, which we applaud. In his honour, we created a wild and unexpected display celebrating rare and, to some, outdated varieties. There were fabric flourishes and swirls of colour, creating an ornate display.
All our fresh and dried flowers were provided by Ivydene Flower Farm
Holly Bee Flowers – Holly Bradley-Gill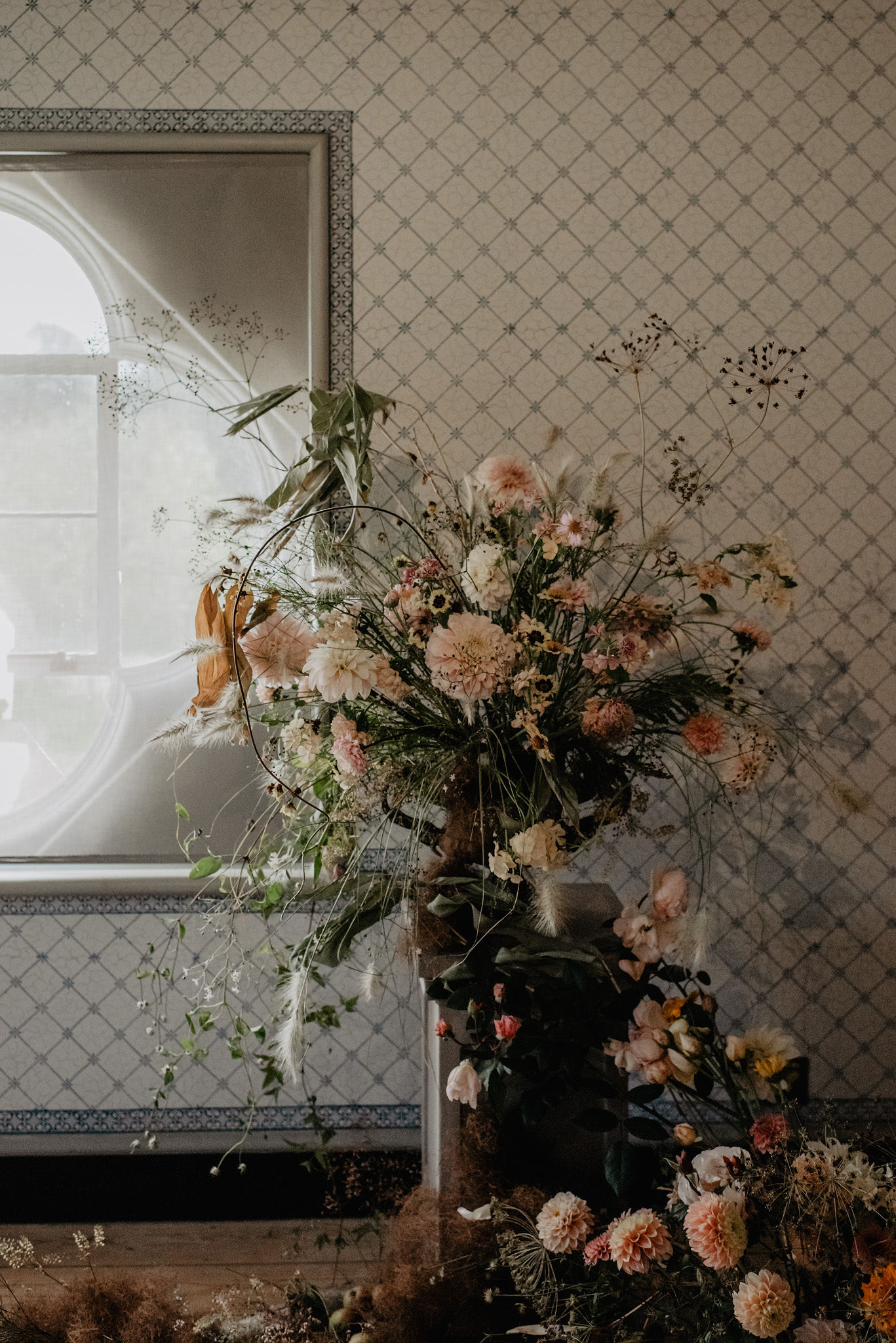 I founded my business in natural, romantic garden-inspired floristry in 2015, and have been creating seasonal designs, using sustainable practices and flowers from my Devon flower farm ever since. I work mainly in weddings and events, flowering the South West with local flowers.
The Devon Meadow brought the Devon countryside to London and shared a slice of my flower farm with Strawberry Hill House. I used unusual perennials, shrubs, old fashioned roses, and lots of twiddly bits in keeping with my signature style.
Hortus Poeticus – Gilly & Fi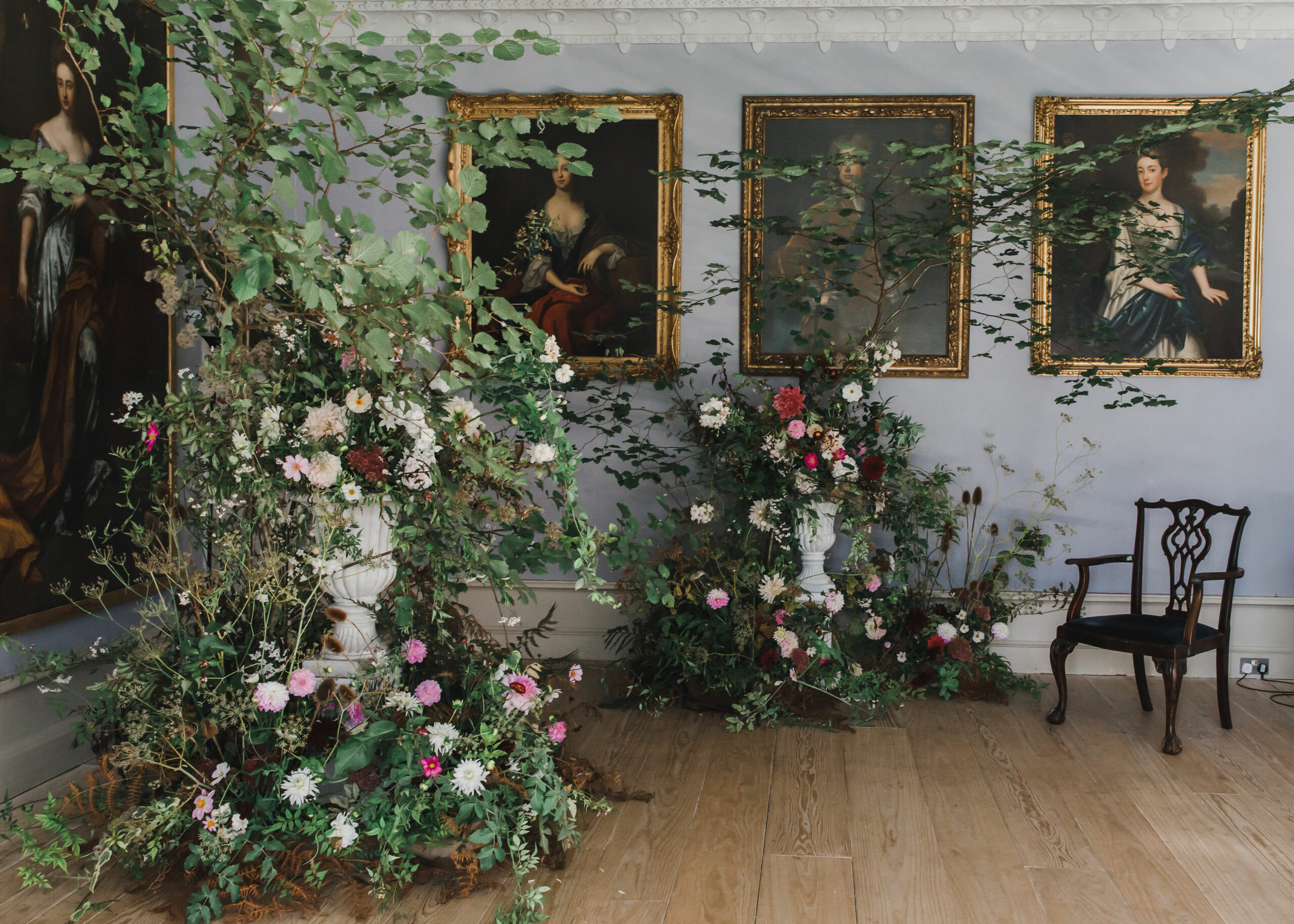 We love growing and purveying – making our flowers available to all who love them – and we also love arranging and creating with our own flowers, seeking always to interweave their characters and beauty with the story of our client. Whether for a wedding, party, shoot or other event, or for bouquets sent around the country from our Hampshire flower farm, we grow and arrange joy. How lucky we are.
Our design for the festival represented late September, when summer's lease is gently ebbing away, but the hues and tones of autumn are not yet embedded in the landscape. We used our own flowers, and foraged in our own woods and hedgerows, to create a design that reflects that moment in time.
Ivydene Flowers –  Abi Besznant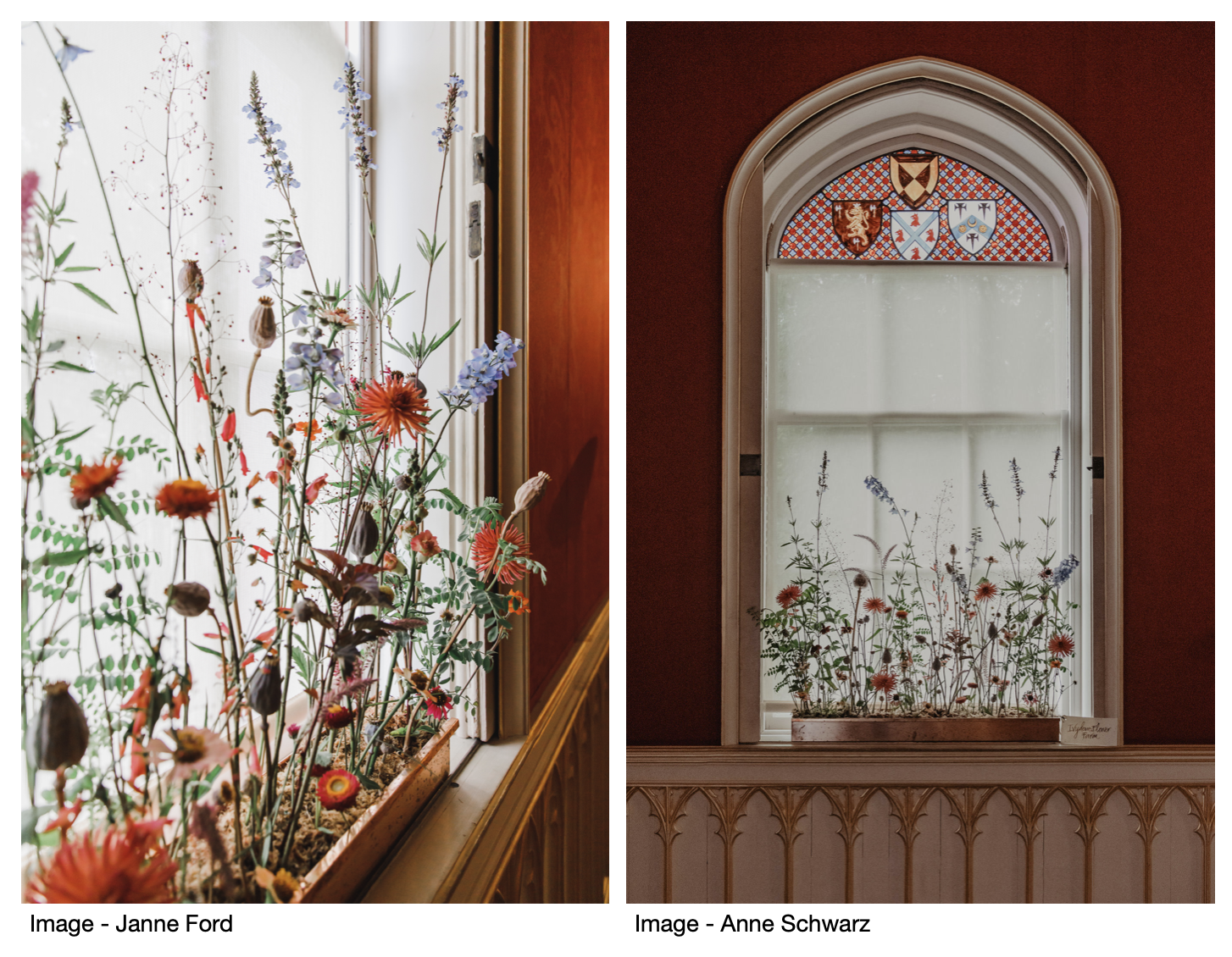 Our flower farm is on the edge of the Cotswolds, between Witney and Burford. We moved here in June 2019, after I had trained at the Tallulah Rose Flower School and completely fallen in love with British grown sustainable flowers. We create bouquets, wedding, funeral and event flowers from the farm.
For my design I created a long, slim meadow box style arrangement in a low copper gutter. There was a variety of heights and textures, using all the fabulous late summer colours, and featuring flowers grown on my farm, such as dahlias, scabious, celosia, snapdragons, strawflowers, grasses and craspedia.
Janne Ford Floral Photography –  Janne Ford – & Leigh Chappell Flowers –  Leigh Chappell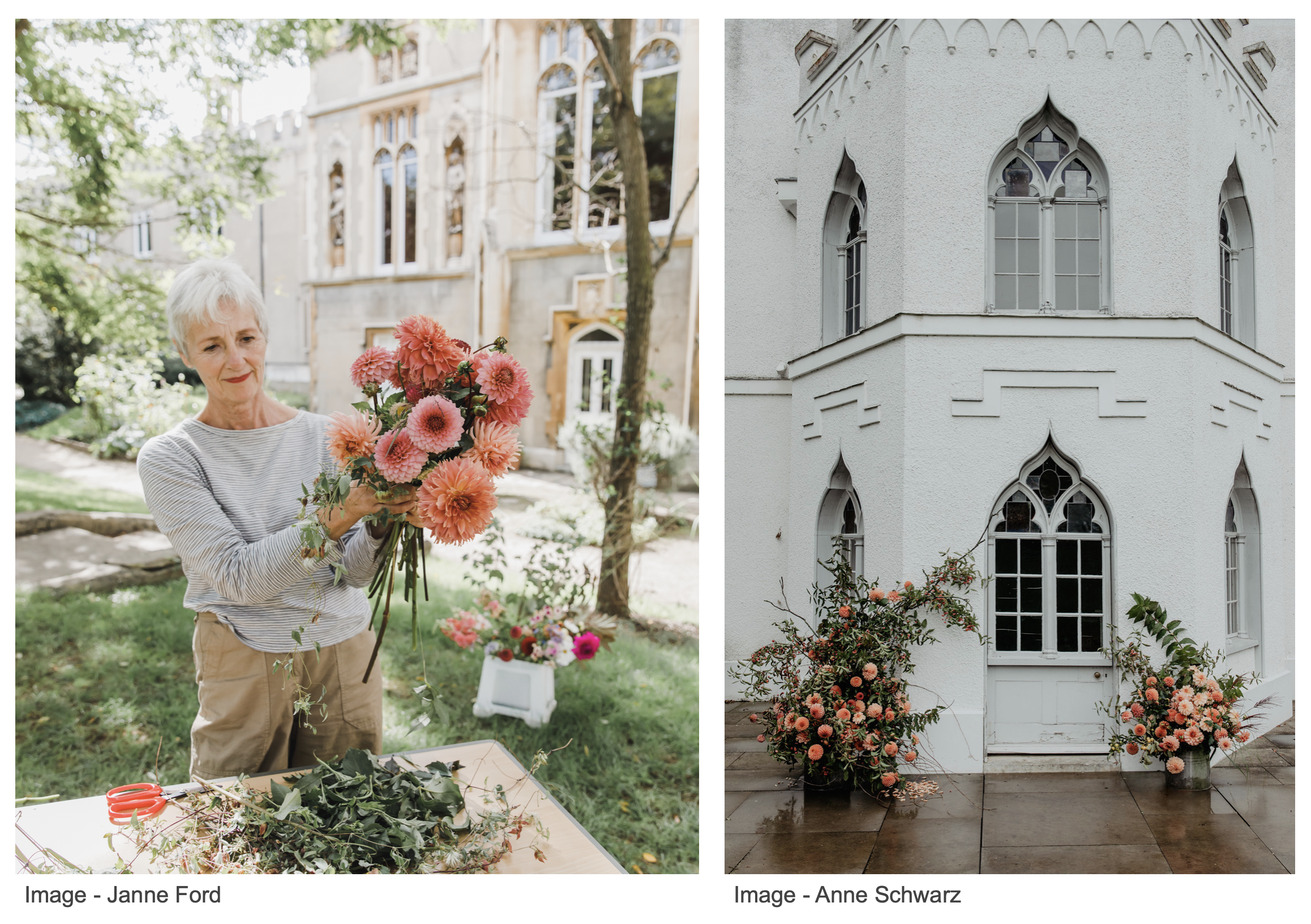 Janne: I use natural light, composition and colour to create emotive floral imagery. My love of design, texture and colour is at the heart of every image I create and photograph. I generally work from my garden studio, or my homes in south west London and North Yorkshire.
Leigh: As an event florist based in London and Gower, my floral designs are inspired by nature and my preference is to source local, seasonal, sustainable flowers. I love to share what I know about flowers… I host workshops on everything from spiralling stems to arch and hanging installations, and anything in between.
This year, in celebration of the Autumn Equinox, we welcomed visitors to Strawberry Hill House with the positive energy of seasonal orange and copper tones, reflected in beautiful dahlias and stunning spindle foliage grown by Justdahlias
Joanna Game Flowers – Joanna Game
I am a floral designer and micro grower working from a garden studio on Dartmoor. I grow in twelve 8 x 6ft raised beds and buy from other local growers when necessary. I am greatly inspired by the wild lanes, fields and moor and regularly use foraged flora in my designs. I am currently teaching, photographing and designing with flowers.
Inspired by the environment and seasons, I used many foraged ingredients for my installation. I am increasingly interested in the connection between the garden, gardening, the wild and our understanding of what is beautiful. I walked the lanes of Dartmoor looking for inspiration a few days before the event. I connected this with a garden flowers installation and some beautiful structural elements from a local artist and potter, Trisha Filor.
Non-foraged flowers and foliage were supplied by Fare of the Field
Layla Robinson Design – Layla Robinson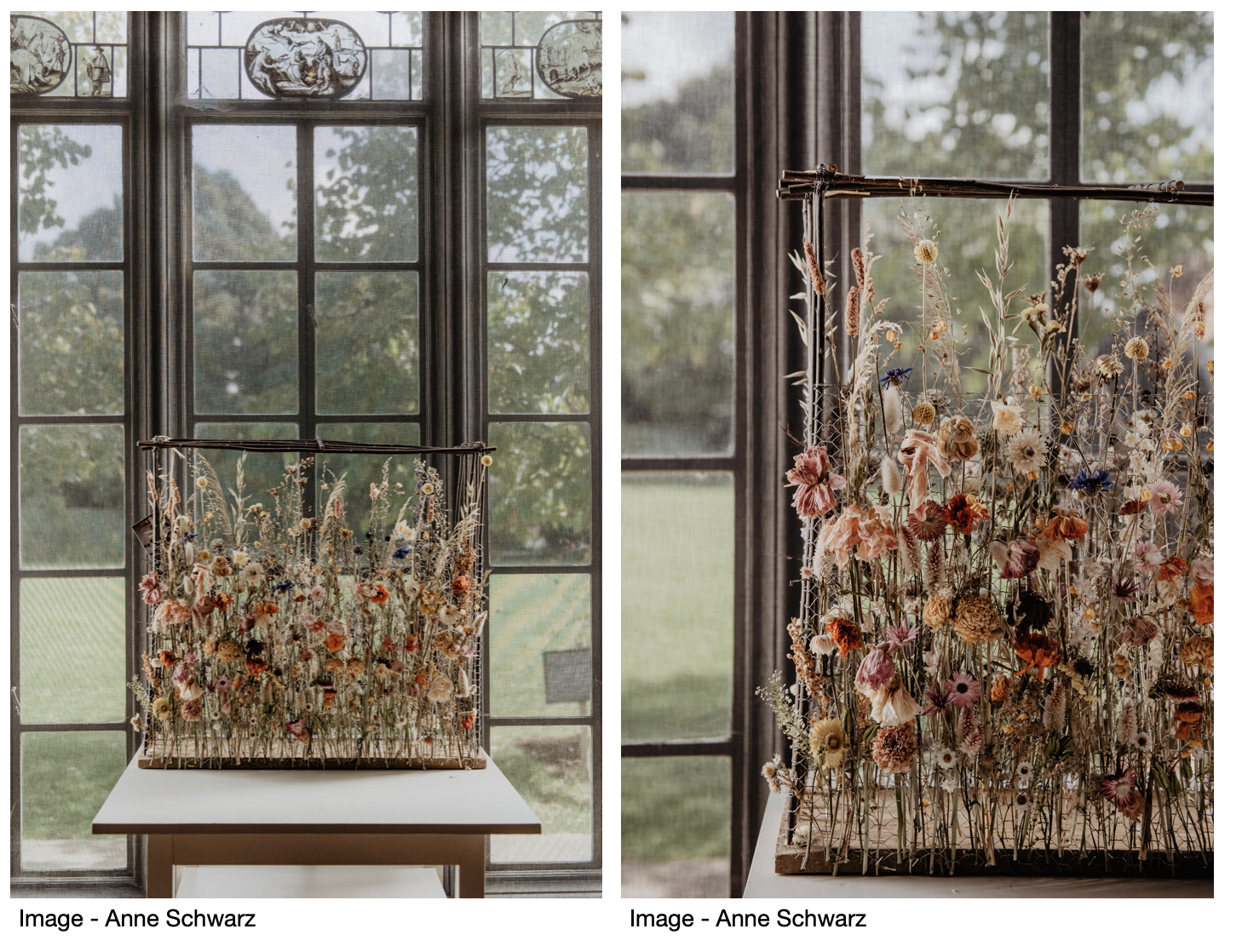 I specialise in using everlasting flowers to create vibrant, fun, and contemporary interior decorations and sculptures.. My work is influenced by the verdant colourful hedgerows in summer, and the stark and beautiful bracken-clad Welsh mountains in winter.
Sunshine & Shadow was designed to be viewed like an illuminated stained-glass window with two separate wire-backed flower meadows on either side. One is bright, colourful, and happy, and the other is muted, shadowy and subtle. This was inspired by the yin and yang of life, how in times of apparent darkness, there is often a bright side that will emerge, something wonderful and unforeseen. This is the widest variety of dried flowers, grasses and seedheads I have ever used in a single installation. I have been inspired by what is dryable, and how it can be viewed up close in this way.
Leigh Chappell Flowers – Leigh Chappell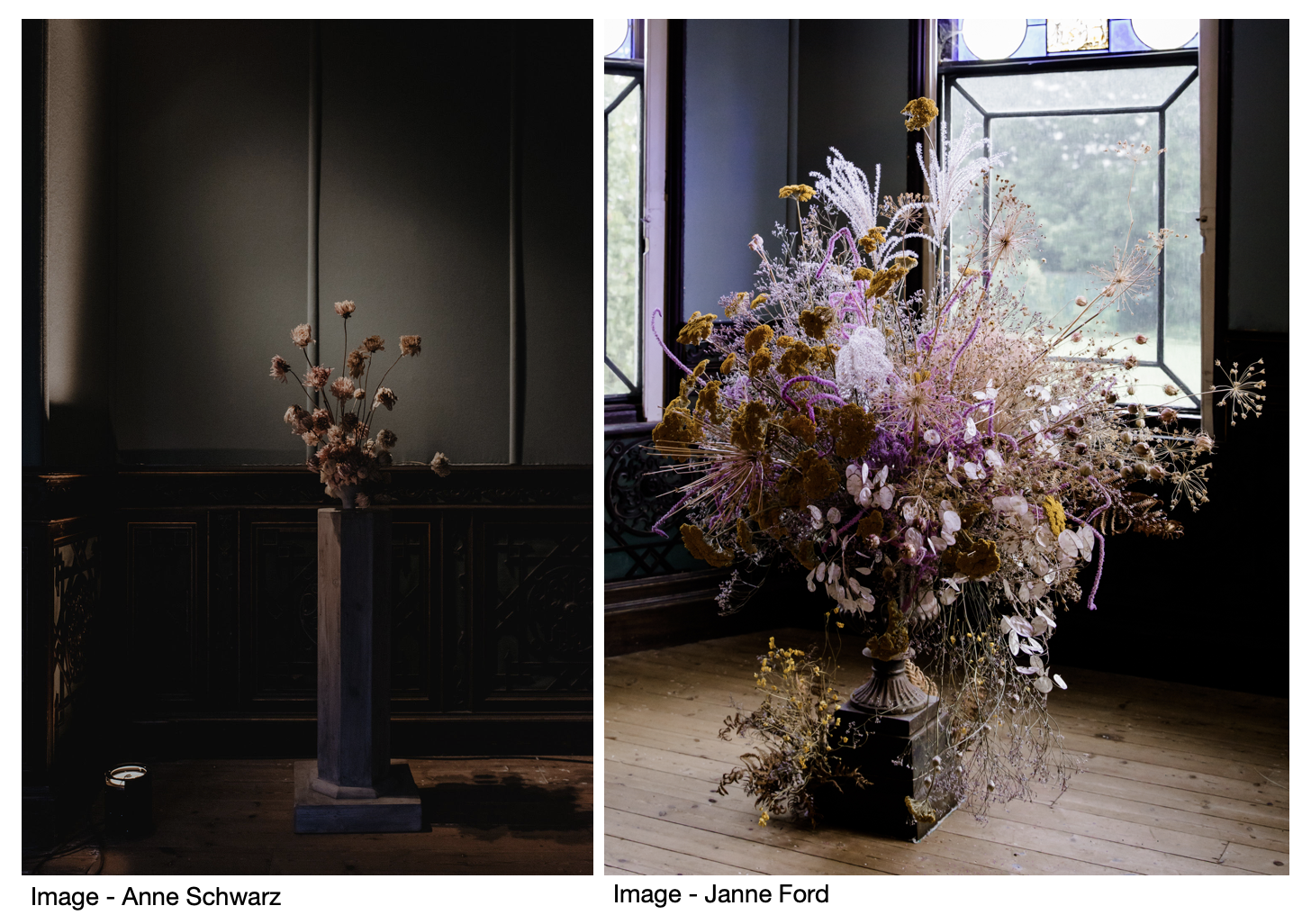 The flowers in this room were chosen to complement the beautiful velvet ceiling. The room can only have dried flowers because of humidity levels, so we opted for the warm tones of golden dried achillea and pale purple Limonium as a foil for the ochre colour.
Flowers were provided by Char Johnston Floral Design, Justdahlias and Spindle Flowers
Lilian's Flower Diary –  Lilian Highmoor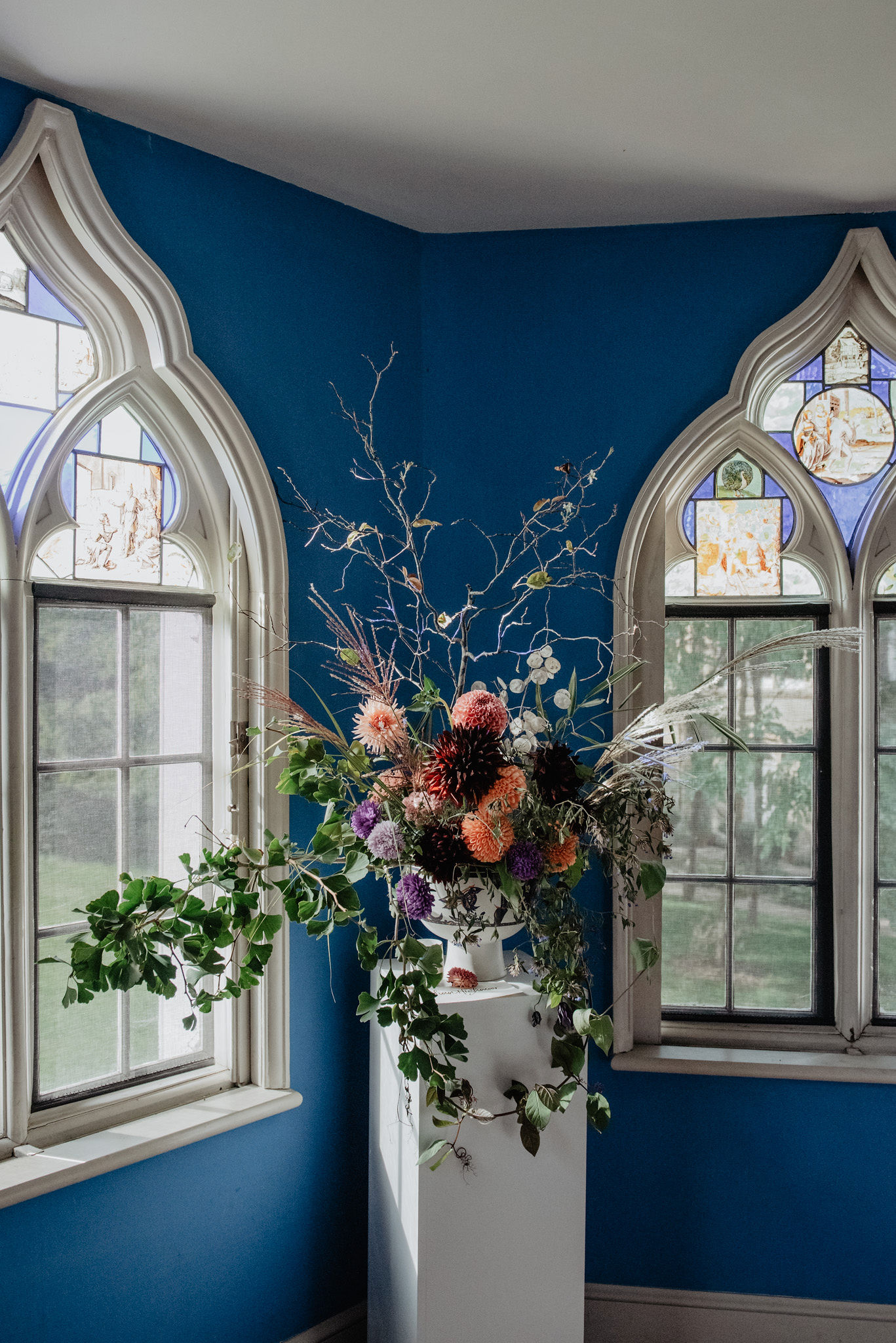 A florist for over 20 years, my passion has been reignited by inspirational growers from Flowers from the Farm and some incredibly talented floral artists. The landscape has literally changed for me. I have been on a steep learning curve and have been experimenting with flowers grown in my own West London garden.
I took inspiration from the colour of the room in which I was exhibiting, focusing in particular on the pigments of cobalt and lapis lazuli and their connection to Chinese art.
The recent explosion of flowers available from Britain has made it much easier to work with local growers. I have learnt so much from a truly inspirational group of flower farmers such as The Chobham Flower Garden, who supplied the flowers for my installation.