Four windows for British Flowers Week
British Flowers Week, the annual celebration of the British cut flower industry, is a wonderful opportunity to showcase both the beauty of seasonal, locally-grown flowers and the creative expertise of Flowers from the Farm's florists and farmer-florists. This year, the campaign organisers, New Covent Garden Flower Market, are inviting the trade and the public alike to show their support for British cut flowers by placing flowers in their windows this week.
Offering design inspiration are four talented members of Flowers from the Farm in the four nations of the UK, commissioned by the Flower Market to create window installations to kick-start the campaign. The four floral creatives are: Alex Hales of No21 Flowers in Aberystwyth, Wales; Rachael Scott of Hedgerow in Edinburgh, Scotland; Alison Drennan of Beechfield Flower Farm near Tobermore, Northern Ireland and Sarah Statham of Simply by Arrangement in Yorkshire, England
No 21 Flowers, Aberystwyth, Wales
Tell us about your British Flowers Week window design…
"For British Flowers Week, I transformed the window of my flower shop on the street corner in Aberystwyth inside and out. Inside, I filled two zinc buckets and a statement zinc bathtub with scented white, pink and purple stocks, Solomon's seal, box foliage, lupins  and a stunning branch of contorted hazel cut from a local garden. Outside, I created a natural, towering arc of beech, lupins, peonies, lilac flowers and foliage, stocks, peonies, spirea, buxus, cow parsley and limonium that appeared as though it was growing up and out of an old tree stump. 
During British Flowers Week, we shall be creating a similar Instagrammable window display with a competition on social media, as well as creating a special British Flowers Week bouquet and selling bunches of seasonal British flowers outside."
Why do you work with British flowers?
"Nowadays, there is a lot more in the news about the impact of imported flowers, and I am making a conscious effort to reduce that. I know that I can't be as British as I would like, but I am evolving the business to be more seasonal. 
A couple of years ago I decided I wanted to get back to horticultural roots and start growing my own cut flowers, growing a few beds in my back garden to add to wedding flowers. I buy in British flowers from [Flowers from the Farm members] Evolve Flowers mainly with some from Flowers by Clowance and a few local flower farmers if I'm after something specific. I'd estimate that 70% of my wedding flowers are British and in summer we sell pick up and go bunches of British flowers outside. Customers are definitely and increasingly asking where the flowers come from, and they are asking for no plastic in the packaging.  Times are definitely changing."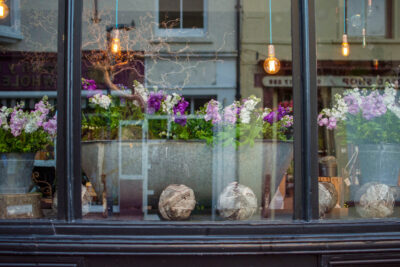 Why are you a member of Flowers from the Farm?
"I'm a member of Flowers from the Farm for the support that it offers me and my business. It's a way to keep an eye on trends, find suppliers and customers, and to receive growing support on the shared facebook forum. It's a nice feeling that we're in it together and that we can learn from the experience of other people so you don't make the same mistake."
Instagram: @no21flowers 
Hedgerow, Edinburgh
Tell us about your design for British Flowers Week
"Each season, I do a window at Haar Architects on the High street in Portobello in Edinburgh. To prepare for the British Flowers Week window display, I phoned Paula Baxter of Mill Pond Flower Farm to find out what she had in the field. Normally, I have an idea but everything is behind this year. I explained I wanted to make something quite delicate and meadow-like with some long and climbing stems to wind up the driftwood branches. We made up a cutting list on the phone and Paula appeared with it on the Wednesday.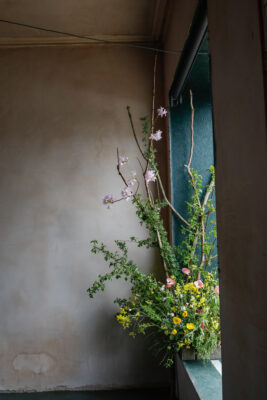 I usually speak to Paula a week before delivery about the nature of the job and the colours. This way of working relies both on the expertise of the flower farmer and the willingness of the florist to be flexible. I will have a colour palette in mind and an overall idea of the structure or the intention, but you are better taking the advice of the grower on what's looking good rather than pushing for something specific. It is a different way of working, and it throws up lovely surprises, such as the little blue forget-me-nots, which are perfect because they set off the design."
In Rachael's window design, the meadow of poppies, woad, broom, seeded hellebores, forget-me-nots, geum grasses, and aquilegia leads up the driftwood branches through wild rose foliage, and jasmine to pink rhododendron flowers, stripped back and tied on with moss. Rachael's work is foam free and she is trying to be plastic free too, so there are no cable ties. Instead, she used paper wire to secure the big branches and wet moss to bind higher in the branches, attaching behind so the mechanics can't be seen. The flowers and foliage are all in water – Rachael uses ceramic troughs. 
Tell us about your business…
"I focus on weddings and events floristry and now teach a lot with Sarah Statham of Simply by Arrangement, including a wedding flowers course with Sarah and teach at Cambo Gardens in Fife. Teaching a course when there's a garden associated with it is really special. Students can cut from the garden and just being able to walk through a garden is incredibly joyful. Students are much much more aware of the seasons and where the flowers come from."
Why do you buy British flowers?
"I buy 90% British and my intention is to be 100% British. There are quite a few reasons why I choose to use British flowers. Firstly, I am very aware of the environmental impact of flowers flown across the world and shoved full of chemicals. Buying from the UK mitigates that. Beyond that, British flowers simply are better: they look better, smell better, have more variety, and nicer to work with. Poker straight flowers have no movement and no flow to them. It's really good to work seasonally as well as the materials are much more interesting and beautiful to work with. Seasonal flowers simply look right together. I was advised early in my floristry career, that you put images out that you want to make again. If they are made with British flowers then people will want them. It is improving: people are more aware of locally-grown cut flowers."
Why are you a member of Flowers from the Farm?
"As a florist, it's important to support the growers and by being a member you raise awareness of Flowers from the Farm, what it stands for and what it exists to do. You mention Flowers from the Farm on your website and link to it for people to find the organisation. Sometimes people go to the website and find you. I found Paula of Mill Pond Flower Farm through Flowers from the Farm and we have worked together ever since. And it gives you incredible opportunities, such as to work on the Flowers from the Farm exhibit in 2018 at the RHS Chelsea Flower Show."
Credits
Flower Grower –  Paula Baxter, Millpond Flower Farm – https://millpondflowerfarm.co.uk/
Arrangement – Rachael Scott, Hedgerow – http://www.hedgerowflorist.com/
Venue – Haar Architects, Portobello High Street – https://herewehaar.co/
Photographer – Solen Collet, Solen Photography – https://www.solenphotography.co.uk/
Insta: @hedgerow
Beechfield Flower Farm, Tobermore, Northern Ireland
Tell us about your British Flowers Week window design
"I chose to create a British Flowers Week arrangement in a favourite window in my local church –  Kilcronaghan Parish Church in Tobermore. This is a regular spot for my weddings, and I have two coming up here in July. I wanted to make something soft and romantic for summer in shades of white and pink. I picked Solomon's seal, stocks, guelder rose, hawthorn, cow parsley, alliums, fresh beech from my plot for the tall arrangement complemented by a vase of Allium bulgaricum and a simple bouquet of stocks, lady's mantle, briza and guelder rose."
Tell us about your business…
"I always had a love of gardening. I wanted to grow and arrange a bunch of flowers that looked as though they've just been picked. Others look too false, too predictable. Back in 2006, I went along for an open evening about cut flowers. It was mainly men and the focus was on stem count, tunnels, and high production. There was a need for it but it was not what I had in my head. People didn't grasp where I was at. I left the idea and started growing bedding and hanging baskets, but the idea was always in the back of my head.
Then, Gill (Hodgson) was on the TV one night. She said she was starting Flowers from the Farm and talked about sweet peas and selling at the farmer's gate. I had turned to my husband and said "That's what I want to do!"
With that, I closed the gate from people walking around the plot and switched my business to growing cut flowers, hosting workshops, selling gift bouquets and weekend flowers and some funeral work. I wish I'd done it years before. I now work two days a week in the Causeway Hospital in Coleraine as a medical secretary, and the rest of the week I am a flower farmer, wife and mother."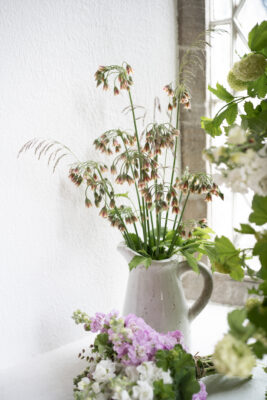 Why should people buy British?
"Locally-grown flowers will not have travelled thousands of miles. The quality and the scent set them apart. Our flowers will last a good 5-7 days and haven't been treated with chemicals to make them last for weeks. People always comment and recognise my flowers: "Those are Alison's flowers". Locally, people are interested, but it's still a case of trying to teach the public to appreciate truly seasonal flowers. The weather dictates things as a flower farmer, but you let your customers know that sometimes it may not be the exact flower you hoped would be ready on the day, but it will be lovely and you explain the ethos of seasonally grown."
www.beechfieldflowerfarm.co.uk
Instagram: @beechfield_flower_farm
 Simply by Arrangement, Yorkshire
Tell us about your British Flowers Week window design
"This window was done in Yorkshire in our neighbour's barn. It was raining cats and dogs, as usual, but that didn't stop me and Jill Shaddock making a few things that we think would look good in any window. You'll see we used a range of vessels: a jam jar, a soup bowl, a charity shop bowl, a handmade ceramic bowl (made by Jill) and an antique leather fire bucket. The idea was to show folk that flowers really can be put into anything. All you need is something that holds water. 
The flowers here were all those that had been used by the guests in classes that week. Many of them were grown by us here in the garden or on the small allotment. The cow parsley came from John Kennerley at Grown & Made (Cheshire) because ours wasn't yet out. The amazing golden/rust/orange ranunculus were from Carol Siddorn (Carol's Garden, Cheshire)  and the honeysuckle, the sweet rocket and the Argentinian forget-me-nots were from Rachel Bradley of The Yorkshire Flower Patch who supplies us with flowers every week. 
The photos of me were taken by Jill Shaddock. I'm at my happiest with a sweeping brush in my hands and I know a lot of other florists will agree with that."
Tell us about your business 
"I am a florist who grows. I mainly run workshops and I do a limited number of weddings every year. When I started out in 2013 my husband suggested I grow my own flowers because it made economic sense. I didn't realise it was about to become a big trend. More research led me to Flowers from the Farm, which was in the early stages and I met Gill Hodgson (founder)."
Why do you choose to work with British flowers?
"I have always used British flowers. I prefer to use them –  not exclusively but predominantly. Each individual flower has its own character and that's not what you get from a mass produced flower. Plus I like to know where every single flower has come from. I could look at a photograph of my work from years ago and tell you where each individual flower came from! I know because it has been picked with me or my job in mind, and because I photograph everything I make. 
Students come to me because they want to learn to do that style of floristry. They may not initially understand that it's because it's British. It's not me but the flowers that make the arrangement. It is the selection of the flowers that makes it sing and tells a story.  You have to understand them, but once you do and once you can get the right flowers, you can make something beautiful. If I had the wrong flowers, I wouldn't be able to do anything with them.
British flowers tell a story. The story is that someone has grown that flower, how it started off in a notebook or as a bulb, why someone else has chosen to use them and what they are using them for. Every single arrangement has a story. All my students create very different arrangements with the flowers. I have my own story about them and the further story of watching people make something they never thought they were capable of making. I watch them go off and transform the way they are working."
Why are you a member of Flowers from the Farm?
"I am a florist who grows. I grow only for my own work. I am a member of Flowers from the Farm for the community, the network of suppliers and all the people you know. If you are travelling up and down the country, there are people who could supply you if you need flowers or support you if you have a problem. The social aspects are really important to me too, and I have made great friends through Flowers from the Farm. And the amount of information on the closed Facebook forum for members is second to none. "
Instagram: @simplybyarrangement