What's growing in June?
Flowers are like strawberries: even though many varieties are available year round, imported from warmer climes, there is nothing quite like an outdoor-grown natural crop in season.  More oomph, more mmm, and fewer transport miles.  But unless you're a keen gardener, it's easy to lose touch with what grows when in the UK, so here is a quick guide to just a few of the  British grown flowers available in June.
Roses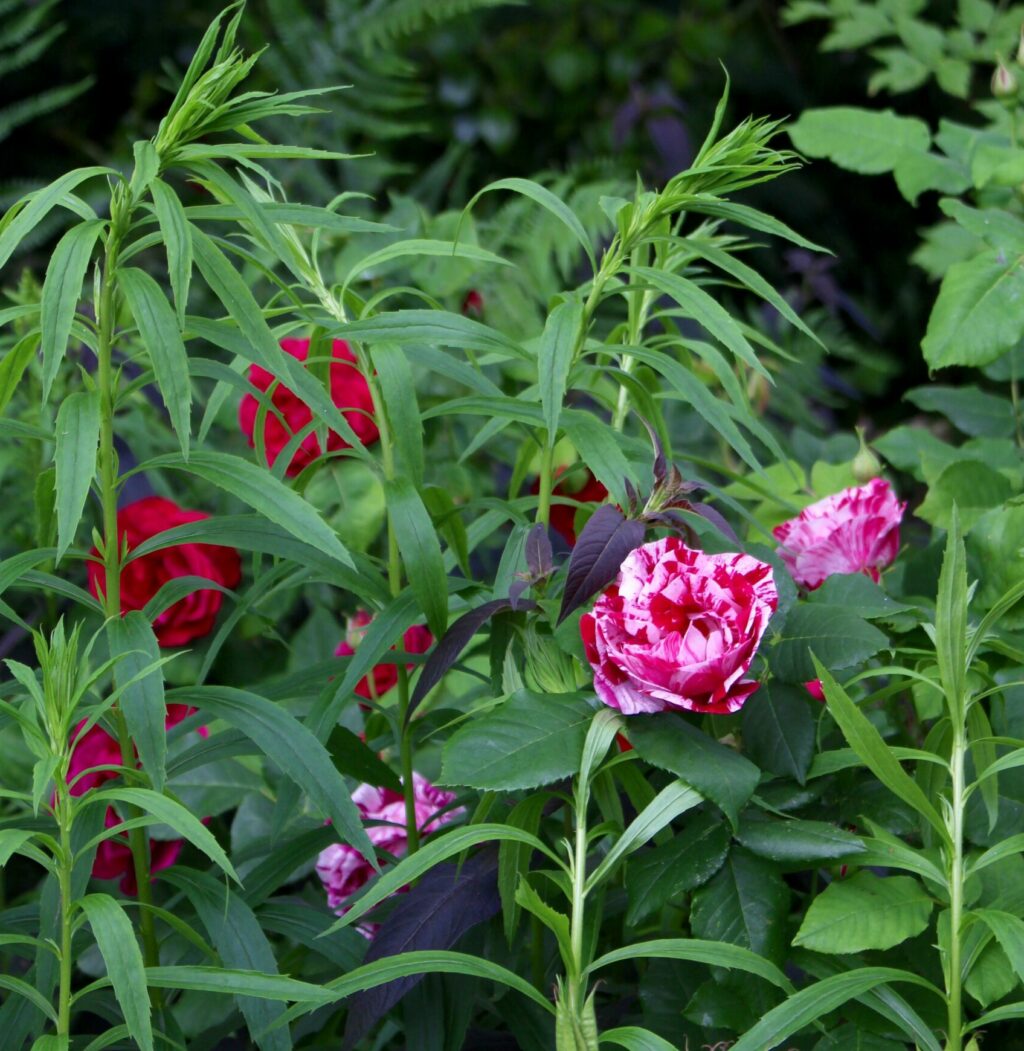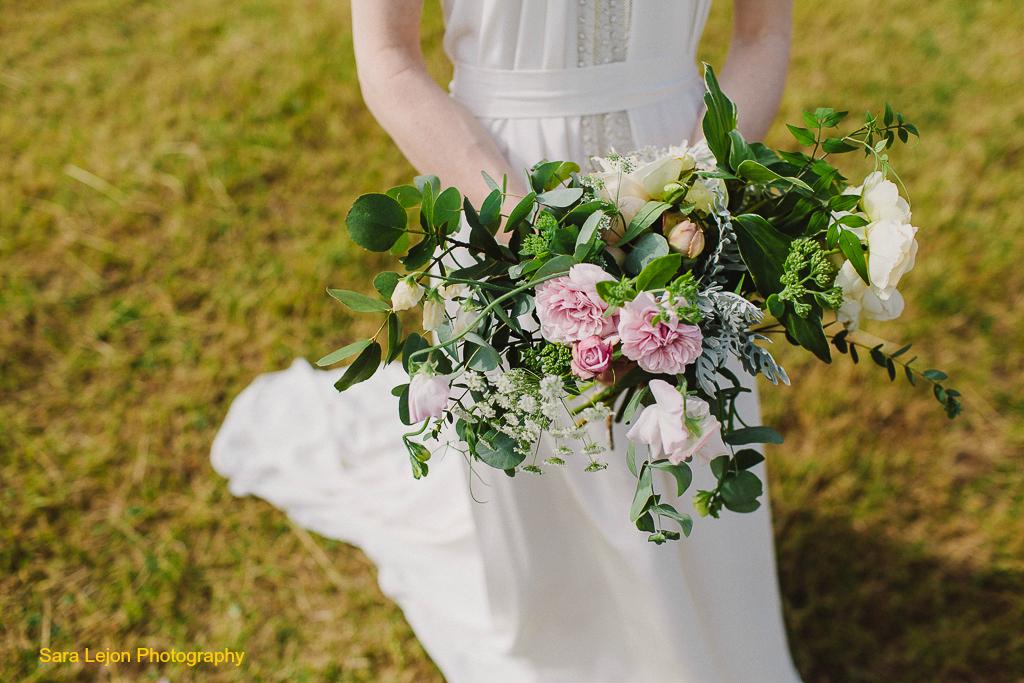 Above:  the striped petals of Rose Ferdinand Pichard, and a summer bride's bouquet with roses, sweetpeas and ammi. 
Most of us love a rose and I defy anyone to resist the heady scents of old-fashioned, highly perfumed varieties. Coming into flower from June, they can be found as cut flowers,  British grown, until September and will be the divas in any  bouquet. With so many forms and colours to choose from, you're sure to find one that you love  –  from the nodding multi-headed floribunda types, to the blousy ruffles of old-style David Austin roses, picture perfect hybrid teas everything in between. When choosing roses for a garden, look for repeat flowering varieties which will earn their keep throughout the growing season. Look also at the eventual size and spread of the plant – many ramblers live up to their name with a vengeance and have thorns so deadly that you can't work in the border anywhere in their vicinity (the voice of bitter experience speaking here!).  They like a rich soil and a good feeding regime will reward you with lots of flowers.  When you cut their blooms, it's like a more extreme version of deadheading, and most roses will work hard to replace them with more flowers. (Read more about roses for cutting here.)
Sweetpeas
Sweet peas compete with roses for the title of  Perfume Queens.  One of the quintessential cottage garden flowers, their freshly cut stems can add graceful twining tendrils and tumbling charm to bouquets and large arrangements.  They're also stunning mixed with other seasonal flowers or grouped en masse in vases and for simple bouquets.  They don't like getting too dry – if starved of water they often fall prey to powdery mildew – so keep them well watered. Pick the flowers as fast as they grow to keep them coming over a long flowering period.  If you let them set seed on the plant, it will assume it's fulfilled its reproductive destiny and stop trying to produce more scented blooms.  Cool weather will see stem lengths lengthen, but when they're short, try cutting them on the tendrilled stems for a bit of extra wiggle in bouquets and vases.
Cornflowers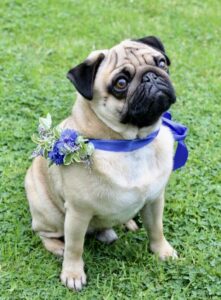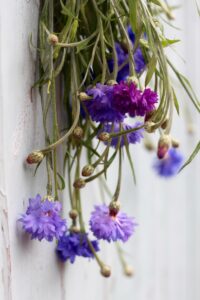 Another cottage garden favourite and a  rare true blue.  Whilst they may not be large enough to take centre stage, cornflowers add pops of contrasting colour and are fabulously long lasting out of water for buttonholes and flower crowns.  The bright blues are the most popular colour, but dark purples, whites and pinks are also available.  Cutting out the main stem when its first flower appears will encourage the plant to bush out and form more flowering side shoots.  The side shoots will then give you more harvests of a period of a few weeks.
Nigella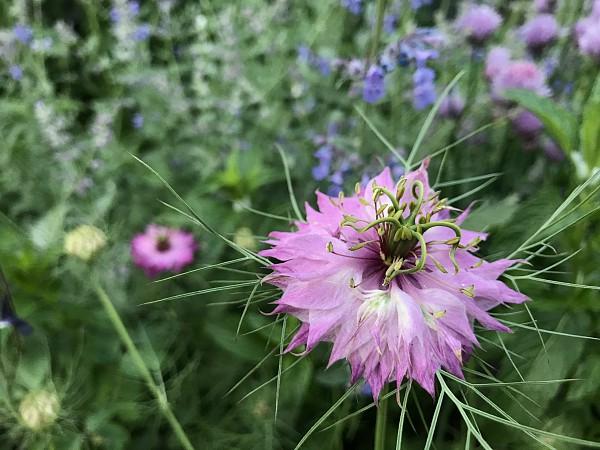 Commonly known by the romantic name of  'Love-in-a-Mist' these, soft pastel flowers come in blues, pinks and whites, centred with a lantern-like seed head with filigree tendrils. Easily grown from seed each year, this is one of the most perfect flowers for adding a light, ethereal quality to bouquets. You can even save and dry the decorative seedheads – suspend them upside down somewhere warm and dry, give them a shake to retrieve the black seeds, and hey presto, you've got your next batch for sowing!
Ammi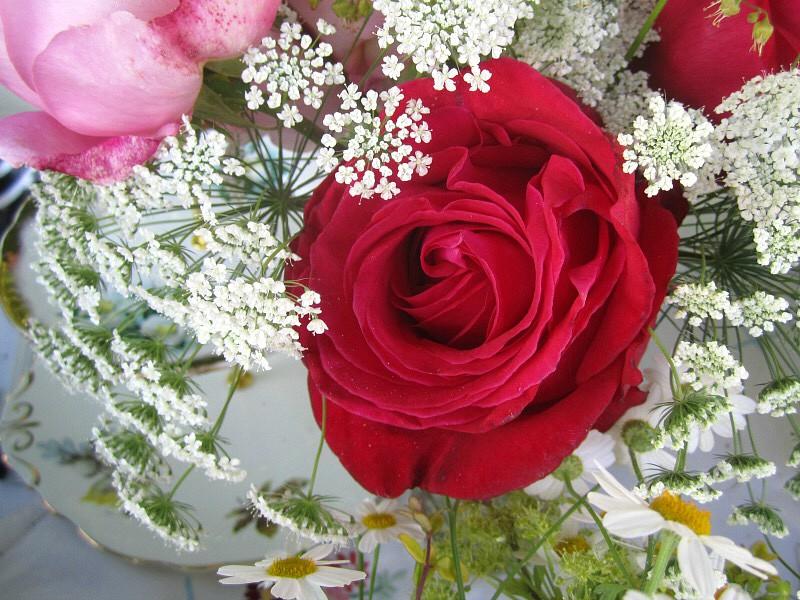 Above: Lacy Ammi Majus paired with the Turkish delight scented hybrid tea rose, Alec's Red
Early summer heralds a host of frothers which add a light, delicate texture to arrangements.  Ammi Majus is one of my favourites.  It's  a cultivated version of cow parsley with a beautiful white umbellifer flower and it's not coincidence that you can spot it accompanying many flowers in my photos as it seems to complement everything fabulously. September sown Ammi always grows taller and stronger than that sown in spring, so if you are wanting to cultivate giants, don't forget your autumn sowings.  As a tall and elegant flower, it also benefits from staking to help it stay upright in windy and wet conditions.
The list of late spring/early summer flowers could run to several pages – but I hope this gives you a flavour of  just some of  the stunning flowers which our British climate brings bursting forth in June.  Follow the instagram hashtag  #virtualbritishflowershow to keep up to date with what else the month brings.
To find a seasonal flower grower local to you, use our Find Flowers page and the dropdown menu to choose your search category and region.