Winter reads
By Emma Greenshaw.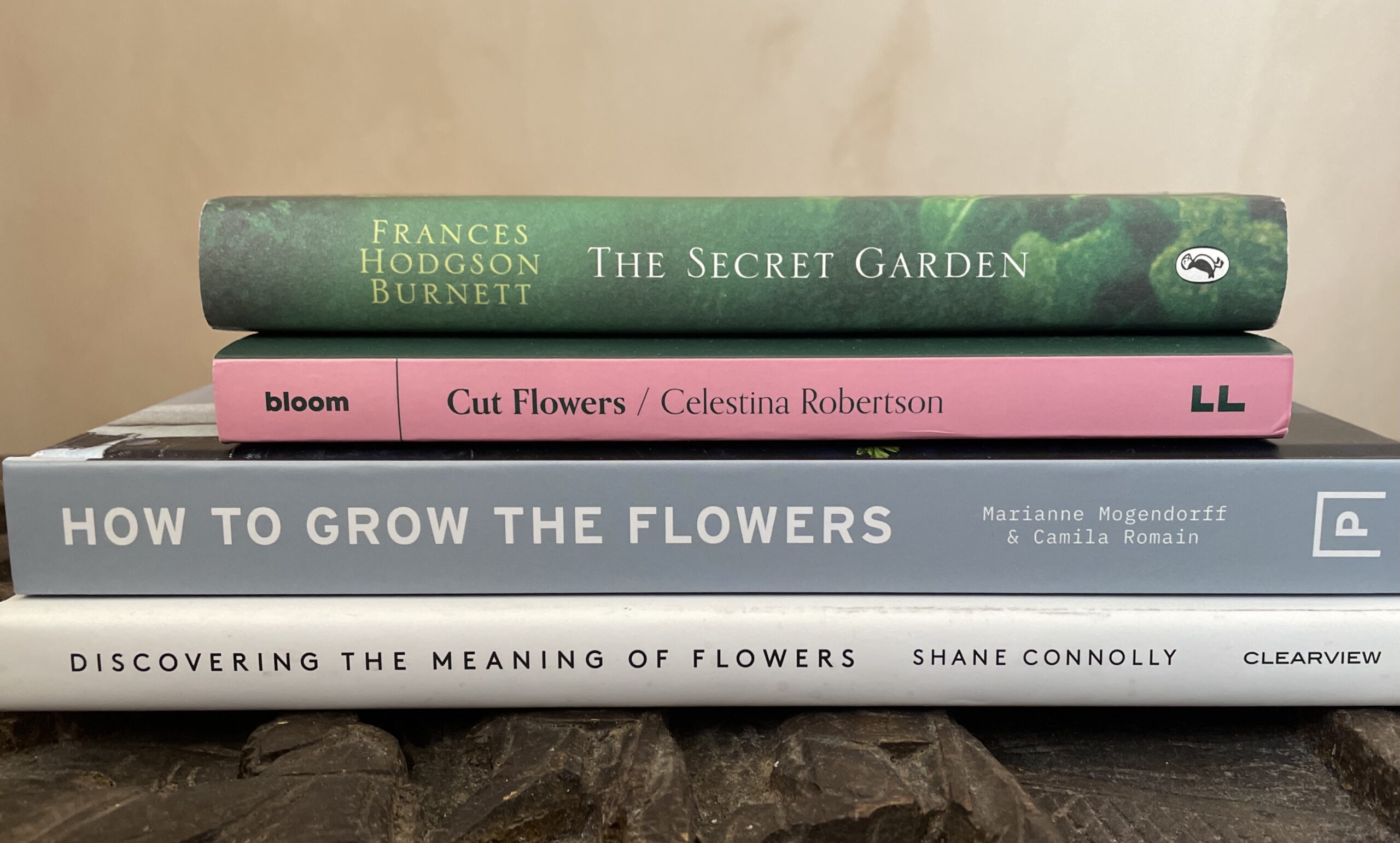 Winter is one of few times in the growing year that us gardeners and growers get to absorb ourselves in a good book, or pick up tips from the comfort of an armchair. From recent flower farmer publications to an absolute classic with all the joys of spring, join me to see what's piled up by my sofa this month.
Let's start with something from Shane Connolly because for one thing, he is an unstoppable inspiration to those of us who care about seasonality and sustainability in floristry, and for another, this is not your ordinary book about flowers. I was gifted Discovering the Meaning of Flowers by my mum after spotting it at the Strawberry Hill Flower Festival in September, and she wrote in it 'This can't possibly wait til Christmas!'
Shane introduces us to the world of 'floriography' – the meaning behind some 50 different flowers and plants, which were used from ancient history until the rise of the emoji to convey our innermost thoughts and wishes.  This a coffee table book with meaning, and if you're not sighing out loud at the delicious floral pictures you may well find yourself remarking knowingly to no-one in particular as you discover the language behind the flowers!
With a focus on seasons, nature and the garden the book is clearly laid out, with knowledgeable, witty and sincere explanations and the simple projects for arranging flowers make this an excellent floristry guide too.  We all know that sending a red rose means 'I love you', but in a UK winter they come with an enormous unromantic carbon footprint, so here's an alternative for St. Valentine's Day:  the pansy or viola says 'you are in my thoughts' and 'I'll always be true', and blooms here in February so you could plant up a pot or two for your beloved.
If you are planning to grow and enjoy your own flowers in 2023 then I highly recommend Cut Flowers by Celestina Robertson. Cel is well respected in the flower growing world not only for her horticultural skills, but also her strong stance and knowledge on sustainability in its fullest sense – people, planet and profit – and she has put her wealth of experience into this book, published in 2022.  Divided into sections titled Learn, Plan, Grow and Care this book is equally enjoyable and useful for the novice as it is for the more experienced flower grower.  I was straight in there with a pencil making notes on pages and I particularly love how Cel describes the difference of working with seasonal flowers:
There is a convenience to conventional floristry practice that means you design first and then purchase the flowers you require … it's a very different proposition to work solely with floral material gathered in that moment rather than buying in specific varieties to carry out a design recipe.
The book starts off with clear descriptions of the types of flowers – annual, biennials and perennials – and lists suggested varieties.  There are tips on selecting and arranging flowers with gorgeous photography from Cel's flower farm, Forever Green Flower Company in Norfolk.   The 'Grow' section covers everything from compost through seed sowing to harvesting through the year, with detailed information on sowing, growing, vase life and things of note for individual varieties. (If you like Lisa Mason Ziegler's Cool Flowers format, you'll love this.) It's a handy size, and I'm sure will be one of those books that gets properly dog-eared with use.
I'm in favour of supporting fellow flower farmers, so How to Grow the Flowers by Marianne Mogendorff and Camila Romain was a Christmas present to myself, and is my current read.  The huge glasshouse of Wolves Lane Flower Company in North London is a world away from my windswept field in Cumbria, and yet we have a lot in common.  Our businesses are the same age, we are career-change growers, we have no formal training, we're members of Flower From The Farm and we share a deep concern for the climate crisis and the optimism of the solutions we hold in the flowers we grow.
This is a 'through the year' grower's guide, but it's cleverly laid out.  Starting in autumn, arguably the start of the gardening year (but they urge, don't wait until then – just start!), each season is divided into Soil, Seed, Tend, Harvest and ends with a floral arranging project.  So as you flick through the year, there are gems of information to discover – a list of favourite varieties, how to pot up a dahlia tuber, how to build a compost heap…  It's a lovely, chatty read with more of 'this is the way we do it', rather than 'you must do it like this'.  With plenty of gorgeous photos, Marianne and Camila show us lots of images of either flowers, seeds, or soil in their hands, as if saying: you too could do this, even without a huge glasshouse, give it a go, make mistakes, enjoy your successes.  This a book I'm going to be adding little post-it notes to for quick reference as well as turning to for a gentle read on a cold evening.
Returning to nature and the garden, I thought I'd include that classic from Frances Hodgson Burnett, The Secret Garden.  Written in the early 20th century there are references of its time regarding ethnicity and class that I'm not celebrating here; but the book is overwhelmingly a story of the power of nature. The importance of natural magic, and the absolute joy of discovery through children's eyes could hardly be more relevant than now. I credit this book with sparking my love of nature and watching things grow.  Reading it again, some 40 years after first enjoying it, I still feel the excitement when Mary discovers green shoots of bulbs poking through the grass and weeds, and sees buds on seemingly dead stems grow leaves and blossom as spring comes.  If this winter is feeling dark and gloomy, then this read is a promise of spring, and if you venture outside and listen I bet you'll hear that perfect song of the robin.
(Emma Greenshaw runs The Fellside Flower Company in Cumbria and is currently FFTF regional coordinator for the North West.)