A week at Tuckshop Flowers
In the first of a series of posts by different members of Flowers from the Farm, our co-chair Carole Patilla takes us behind the scenes of a week in her Birmingham based business.
Feeling a little bit like Adrian Mole here, keeping an online diary, but here goes with a week in the life of…
Monday 3rd May 2021
It's a bank holiday, but I've got a 1:1 workshop booked in for tomorrow – the first one since the last lockdown easing in summer 2020.  My physical workshop space is a bit of a mess and I spend the day clearing out detritus of all kinds – foliage, branches, containers, surplus materials and washing the bucket mountain that's piled up outside my back door.  In this new age of Covid there's a big focus on sanitising surfaces and door knobs, sterilising tools as well.  End up with a deep cut on my finger from  sterilising secateurs. Ouch.  Tomorrow's session is supposed to give a glimpse of the 'below the waterline' aspects of florist life but they are going to think my work life is far more orderly than it actually is!  Meant to clean out car, but ran out of time  so it remains true to its normal state – a small mobile compost bin – at least that bit will be 100% authentic!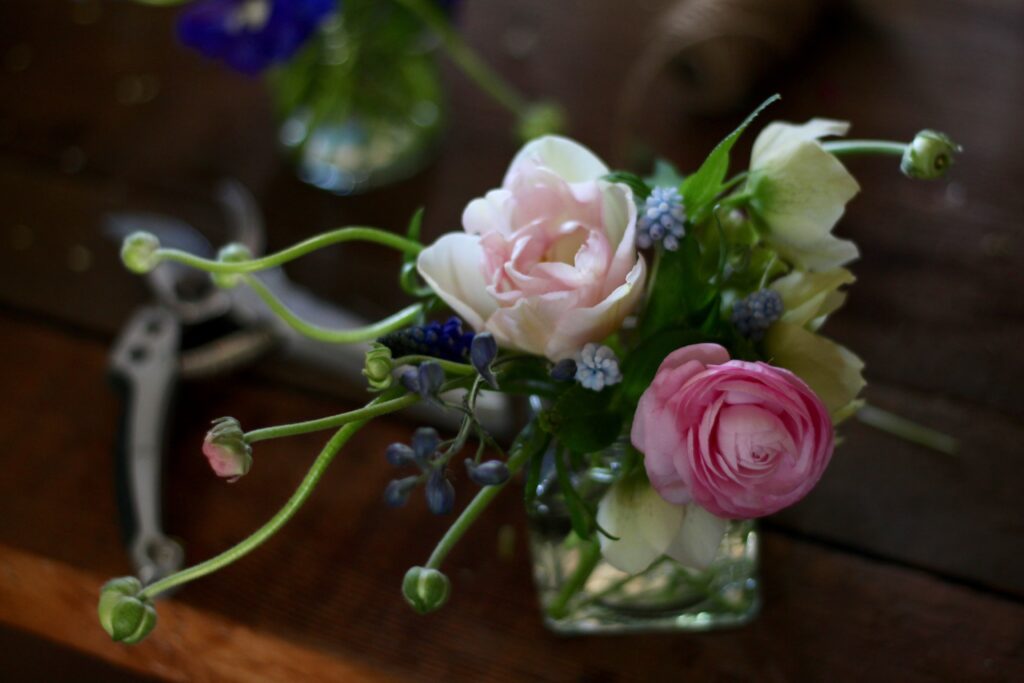 Tues 4th May 2021
Up at 5am for a 6am workshop start – my own fault for wanting people to know that you've got to be prepared for the early shift it you want to work in floristry.  M. arrives for workshop and as she plans to work with commercial flowers, we go to market to look at what's available.  Not much is the answer as the delivery is held up and won't arrive til later in the day.  We choose a few flowers from what's available and head back to the garden where I'm far more inspired by the fresh spring foliage on offer than by the predictable flat colours of the market's offering.  We pick fresh bronze coloured amelanchier leaves, pink acer leaves, ferny aquilegia foliage, explosions of White Lion broom, lacy spirea which is just about to burst into flower and a few blousy heads of Belle Epoque tulips. M. wants to try out table centrepieces, so we work at 2m distance across the workshop choosing what to put in small urns and chat through our masks about flower arranging techniques, photography, business issues and self-employed life in general.  She makes a gorgeous table arrangement – obviously has a knack and a good eye for shapes and forms – and also a hand-tie which I show her how to wrap in paper.  I think she realises after seeing me dash out multiple times in to the garden with my scissors, that having a cutting patch outside your back door offers wonderful  liberation from the constraints of purely wholesale supply.
She departs at 1pm and I grab and sandwich and start to clear up before picking flowers for making tomorrow's bouquets between the rain showers.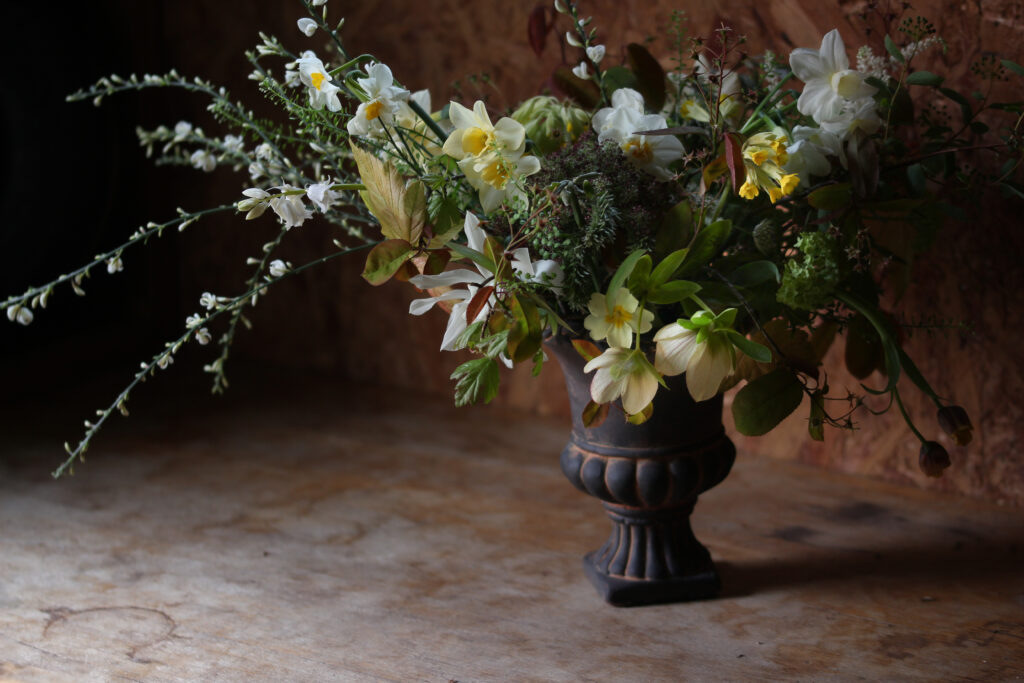 My workshop piece which favoured just the current lovelies from my plot.
Weds 5th May 2021.
Am – Go down to the flower plot to pick more for bouquets – I've teamed up with a local gardening company to offer subscription bouquets to their clients and this will be my first delivery.  I find  the delivery of bouquets is the most time consuming aspect of retail floristry, and is one of the few aspects  I don't enjoy, so I'm keen to see how this new collaboration can simplify things for me.  They're managing the subscriptions and delivery so  I just have to supply them with wrapped bouquets for their clients once a month.   The apple trees at the plot are filled with fat pink buds, the beech hedge is waving slim bronze branches at me with burnished buds (haha! I think as I snip them off at will!). The hellebores, now firm and sturdy, fill a bucket. These along with pale fragrant wallflowers, branches of currant, unfurling pleated hazel leaves, and vivid green raspberry canes will make my bouquets sing. Armed with a wheelbarrow full of delicious plot ingredients I head home, and make them up into bouquets  along with with fat tulips, frilly ranunculus, a few tall anemones. Wrapped, stickered and popped in to clean jars of water, I take them over to Julia for her to deliver the next day. She's delighted. Yay!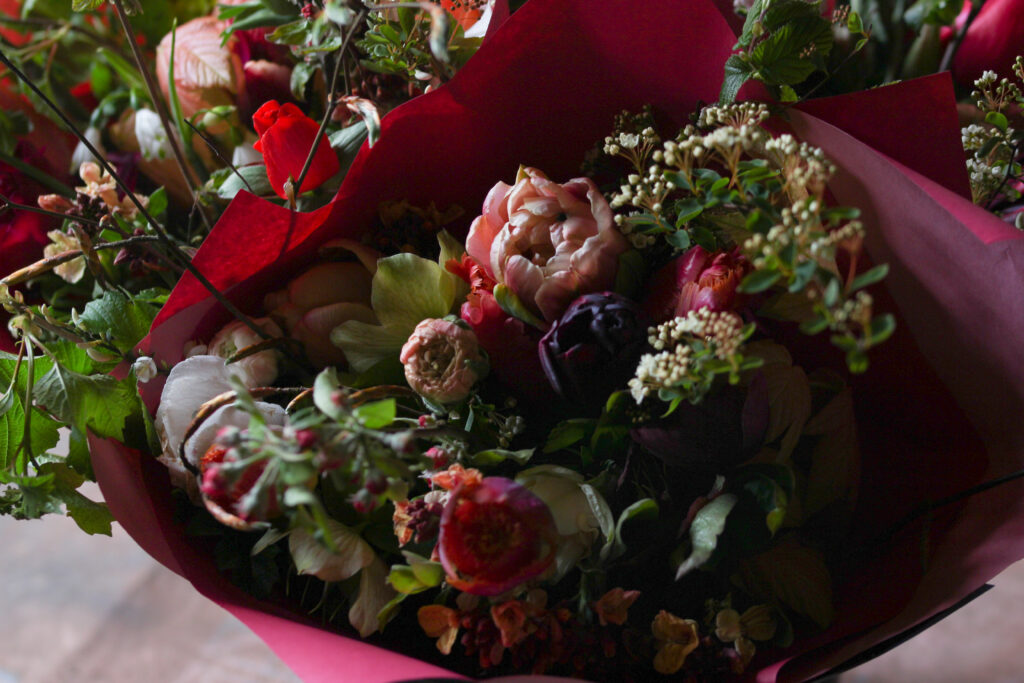 Thurs 6th May 2021
It's a gardening day with Emma who helps me one day a week down at the plot. We discuss where to site the sweet peas this year and lop some coppiced hazel poles to build a wiggly, slightly haphazard but (to our minds anyway) wonderful sweet pea arch.  After a week of waiting patiently in pots under the apple tree, the sweet peas finally get planted into the ground.  We are both delighted and laugh at being such saddos to be  so pleased with it all.  Emma's weather fairy skills hold good and the clouds blow over to give us bursts of glorious sunshine throughout the morning. Birds tweet, all is good.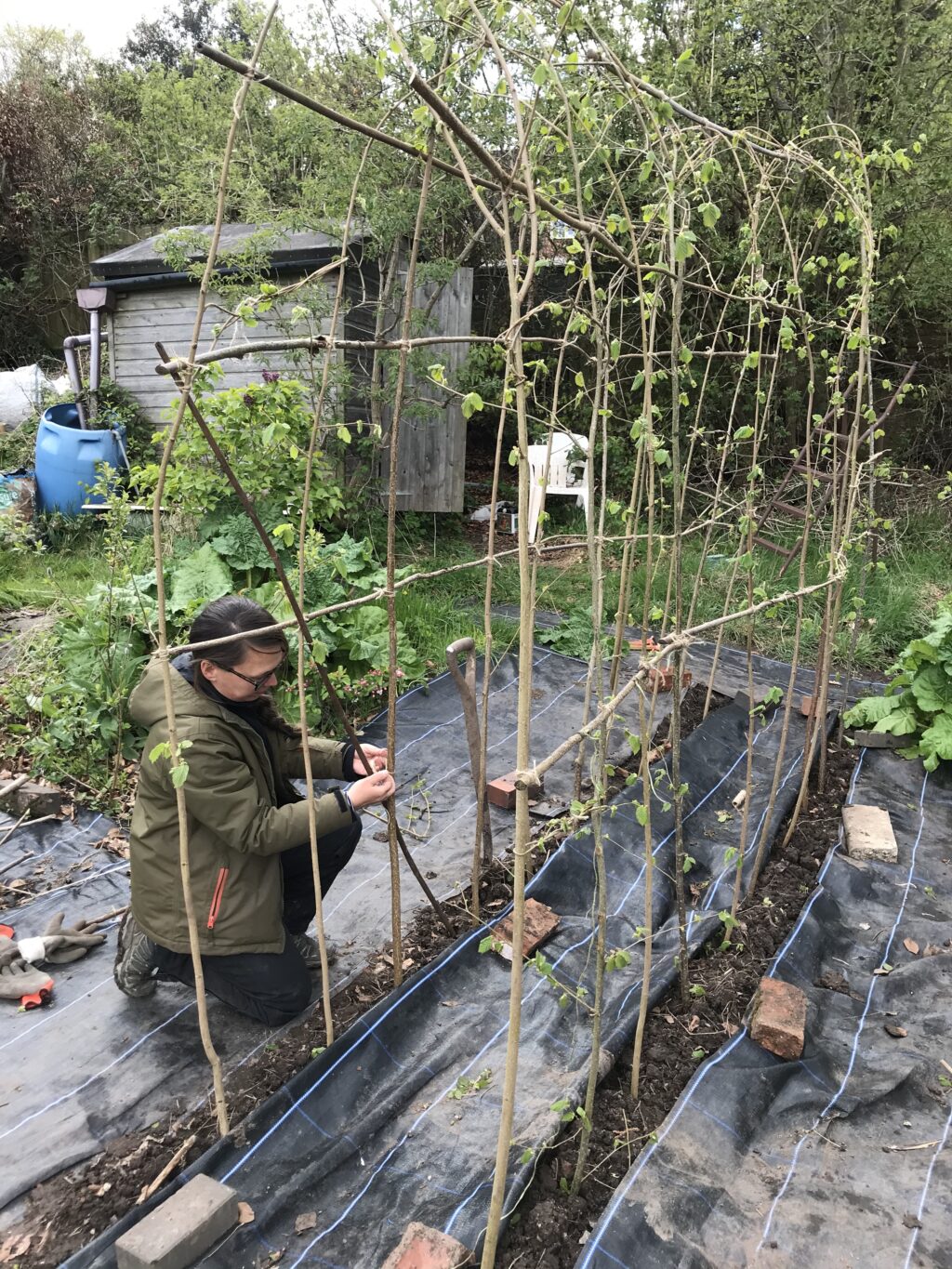 Friday 7th May 2021.
A morning of invoices and accounts while I wait to do an online consultation with a prospective wedding client for next year.  She seems great and very open to ideas, her venue looks gorgeous and I love her ideas – so now I've just got to get the quote written up to send – fingers crossed for that one. Lovely to be thinking about the creative challenge of weddings again – I've missed it.
In the afternoon I go down to the plot again to plant more sweet peas in the spaces remaining on the arch. Dig up a few more overwintered dahlia tubers to inspect for signs of survival and/or growth. About 60% of the tubers left in the ground seem to have survived a very cold and wet winter in my clay soil with a deep leaf mulch on top.  I'm mildly amazed that any have come through it to live another season.  These come home with me to be chopped up into sections, potted up and started into growth in the greenhouse. All the labels have got lost, so as usual they'll all be relabelled "last year's". Lucky that I love a pot luck approach to life and gardening. At least last year I dug up most of those I didn't like before they stopped flowering so hopefully I won't find myself propagating any of those!