Our Diversity Scholarship awards for 2023-2024
We are delighted to announce the successful candidates of the Flowers From the Farm Diversity Scholarship. As a not-for-profit co-operative of British flower growers, we believe in creating an inclusive and representative community within the floristry, horticulture, and flower farming industries. The mission of our scholarship and Diversity Action Group (DAG) is to break down barriers and provide equal opportunities for all aspiring flower farmers from the Global Majority and low or no income circumstances.
We have been blown away by enthusiastic applications from many budding flower growers and are now thrilled to introduce the five talented individuals who have been selected. Each has shown tremendous passion, dedication, and enthusiasm for flower farming and we are excited to support them as they kick-start their careers in the industry.
Our scholarship benefits
Each winner will receive a comprehensive program to equip them with the knowledge, skills, and tools needed to thrive in the flower farming industry. This includes enrolment on a City & Guilds Level 2 Practical Horticulture Skills course, travel and accommodation for their studies, first-year membership of Flowers From the Farm, and access to our members-only Facebook forum for shared learning and bulk buys of corms, perennials & plants.
In addition to the City and Guilds course, the scholarship will also provide the winners with five online group sessions led by experienced FFTF florists and flower farmers, covering essential topics such as marketing, weddings and events, and flower farming economics. They will also have the opportunity to engage in four one-on-one mentor sessions with a regional appointed flower farmer, complete with site visits for hands-on learning.
Each will receive a starter kit which includes a selection of reference books on flower farming and growing. They will also have access to our DAG Diversity Scholarship Scheme coordinator for pastoral support, ensuring they receive the guidance and encouragement needed to flourish as flower farmers.
We are proud of the progress we have made in fostering diversity and inclusivity within the flower farming community. We believe that every individual deserves the opportunity to pursue their dreams, regardless of their background, and we are committed to providing a supportive and nurturing environment for all.
Introducing our scholars
Emma-Jae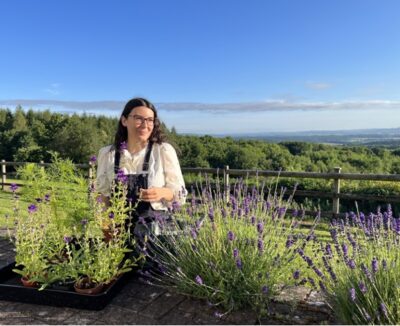 Emma-Jae told us that they're so happy to have found the transformative power of growing and draw happiness from cultivating their own plot, learning through books, podcasts, and from others. Emma-Jae dreams of creating a farm and environment that not only thrives as a sustainable business but also serves as a healing sanctuary for visitors. Flower farming holds the promise of independence, growth, and the opportunity to channel creativity into impactful projects. Emma-Jae submitted a brilliant application with a detailed three year plan and real understanding of where they would need more support and to learn more.
Danielle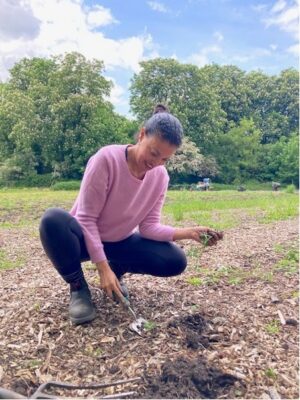 Danielle's mission is to nurture a vibrant community through food sovereignty, pleasure, and beauty by cultivating multifunctional plants. Embracing the power of flower farming, Danielle envisions a beautiful farm space that not only brings joy to people but also supports pollinators and biodiversity. With a passion for practical farming, Danielle finds happiness and well-being while tending to the land Drawing from their extensive experience in growing and farming across different seasons, Danielle is determined to provide their local community with a wide array of beautiful and sustainable flower choices. Danielle's application showcased a wide array of growing experience and we felt that they were a worthy recipient of one of the scholarships.
Sophia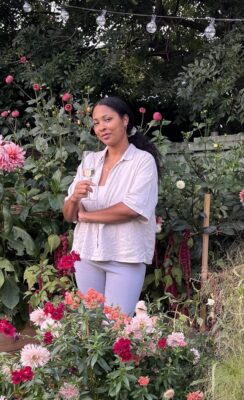 Sophia is a passionate flower enthusiast, gardener and allotmenteer with a vision to offer fellow flower lovers locally and organically grown, seasonal blooms with a reduced environmental impact. Dreaming of turning a personal connection with growing into a fulfilling career, Sophia views the physical labour involved as a meaningful part of the reciprocal relationship they cultivate with their growing space. They believe that the more they invest in caring for the land, the greater the rewards it will bestow upon them in the form of abundant flower crops, fostering a cycle of growth and fulfillment year after year. Sophia submitted a really strong and robust application with solid growing experience and displayed real understanding of the skills she would need to acquire and how the scholarship would help her do this.
Jennifer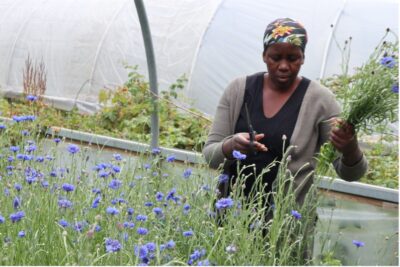 Jennifer's decade-long love for nurturing flowers and dedication to the craft of floristry has become an integral part of their lifestyle. With a deep understanding of the importance of flowers for pollinators, Jennifer envisions expanding their flower farm to serve their local community, supplying weddings and special events, and offering a wide variety of high-quality flowers, including peonies and medicinal blooms. Jennifer's application included a detailed 3 year plan and understanding of how the scholarship could help her to achieve her goals.
Lana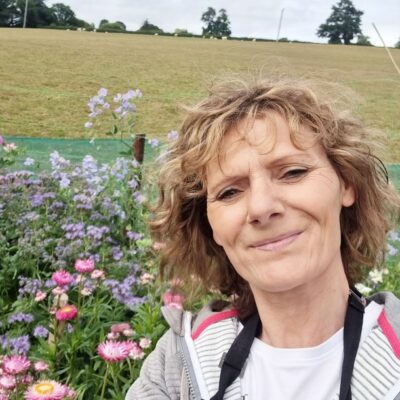 Lana is an advocate for sustainability in the flower industry, driven by their background in teaching and a desire to educate their local community about the importance of ethical and eco-friendly practices. Their love of the outdoors and the ethos of hard work instilled by their upbringing has guided them towards flower farming as a fulfilling career. Lana's application showed that she's already committed to growing season and sustainable flowers and it was clear that she's committed to getting the most out of what our scholarship has to offer.
Keep in touch
Congratulations once again to our exceptional scholarship cohort!  We can't wait to see your flower farming journey unfold.
Stay tuned for updates and stories from our scholarship winners here on our blog and on our social media channels. We are grateful for the support of The RHS Flourish Fund in making this scholarship possible. If you would like to support the Diversity Committee in their work please email: diversitygroup@flowersfromthefarm.co.uk.