A woodland wedding
Fiona Porter of Cotswold Country Flowers shares her experience of flowering a magical woodland wedding in the summer of 2022. She sets a great example of the level of care you can expect from our members – and of the natural perfection of seasonal, locally grown British flowers.

One of the USP's of a flower grower/florist is that we can be a bit more flexible than a conventional high street florist, and some, like me, relish the challenge of less traditional weddings and events. Needless to say, I was excited to meet Lucy and hear about her and Sam's plans for a tipi wedding in a secluded woodland glade owned by Wild Woodland Celebrations near Nailsworth.
My business, Cotswold Country Flowers, is based not far away on the south-west edge of the Cotswolds, and I adore flowering country and rural style weddings. At just over ⅓ acre my growing patch is relatively small, and as the season is very short, every flower counts! To share my passion for all things seasonal and local, couples are invited to visit my cutting garden a year before their wedding to get a sense of what flowers might be available for their special day. Lucy did just that with her mum Maggie in July 2021 for her wedding to Sam in July 2022.
While wandering around the garden, cutting a few flowers that caught her eye, I could tell that Lucy knew what she wanted:
something fun to do with her friends who were coming from all over the country;
to keep things as local as possible to Stroud including produce and suppliers;
to stay true to her creative and resourceful nature, and give things a go herself.
Her colour palette for bouquets and table flowers was quite conventional pastels, but she wanted something more bold and eye-catching for a floral arch (I noted she'd also cut amaranthus, sunflowers, and dahlias). Lucy understood that I could not guarantee exactly the same flowers the following year but that I would do my best.
Meeting Lucy in person that day gave me the gist of her "vibe". By the end of her visit, we'd agreed to the plan of a pre-wedding workshop at the woodland site to make bouquets, buttonholes and table flowers, with additional buckets of flowers for her party to adorn a hazel arch themselves.
Without wanting to cramp Lucy's style, I explained some of the practicalities of looking after flowers: finding a water source, for example, and a place to keep them in shade and in buckets of water for as long as possible and out of reach of the local deer! Fortunately, a woodland setting during the heatwave of July 2022 couldn't have been more perfect.
For me, the logistics to consider were the location (long bumpy track), transport of trestle tables and flowers for the workshop (transit van hire required), and an extra pair of hands on the day (the lovely Anthea) to help unload equipment, assist at the workshop and reload the van.
When Anthea and I arrived the day before we were in awe of the huge tipi that had somehow been erected between the trees by Cotswold Tipis. Other suppliers were on site too, and other party essentials (e.g. toilets and generators) were being set up. We managed to bagsy the kitchen area for the temporary workshop, and started organising the trestles and buckets of flowers. Shielded by the sun, and with a cool breeze, it was a magical setting. The workshop was the perfect antidote to a stressful 24 hours for Lucy and a great way for both her and her  friends to relax for a few hours and have a good catchup over flowers. After well over a year of preparation, it all suddenly started to feel real.
Lucy had first dibs on the flowers and she chose exactly what she wanted for her bouquet as did each of the bridesmaids. They also made all the buttonholes for their partners and adorned a collection of vintage bovril jars (discovered in their garden) with pretty flowers for the tables.
Before finishing and packing up, we made sure all the floral items had plenty of fresh clean water overnight and were in a cool shady spot. One of the bridesmaids was in charge of snipping stems shortly before the ceremony.  We also advised how to make the most of the hazel arch with large jars of foliage and flowers strategically placed below and within the arch to frame Sam and Lucy during the ceremony. Their guests witnessed it all while sitting on hay bales.
Judging by the photos (taken by Zara Davis Photography) and the feedback, the whole day was full of laughter, joy, fun, music, food and drink. It really was a perfect day!
"Thank you for everything you did to help make the wedding a resounding success. So many people commented on how beautiful the flowers were, and the arch was spectacular. Thank you wholeheartedly."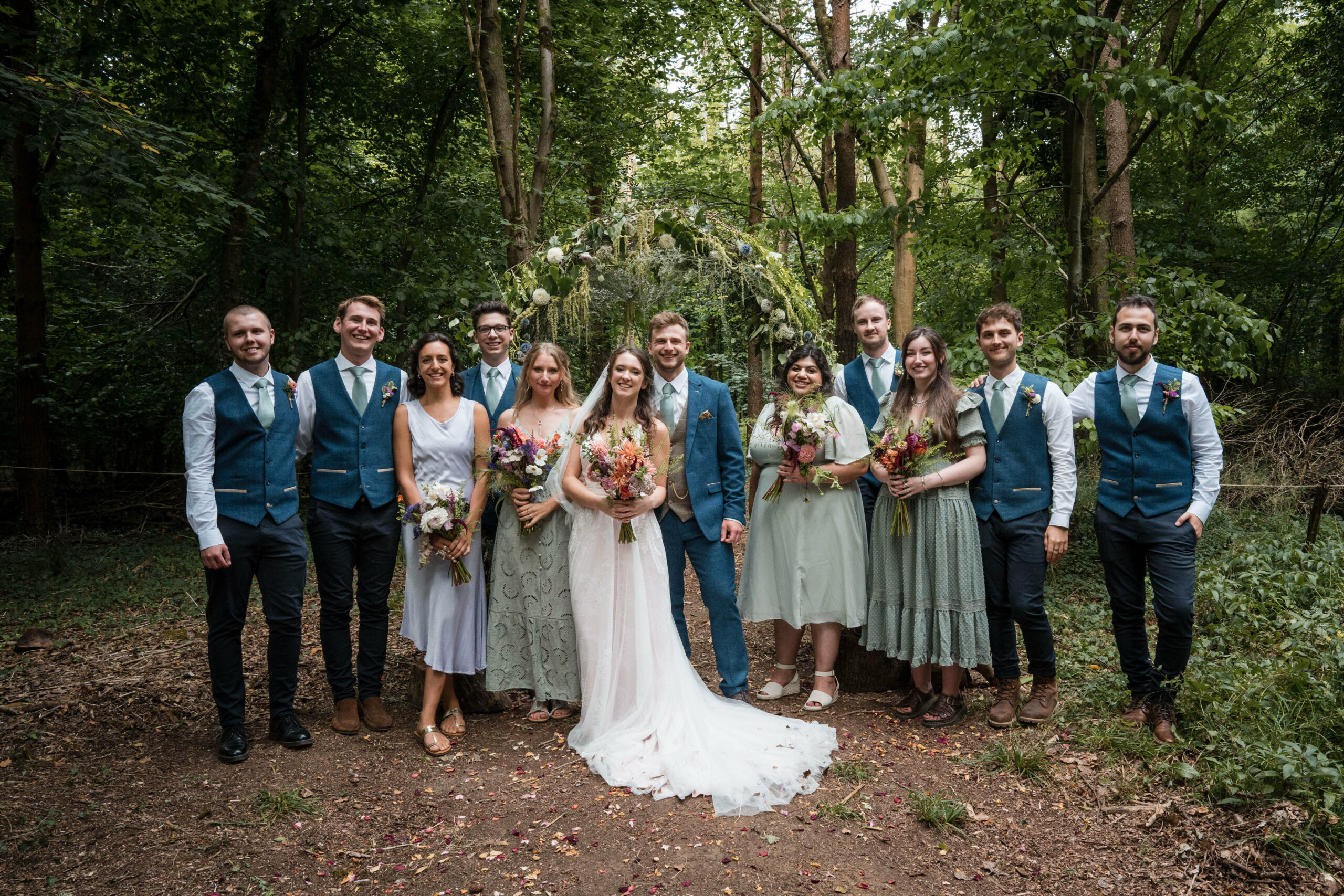 Credits:
Wild Woodland Celebrations
Zara Davis Photography 
Cotswold Tipis
Cotswold Country Flowers