Join us for Flower School at RHS Tatton 19-23 July
We are thrilled to have been invited to host the RHS Flower School at the RHS Flower Show Tatton Park next week. Nearly 30 flower farmers across the North West region are teaming up to bring

'Seed to Vase'

, the story of UK flower farming, to the heart of the show through sustainable floristry demonstrations, talks and a spectacular floral installation.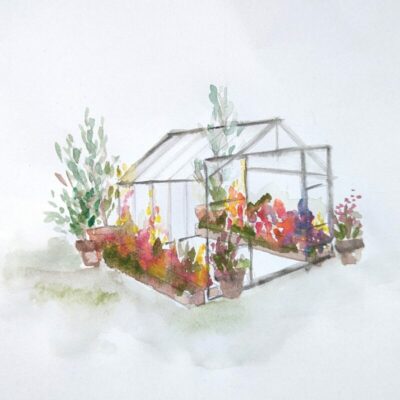 Designed and created by some of the region's most talented farmer-florists to showcase the beauty of British flowers, the immersive 'Seed to Vase' installation takes visitors inside the flower famers' experience. Hundreds of vibrant, fragrant cut flowers and foliages will spill out of the doors of a large greenhouse filled with rows of seedlings and appear to scramble up and over the roof, charting the journey of tiny flower seeds through the growing process to magnificent blooms. Flowers from the Farm are grateful to Rhino Glasshouses for the loan of the greenhouse for the floral installation.
Leading growers and farmer-florists will be taking to the Flower School stage every day at 11am, 1pm, 2pm and 3pm with a fascinating and varied programme of floristry demonstrations and informative talks. Sustainable floristry demonstrations will be presented by Mark Mckee of Welshborn and Lucy Hunter of Lucy Hunter Floral Design,  Emma Greenshaw of Fellside Flower Farm will focus on sustainable church flowers, and Sarah Smith of Eden Valley Flower Courses will explore sustainability in wedding flowers.
Jess Hulme of Meadows Flowers will talk about starting out as a flower farmer, Ellen Firth of Firth Farm Flowers, Anya Goodwater of Anya's Rainbow of Flowers and Sarah Hinchliffe of North and Flower will discuss neurodiversity and flowers. Angela  Coulton of Petal & Twig will explore the topic of 'Where do your flowers come from?' and Donna Doodson Smith of Northern Flowerhouse and Amy Chim of Ava Event Styling will look at innovations in sustainable floristry mechanics (things we use to support flowers in our arrangements).
In the flower-filled information zone, there will be feature boards highlighting the latest innovative materials in sustainable foam-free floristry, the work of Flowers from the Farm and why buying locally and seasonally from a local flower farm carries just 5% of the carbon footprint of an imported bunch.
Throughout the week members of Flowers from the Farm will be on hand to answer questions about lives and careers in flower farming, how to find your local flower farmer as well as offering tips and tricks on how to grow cut flowers.
Leading the Flowers from the Farm team at the RHS Tatton Park is Sarah Hinchliffe of North and Flower in Cheshire. She says:
"We are all so proud and excited to be teaming up to stage the RHS Flower School with Flowers from the Farm. We can't wait to share the natural beauty and incredible variety of the flowers we grow on our plots as well as the stunning designs you can create using sustainable foam-free floristry techniques. As a membership association, we want to show that British cut flowers are more accessible than ever. There are now almost 1000 independent flower farms across the UK bringing 85% of the UK population within 30 miles of a flower farmer."
As well as the stage speakers, other Flowers from the Farm members directly supporting the RHS Flower Show Tatton Park this year as flower suppliers or as show ambassadors are:
Anya's Rainbow of Flowers, Birch Farm Flowers, Black Horse Farm Flowers, Brooklands Blooms, Carol's Garden, Dark Peak Flowers, Downham Estate, Eden Valley Flower Courses, Felicity Farm Flowers, Flowers from No.8, Firs Flower Farm, Full Moon Flora, Hilltop Garden Flowers, Kitchen Garden Flowers, Marsh Farm Flowers, Meadow at Moss Lane, Mountain Gate Flowers , North and Flower, Petal and Twig,Planet Bloom, The Fellside Flower Company, The Nectar Bar, The Northern Flowerhouse,The Shropshire Flower Farm, Three Sisters Flower Farm, Welshborn,