Young farmer focus: Rhiannon Clarke
Next in our series on younger members of FFTF is Rhiannon Clarke of Blue Hill Flora in South Wales. Rhiannon explains how she came to flower farming from a very different background, and is now passionate about the environmental project of which the British flower movement is a part.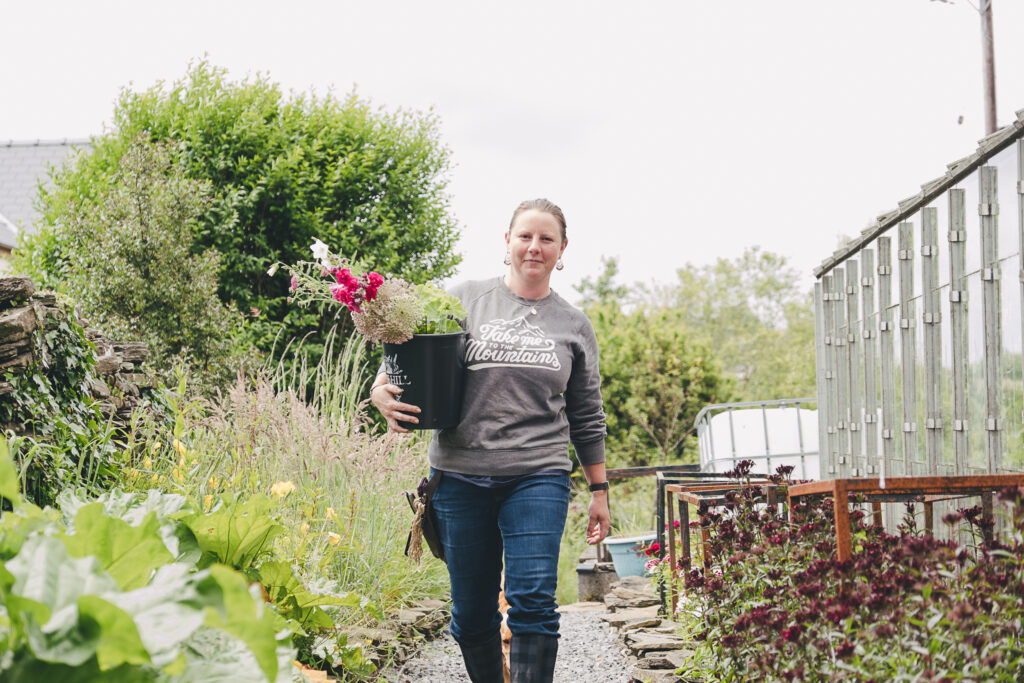 Describe your business in a sentence.
Blue Hill Flora is a small independent flower farm based just outside of Pontardawe in South Wales. On half an acre of land we grow premium quality, seasonal cut flowers for our local community, with care for Mother Nature at the heart of every decision we make.
What motivates you?
Sustainability, supporting wildlife and trying to leave this planet in a better state than I found it.
Why should people care about locally grown flowers?
They should care because for so many British flower farmers it's about much more than just producing flowers. It's about biodiversity: many of us grow a huge range of crops in a very small space which in turn supports a very wide range of wildlife. It's about reducing our carbon footprint by working with the seasons and not flying flowers across the world. It's about eliminating the use of harmful chemicals. We can have a really big impact on our local environment, so if people support us by buying our flowers it is to everyone's benefit.
How could we engage more young people in sustainable flower growing?
I think we need to get into schools and colleges and help to reconnect young people with the environment. We need to get kids onto our farms in the summer and show them the incredible range of wildlife we are supporting. We need to get them hands on, and help them realise that not all jobs mean ending up behind a desk. We need to show them it's possible to make a living and be in nature at the same time – you don't have to give up one for the other. I think we also need to become involved with vocational floristry courses, even if it's just for a day to plant the seed with new florists that imported flowers aren't their only option.
How did you become a career flower farmer?
It all started after chatting to some of the lovely ladies on the FFTF stand at Gardeners World Live. Until then I didn't realise that flower farming was a viable career, even though I have always loved gardening and being outdoors. I had worked in the theatre, TV and film industry since leaving university, but become increasingly frustrated with the habitual waste of materials and resources. We would spend weeks building sets using timber and chemical paint for two days filming, and then the whole lot would end up in a skip. I wanted to do something that wasn't so disposable, and would allow me to be outside. Flower farming seemed like the perfect fit and I've been working towards it ever since.
Where do you see yourself in 5 years?
I would love to be working full time on my flower farm and be very active in my local community, helping the public to understand the importance of local flowers and the impact they can have just by buying a bunch from us instead of the big supermarkets.
If you could only grow one crop, what would it be?
Ooo tough question! I think it would probably have to be sweet peas. They don't have the biggest profit margin but I just couldn't be without them. They are so nostalgic and draw the public in. I always get the loveliest stories and comments when there are sweet peas around.
What does FFTF mean to you?
FFTF has come to mean a great deal to me over the last couple of years. It's such an incredible resource of knowledge and I have gained so much from being a member. I've gained even more from volunteering as the Welsh coordinator, being able to help connect our members and support them is so fulfilling.
Read more Young Farmers Focus interviews here: