Wearable flowers
Bored of bouquets? Tired of traditional wedding florals? Harriet Mullins has the answer: flowers as fashion.
Wearable florals and floral jewellery are some of my favourite items to create. They take a bit of practice and sometimes a bit of thinking outside the box, but they can add a really special touch to a client's wedding or event.
Some examples you may be familiar with are the ever-popular flower crown, hair combs or clips, and wrist corsages. Hair combs and wrist corsages are relatively traditional elements to weddings and proms, however they can definitely be reimagined and modernised. In the design shown below, I shied away from conventional roses and instead used some unusual elements including succulents and raspberry leaf. Succulents are a fantastic option as they last for months and there is no chance of wilting.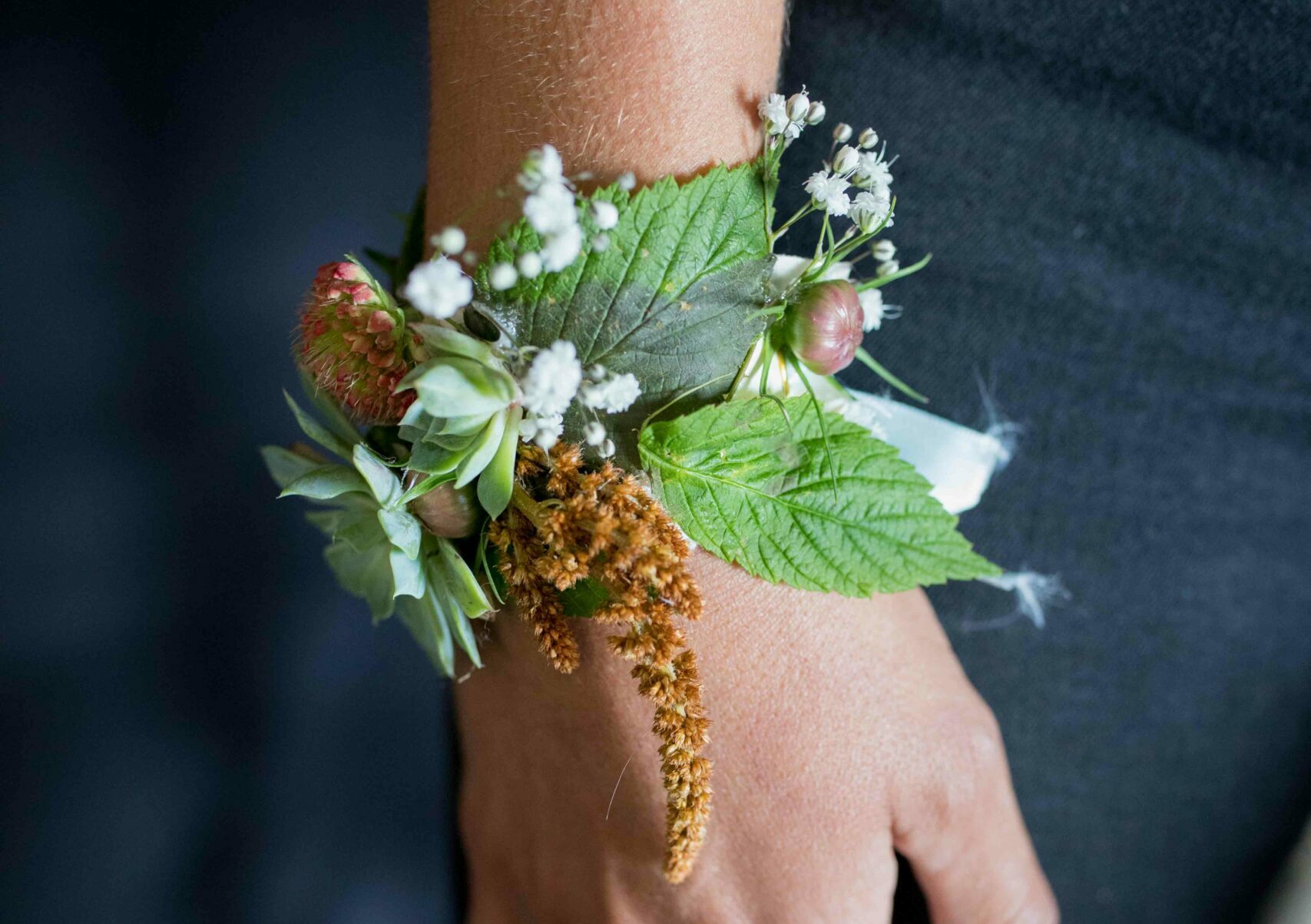 Corsages are made very simply on a strip of fabric (I use faux leather as it is strong but still soft and flexible), and the decorations are secured with floral glue. The glue seals the stems so every element lasts longer, and it is incredibly strong so nothing falls off even when squashed or moving at speed!
Floral crowns can be made in a variety of ways but are generally wired. They can be full and showy, or more delicate, like this one made using pink and white gypsophilia – a good option for children as it is very light.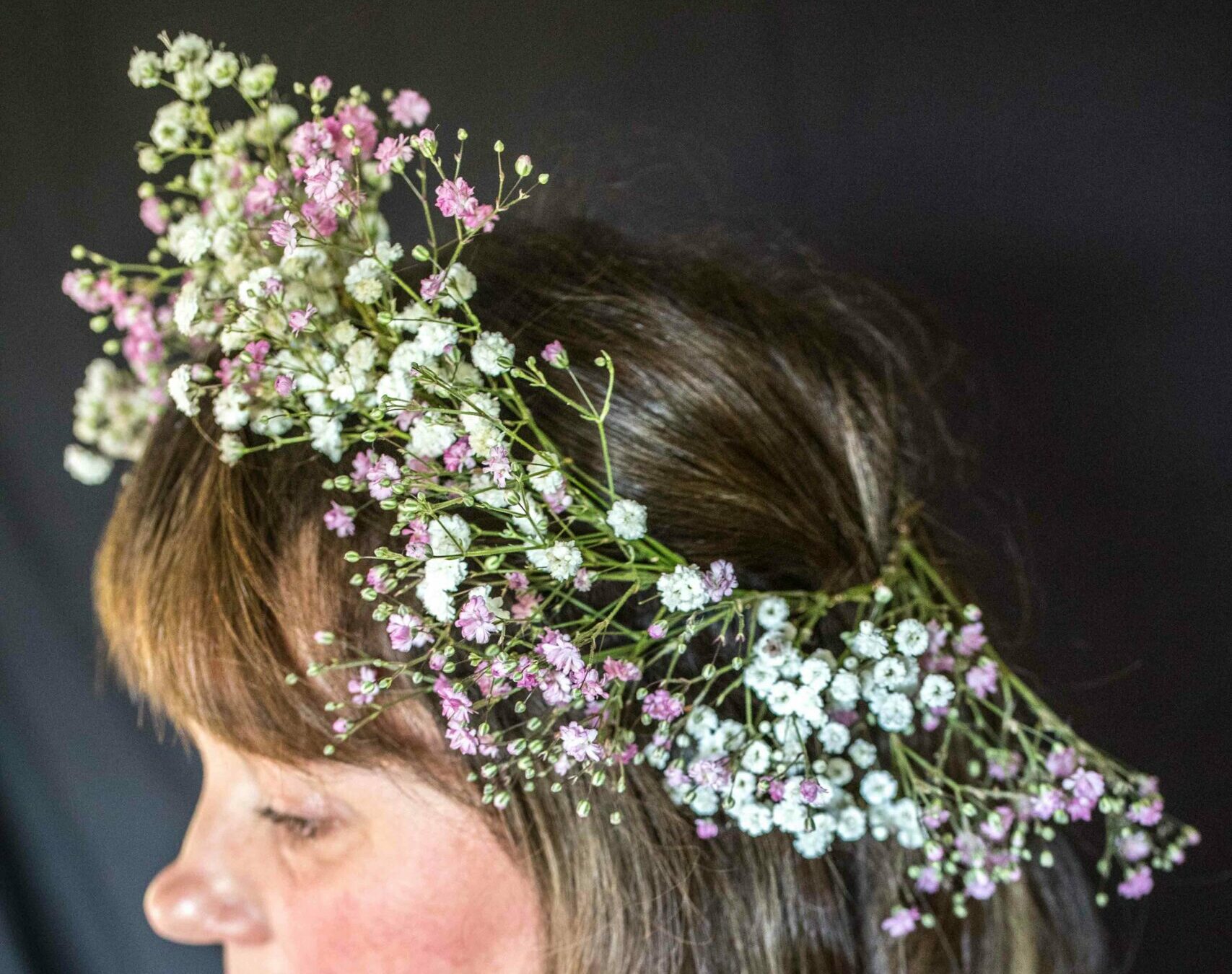 A wedding item that's starting to pop up more recently is the pocket square. This sits inside a suit jacket pocket in place of a buttonhole, and is much more secure and long lasting. It's a better design for surviving the squishing from all the hugs! It's also very simple to make – just a square of cardboard (which I usually cover with fabric) with the flowers glued to the top strip so that they sit above the pocket.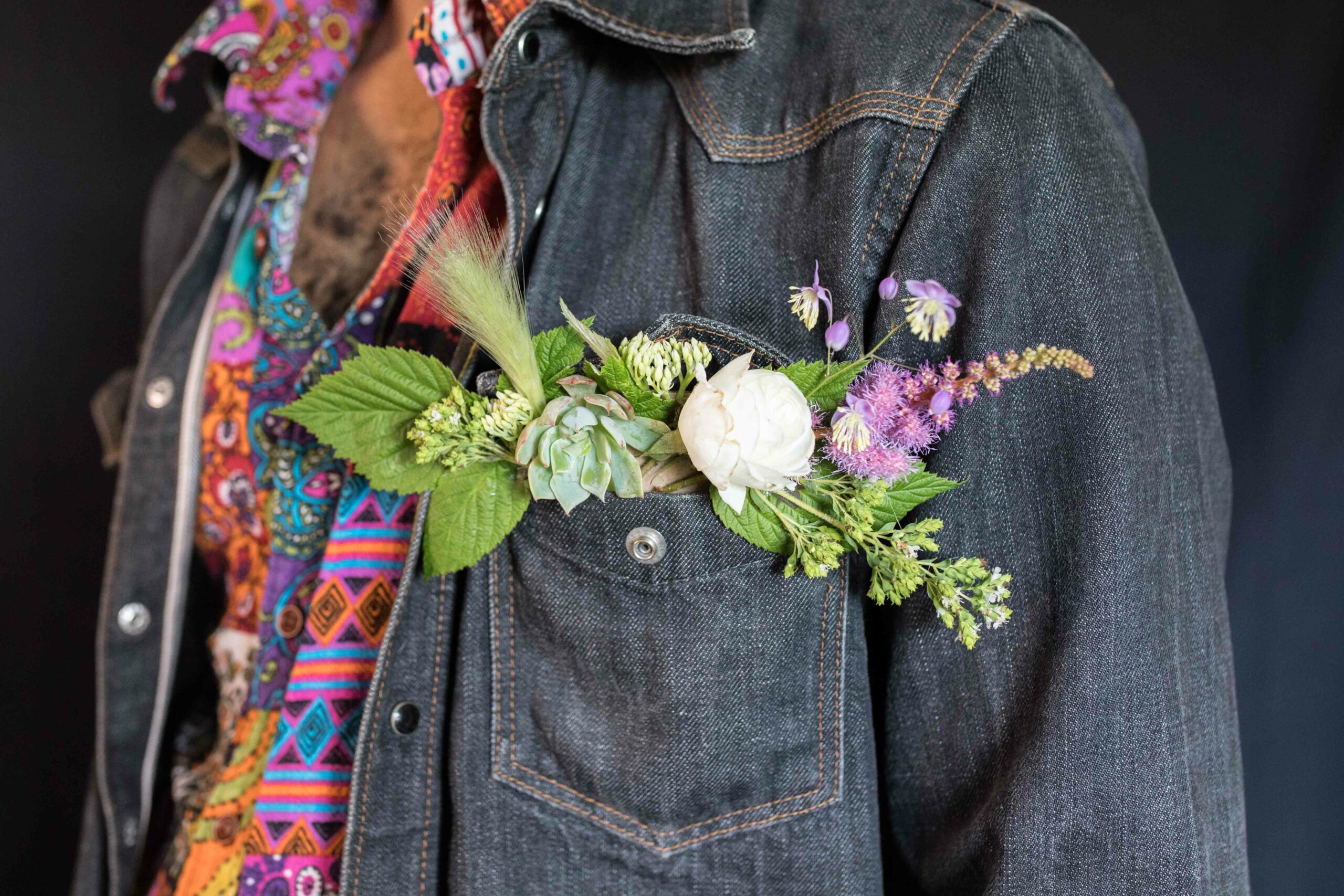 Crowns, corsages and pocket squares are all fairly standard requests for a wedding or event florist. However, how about being a bit unique and thinking outside the box?
Using the same method as the wrist corsage, and with inspiration from the book Wearable Flowers by Susan McLeary, I have created other items such as floral necklaces, rings and even clothing! Your imagination is really the only limit.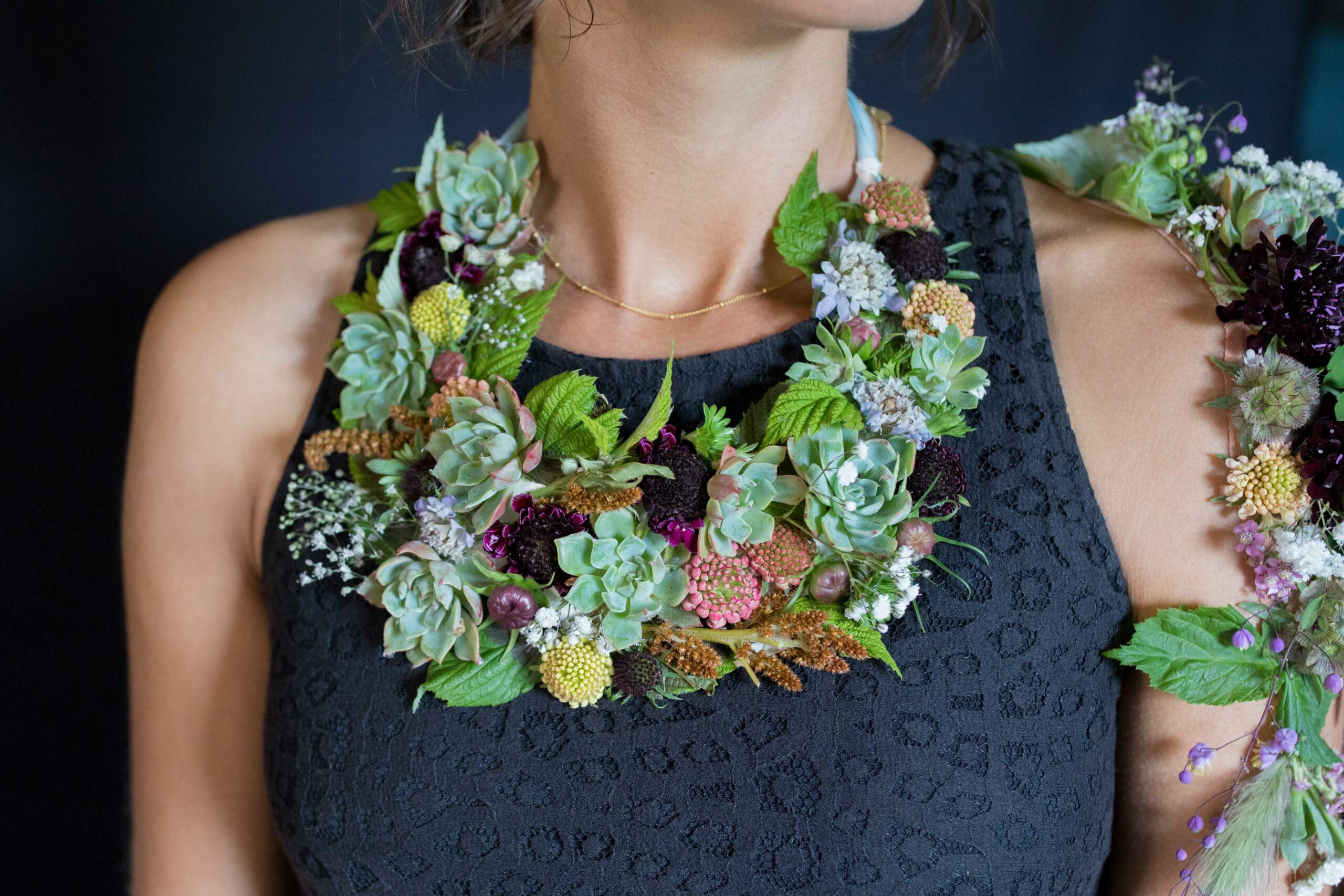 Some of these designs may be a litte extravagant for more traditional brides, but would be fabulous at a festival-themed wedding – and they lend themselves to photoshoots and fashion shows too.
Talking of photoshoots, one of my favourite designs will never been seen at any wedding that I can imagine, but was a huge amount of fun to create: my green man and green woman headdresses. I have made similar pieces for local artists, including a 'hedge witch' design with an autumn theme, and a tropical-coloured festival headdress. All these large headdresses were created with a headband and a chicken wire armature, and were surprisingly light!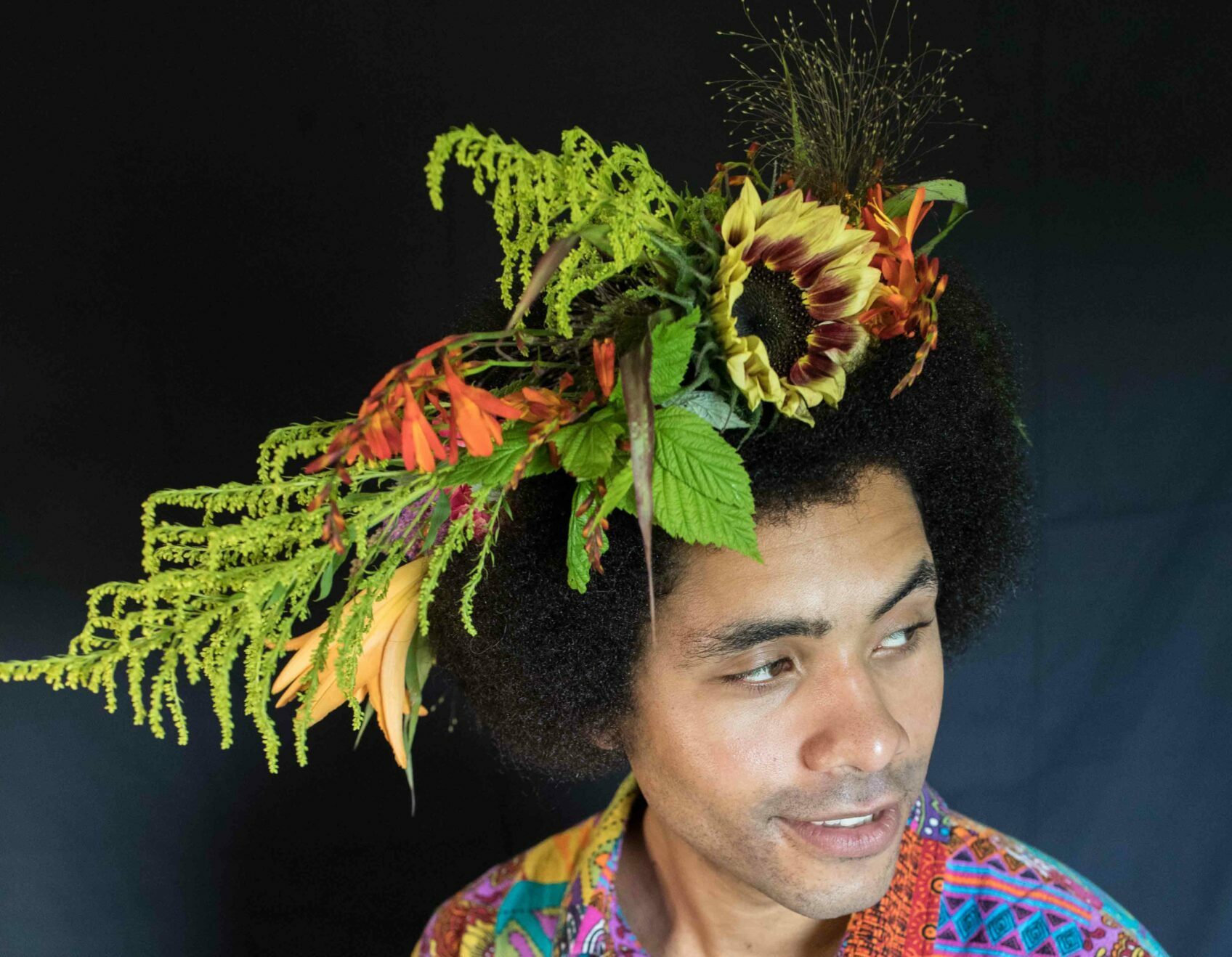 Let me end with the most literal example of wearable florals – the flower tattoo. This is placed directly onto the skin, and looks amazing. It's created using kinetic tape, which is used to support joints in sport, and is stuck to the skin with the flowers then being glued to the tape. It's a time consuming operation and needs to be done in situ, so is really more for photoshoots than real life events, but the effect is stunning.
The only thing to remember when using kinetic tape is to do a patch test, as some people can have an allergic reaction. I am also looking into a more sustainable glue, and have discovered one made from potato starch. I still have to test it, however, and how strong it proves is obviously crucial.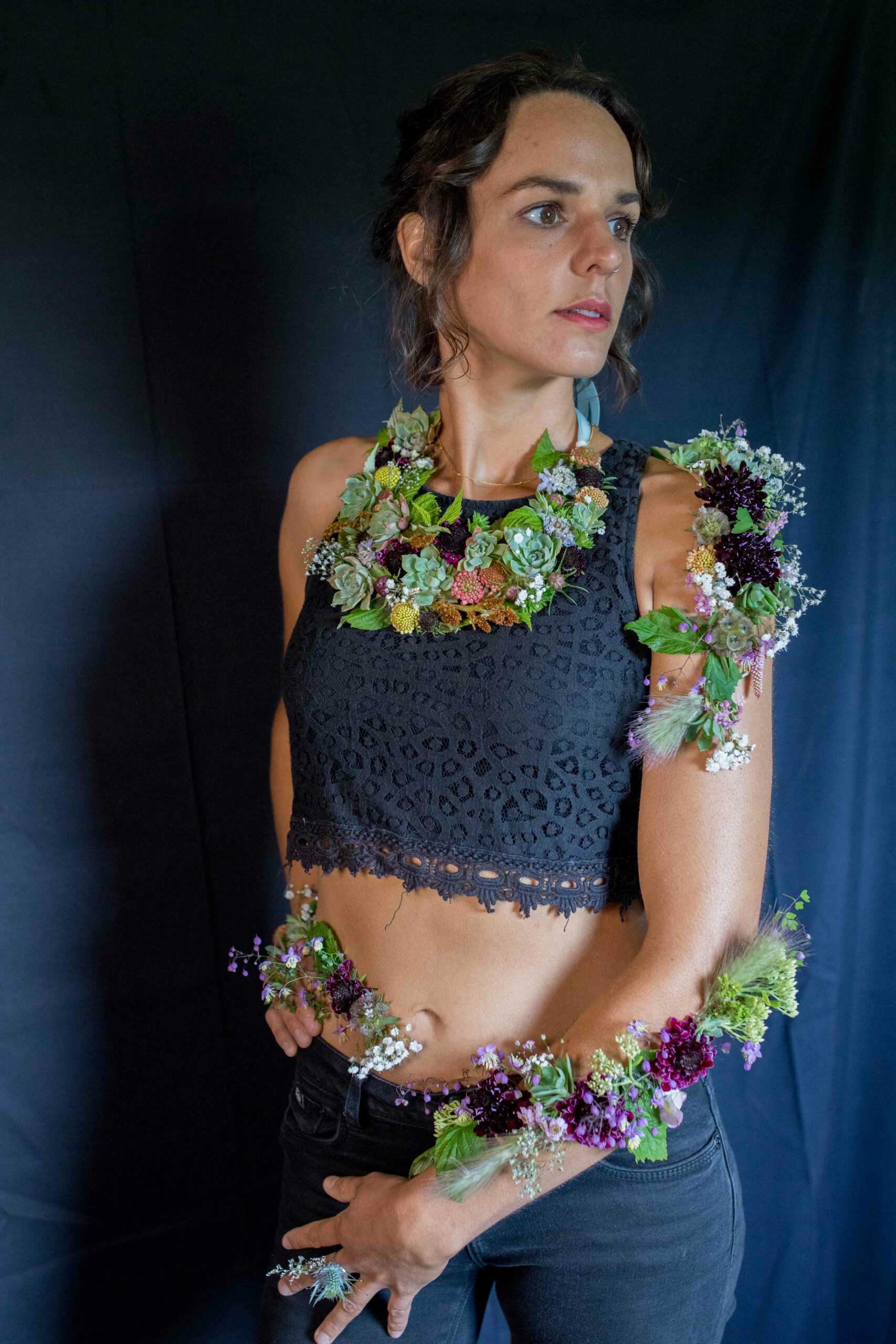 I hope I have inspired you to think a little differently when it comes to wearable flowers!
Harriet Mullins runs Sweetpeas and Sunflowers in North Devon, and she is also the National Co-ordinator for Flowers From The Farm.