A year of bridal bouquets: January
Can you have British flowers for your wedding in any month of the year? Absolutely. And we're here to prove it. Inspired by our own Cissy Bullock of Wildstems, every month in 2023 we are going to feature a bridal bouquet created by one of our members exclusively from seasonal, British grown ingredients. Cissy herself is going to kick things off and explain how she set the precedent for this series, as well as presenting a January bouquet of perfectly elegant simplicity.
This time last year I started a creative challenge on Instagram called A Year of Bridal Bouquets. I wanted it to be a record of the seasons, but also a way of demonstrating to people that it is possible to have a locally grown wedding – and that you can be a season-led florist – all year round. I wanted to show that there are always materials to work with and seriously beautiful bridal bouquets to be made – no matter what the time of year, and without any need to resort to imported flowers.
I have been working with British flowers since pretty much the beginning of my floristry career. Like most people, I was trained with imported flowers (and floral foam) but realised very quickly that I couldn't create a naturalistic feel with imported flowers. And then I discovered British flower farms.
Flowers grown locally and with organic practices are simply the most beautiful medium to work with. They incorporate the movement of the wind as they grow, and their colour can vary with the intensity of the sun or the volume of rain. They change day by day with the seasons and no two seasons are ever the same from one year to the next. They are truly full of vitality, movement and scent and this shows in each and every arrangement.
Yes, what you can use in December is different to what you can have in June. But that is the whole point. Flowers anchor your event to a time and a place. In so doing they attach themselves to that memory, drawing you back there every time they appear in the landscape. I really believe that the biggest step in making floristry more sustainable is in the act of people reframing their thinking of what to expect from their flowers…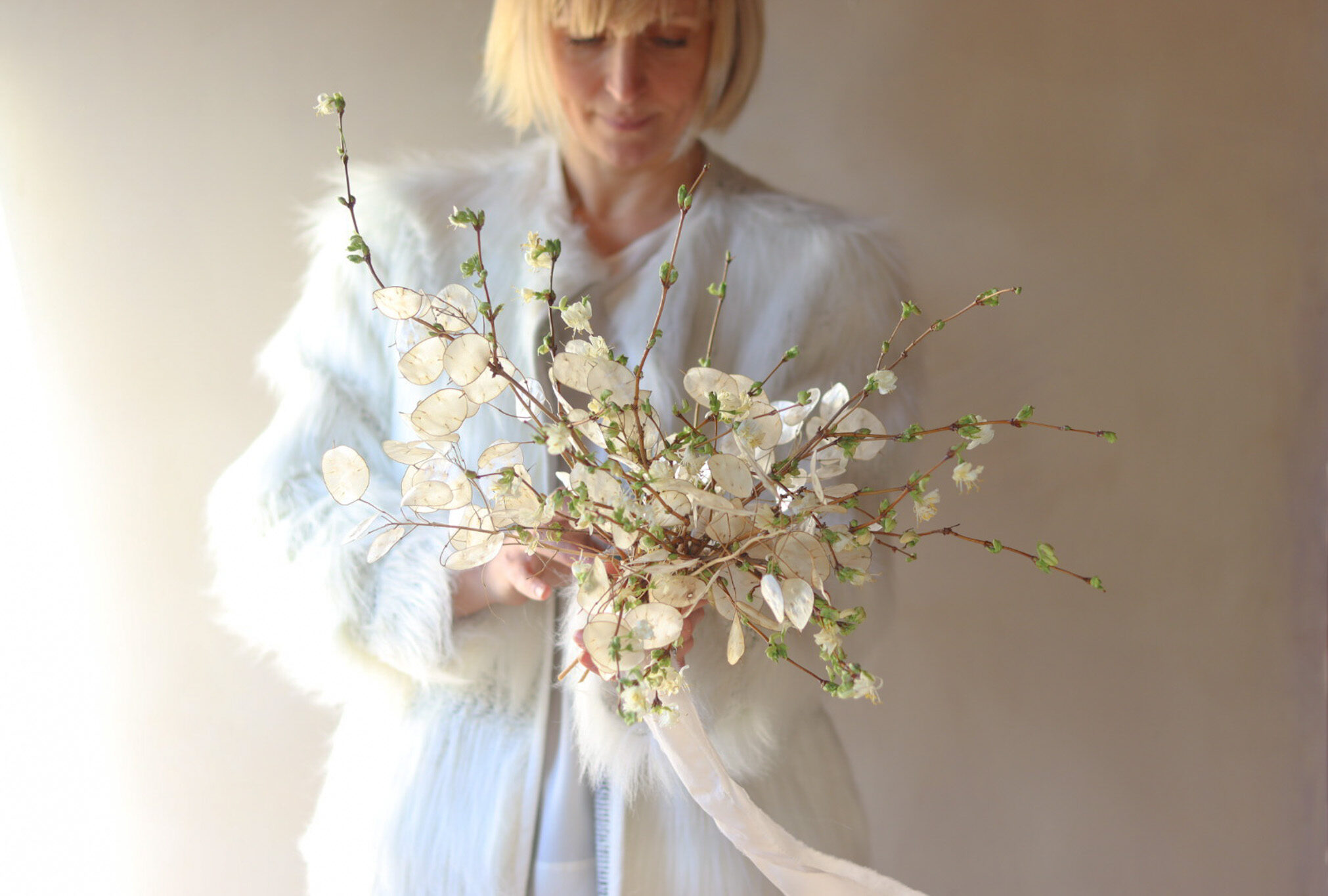 So I decided to help people do just that. Over the last 12 months I created a different bridal bouquet every month, using only what was available locally, and shared it under the hashtag #ayearofbridalbouquets.
I got so much from it. A real sense of connection to what was growing around me each and every day throughout the year. My bouquets improved exponentially as a result of the discipline of making and recording a bouquet for the challenge each month. I was also surprised – and delighted – that other florists and flower farmers decided to join in. And then clients started sending me screenshots of my bouquets asking if I could create them for their weddings. My first wedding of the year is on January 28th for a couple who have fully subscribed to the idea that their flowers will be created using what is available from what is largely considered to be a 'bare landscape'. There is definitely a shift coming in the floral industry…
So now I find myself back round at January again, starting another #ayearofbridalbouquets, this time with Flowers from the Farm.
In some ways January is the toughest time of year to make a bridal bouquet. For some reason, I find that I don't want to use evergreens or dried flowers, they feel too 'December-y' for me. I want to feel the freshness of new growth in my arrangements at this time of year. Yet the few treasured flowers that are out at the moment have short stems and (in the case of hellebores) are notoriously difficult to use reliably as cut flowers. The deep cold that we had in December also wreaked havoc on many of the hardy perennial shrubs that I would normally rely on – Viburnum tinus, eucalyptus, choysia – leaving their leaves and delicate white flowers burnt brown and withered.
But whilst that might make it sound that this bouquet was a difficult brief, it ended up (as the best bouquets always do) coming together instinctively and naturally. It felt appropriate for a January bouquet to be slightly diminutive in size compared to a big blousy summer number, so I opted to use only two ingredients.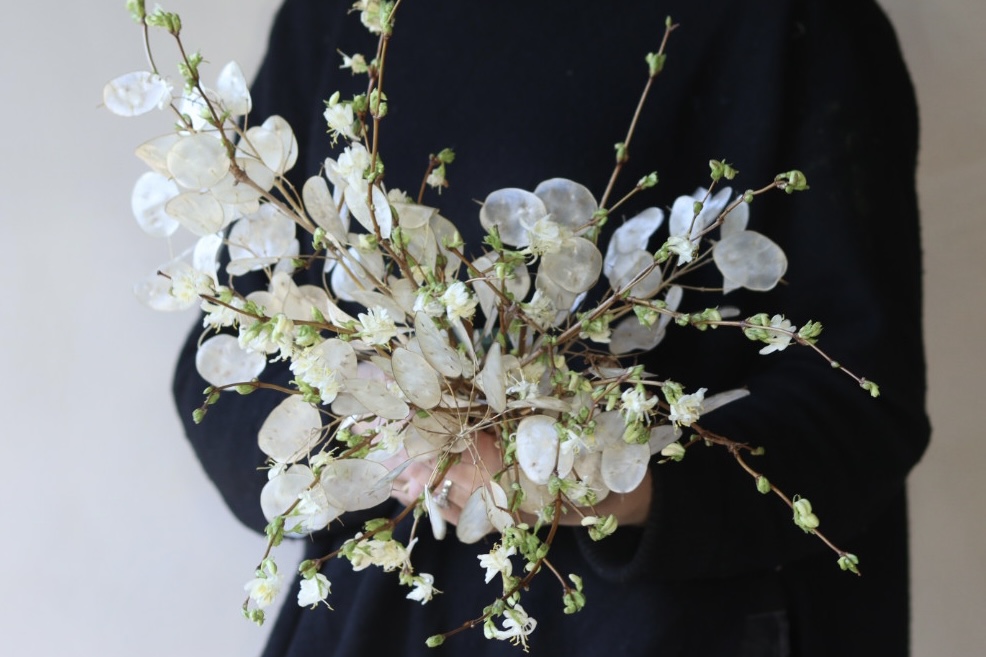 I wanted to embrace the starkness of January along with those treasured glimpses of new, fresh growth. Winter flowering honeysuckle (Lonicera fragrantissima) is one of my favourite midwinter shrubs, its tiny white flowers delivering the most delicious fragrance. I like the sculptural form the branches give to the bouquet, twisting out from the centre, as well as the promise of spring that its buds and blossom offer.
I also like my bridal bouquets to feel a bit ethereal, so the second ingredient – dried honesty – was an obvious choice. Its shimmering, opaque seed pods, stored carefully from late summer, give depth to the bouquet and stop it feel too twiggy.
And that is it. A bit like the light on a clear crisp January day. Light, airy and just a touch stark. Truly anchoring us to January 2023.
I look forward to seeing the many bouquets created by other florists and flower farmers using the vast array of beautiful flowers and foliage we are lucky enough to have in our landscape throughout the year.
As well as her own floral design studio, Cissy runs The School of Sustainable Floristry with fellow FFTF members Howbury Farm Flowers. You can find all of the bouquets from her 2022 series on her personal blog, here.