Fun, Flowers & Floristry in the North West
One of the founding principles of Flowers from the Farm remains "to foster friendship and sharing through meetings, activities and communication" and this has given rise to a uniquely supportive and collaborative community of flower farmers and florists in every region of the UK.
Earlier this month, flower farmers in the North West came together for an inspiring regional meet-up to share flowers, learn new skills and make new friends. The event was organised by the North West Regional Coordinator, Carol Siddorn, who runs Carol's Garden near Chester and co-founded 'The Business of Selling Flowers', offering training for career flower farmers. Carol tells us what they got up to….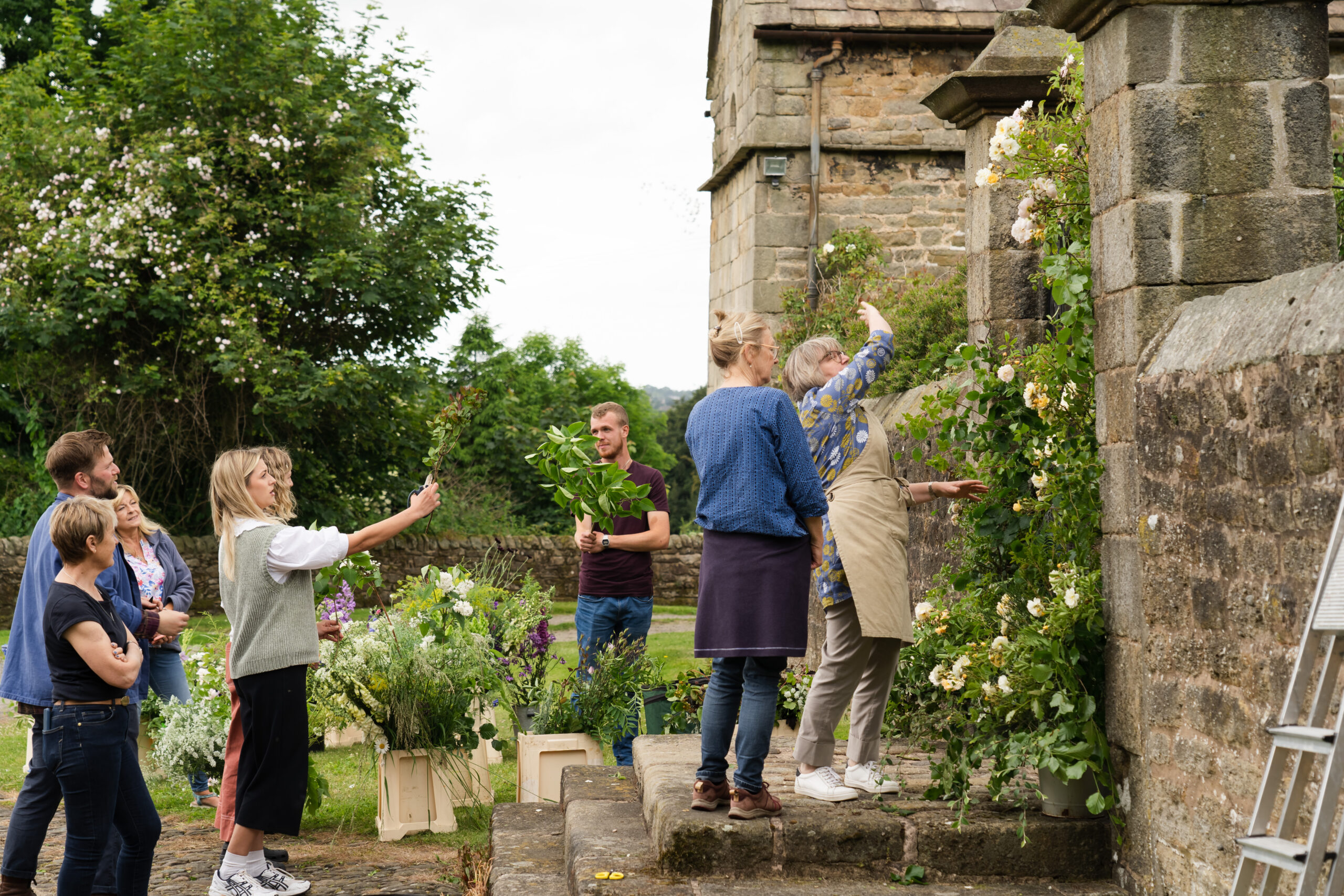 One of the biggest benefits of being a member of FFTF is the friendships we make and the huge amount we learn from each other. I have been a member for around 9 years, and definitely wouldn't have built the business I have without FFTF. I learned practical floristry skills as well as business and selling ideas, and a belief that I could actually make this business work for me.
As Regional Coordinators, we aim to help others to feel the same – to share skills and knowledge as well as to bring people together and forge lasting – even life-changing – friendships. We are all spread out geographically and it takes real effort to travel to meet people – but the more everyone puts in, the more they get out of it.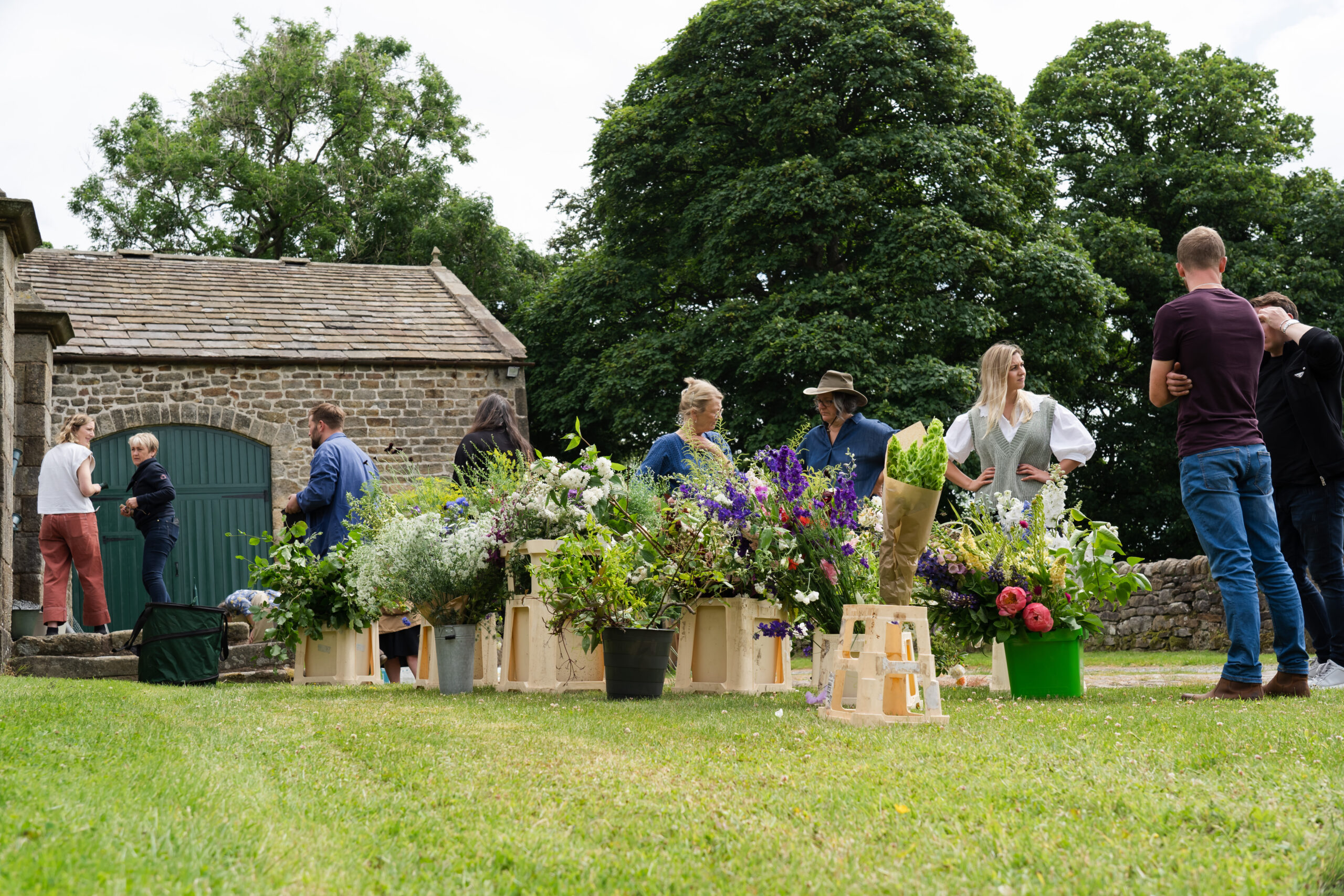 Members were asking for support in developing real skills in floral design using foam free, sustainable floristry techniques and home grown flowers for larger installations and the beautiful, airy and delicate bowls that are so popular for weddings. But they also wanted fun and to get to know people.
So, this month, we found a large and beautiful private house – with some lovely gates and an open marquee, a loo and tea facilities… and a very obliging owner! We persuaded some top teachers from within Flowers from the Farm to come along too, although they needed no persuasion at all. And we booked a professional photographer to capture the day and to do some informal 'headshots' for people to use on their websites, social media etc.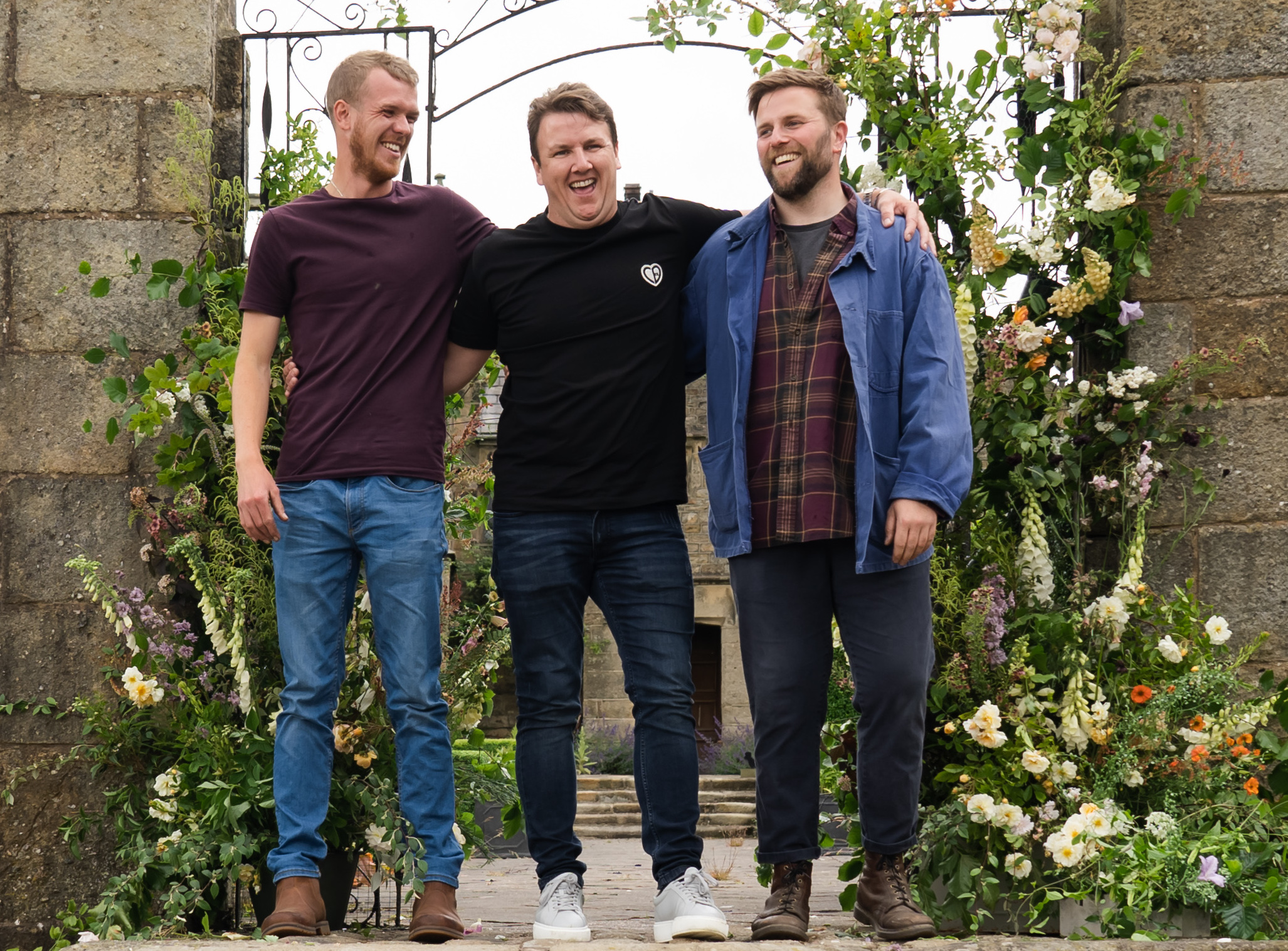 Eighteen people came from all over the North West – and a few from neighbouring regions – armed only with buckets of their own flowers, snips, lunch, a bowl and the widest smiles you will ever hope to see. After quick intros, so we knew who everyone was, and a recce of the site, our teachers – Sarah Statham of Simply By Arrangement and Becky Hindley of Erda Botanicals – started everyone off, discussed options and mechanics, and then everyone pitched in together.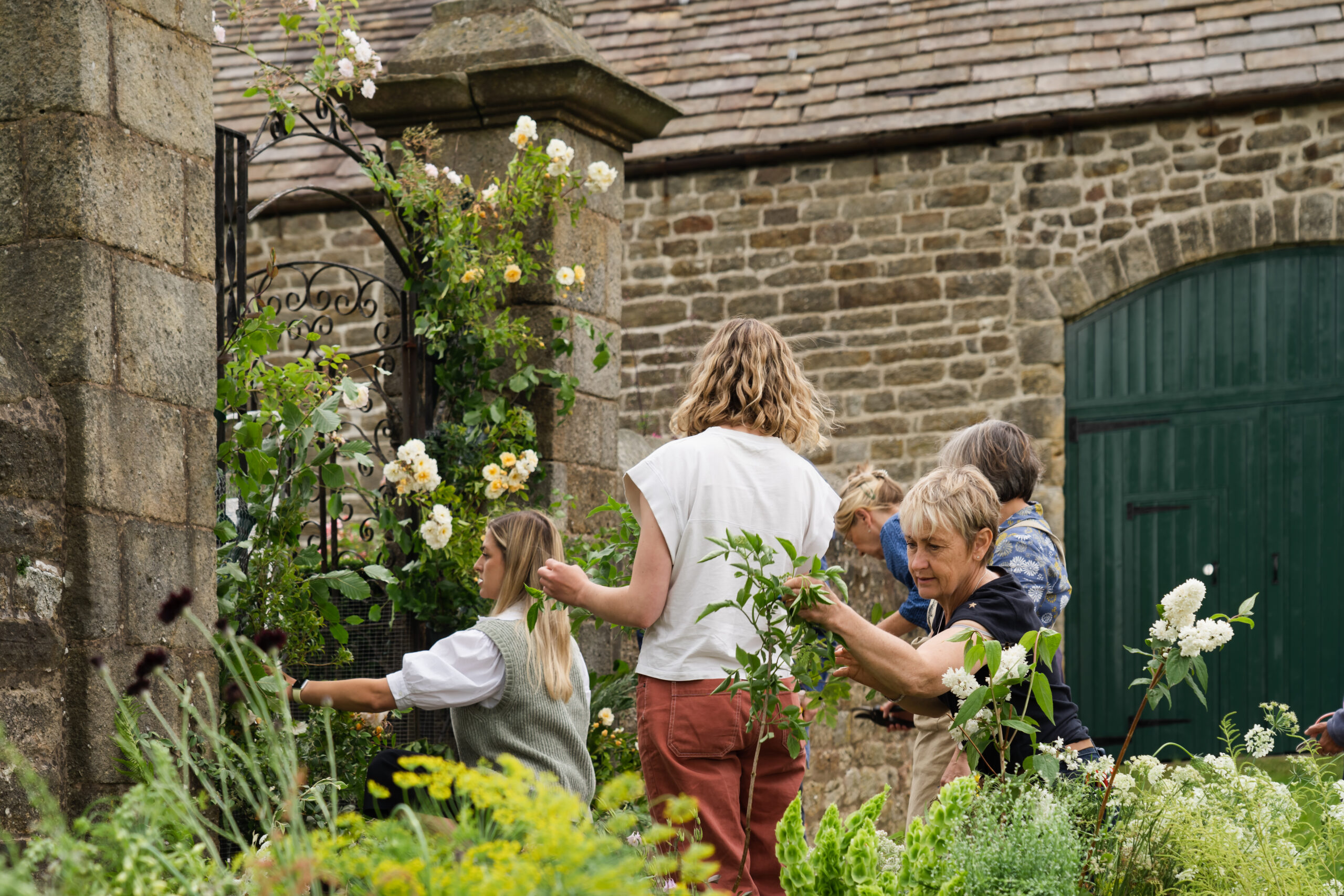 Shapes and foliage were discussed; flowers and tips were shared; colours debated. We made a deconstructed arch on the beautiful stone and iron entrance gates. Everything was in water, no foam was used. Arching roses combined with foxgloves, lupins, airy ammi and perky geums. Everyone put something in, everyone had a say – it was all about the process and the experience.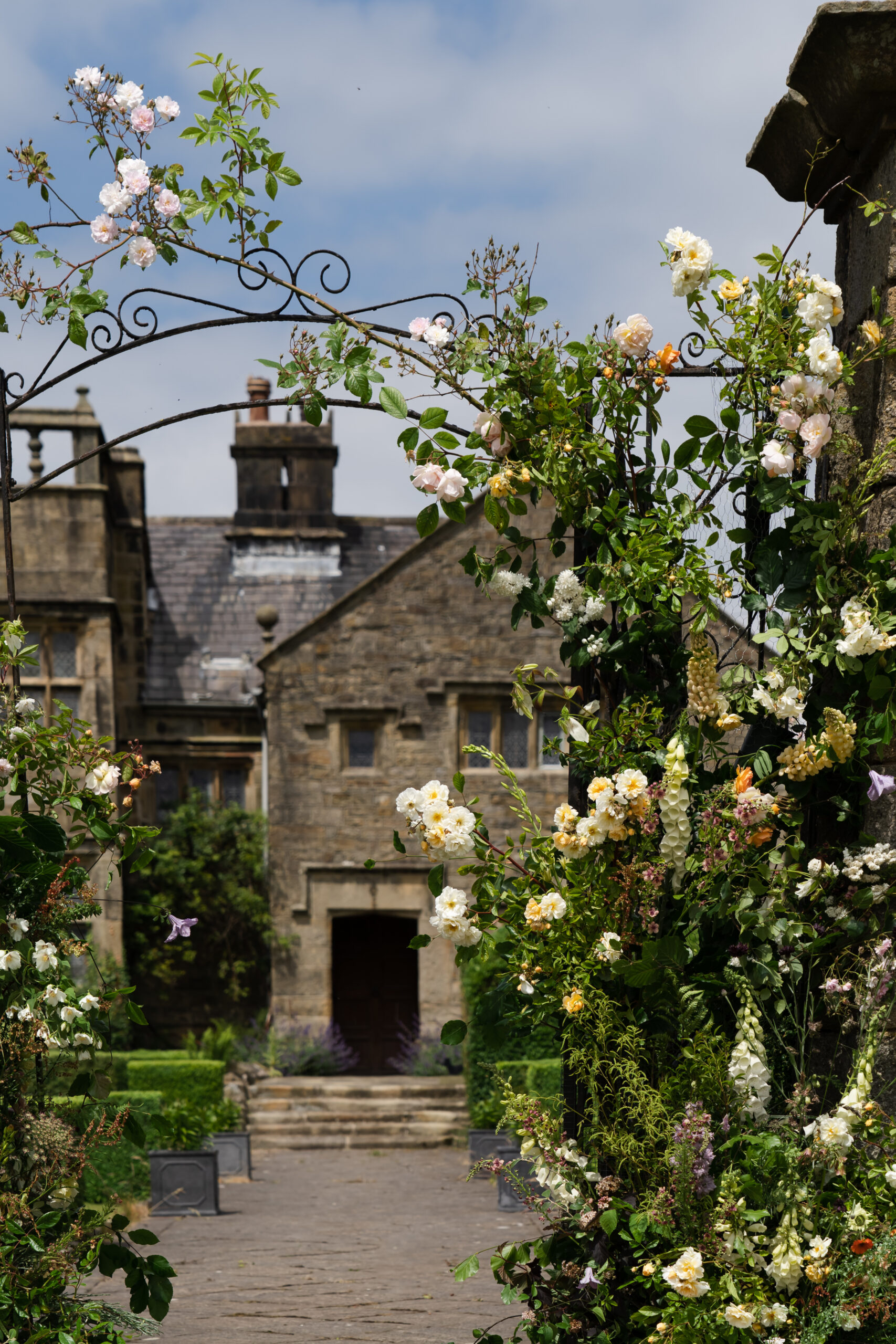 After lunch and shared cakes, we went to the marquee to arrange bowls, led by Sarah. Once they had set the tables out, everyone had a go at a bowl – flowers were again shared, bowls were swapped; chicken wire snipped and pin frogs admired. The constant chat quieted as people started to concentrate – but not for long!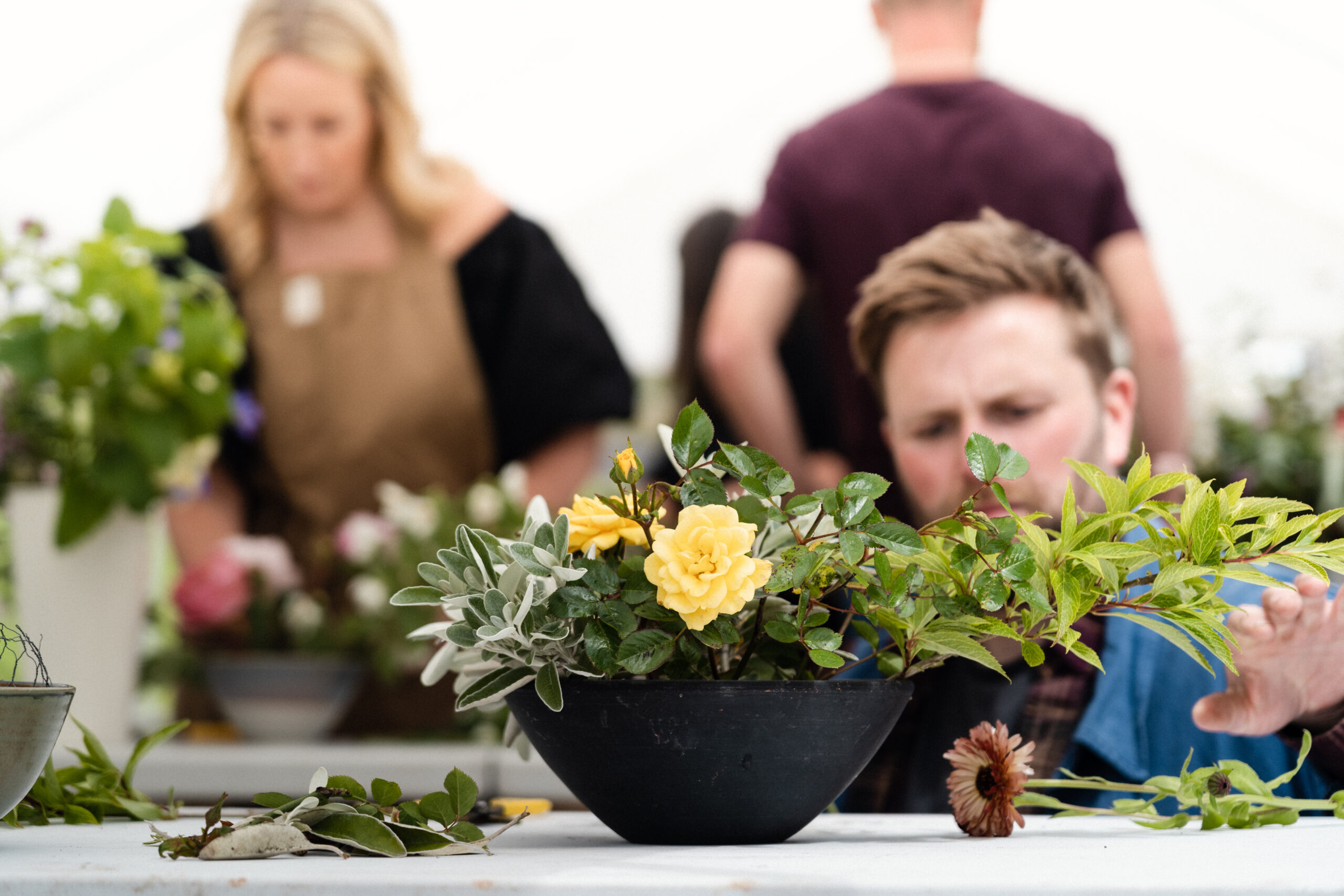 Flowery people are the happiest and loveliest of people – especially if you are happy and lovely too! Loving flowers is infectious and addictive.
Images by Andrea Gilpin Photography
And, just in case this this blog has given you that extra nudge to realise your dream of becoming a career flower farmer, here's how to join our wonderful community at Flowers from the Farm: https://www.flowersfromthefarm.co.uk/join-us/