Global stars seek local, seasonal flowers for Interflora World Cup 
This week, as Manchester plays host to the Interflora World Cup, the world's largest floral art competition, we are thrilled to reveal that at least two of the world's finest floral designers – Germany's Nicolaus Peters and Finland's Saija Sitolahti – have chosen to work with local, seasonal cut flowers from Flowers from the Farm members.
The theme for the 22 competitors at this year's event is 'our natural world' and they are being asked to concentrate on sustainability and natural materials. Floral foam is not allowed unless it's biodegradable. And what could be more logical than for competitors to seek out local members of Flowers from the Farm to supply the blooms? This Monday, we caught up with the floral artists and their flower farmers to find out more as they picked on the plots…
STOP PRESS:  Huge congratulations to Nicolaus Peters and his supplier Carol Siddorn – he only went and won it!!
Nicolaus Peters at Carol's Garden
Early on Monday morning, Nicolaus Peters and his assistant arrived at Carol Siddorn's plot in the rolling hills of the Cheshire countryside, donning their wellies and clearly relishing the calm of the flower fields before the four days of intense competition ahead. A German Master Florist, Nicolaus Peters has run a flower delivery service in Berlin for the past 30 years and is a seasoned competitor having previously won the German championship, a gold medal at the Singapore Garden Festival and 3rd place at the Alper Adria Cup. Ask Nicolaus why he's buying from a flower farmer and the answer is clear:
"The main topic of this World Cup is sustainability and nature. So my decision was to work with regional flowers. I had this wonderful opportunity – made through Alison Bradley of Floral Fundamentals – to come and cut here near Manchester. I wanted the flowers to be very fresh because they have to last until Saturday. 
"There are huge rules and regulations on what we are allowed to do and what we aren't allowed to do. And so I decided I want to show my own personal design which is very natural. My background is that I am a gardener; I studied horticulture and after that I became a Master Florist. Besides my garden practice, I studied the Japanese flower design art called Ikebana. Ikebana is the art of creating a design with a few flowers and a few branches in small water basins and to work with less material. So this is my personal design: to show the beauty of one flower. It's beautiful to have a really big bunch but also one flower can be beautiful. So I took care here and had a good look around to see when a single flower has good movement, has a nice bend and a nice twist. Even a not so perfect flower can be beautiful.
"Ten years ago we decided to buy a property 70km north of Berlin and there we have something similar to Carol: a farmhouse with large borders with annuals and perennials. I really appreciate what it takes to make a flower farm like this and the work that goes into it. I love flowers and it's my hobby. Even in my spare time, I have to do something with flowers.
"I'm not so into working with exotic or imported flowers, for example roses from Kenya or Ecuador. I understand that it is important that they are available especially in winter time, but even in winter time there is still something you can create from the garden even if it is dried.
"We have brought the structures with us for the competition. The design is in my head, and we have trained over and over again. Now we have driven around England looking for the special movement and plants to fill the design.
"For me it's important that the viewer sees that the flower inside my design feels comfortable and is not 'humiliated'. I don't like when the flowers are forced into a frame and tied together because they want to breathe. Even the stems can be beautiful. There are many styles of design but this is my style of design – my signature style."
On her productive two acre plot, Carol Siddorn picks orders from florists and fellow farmers and DIY brides and teaches flower farming workshops with The Business of Selling Flowers team of fellow flower farmers. Carol was clear from the start with Nicolaus about what he should expect to see 
"The first conversation with Nicolaus was about quality. I've supplied a few people that have entered competitions and I wanted to be clear about the possibility of damage to the leaves from rainfall or insects. We have to make the point that we don't grow everything in tunnels, we don't protect stuff, we don't spray, but Nicolaus understood that straight away. That's always my worry because the judges still consider that. If he has understood that, then it's his decision.
"He didn't tell me his designs, but he  sent me a wish list of flowers, varieties and a broad list of colours. I replied saying yes, we should definitely have those, no definitely won't have others and a lot of probables. We got in touch in mid August and Nicolaus asked whether he could come and pick and I thought that would be much simpler because then he could choose. He was talking about shapes, wanting long stems, wavy stems and that's not always a thing I would think to put in somebody's bucket. It took the pressure off me too.
"Nicolaus has a very clear idea of what he wants to achieve. I took him around the plot first and then left him to cut. You could tell that he knows how to cut as we were talking, so I was quite comfortable with him cutting and there were a few plants where he asked whether it was OK to cut really deep. He's been sensitive to our plant material and it was quite interesting to see what he picked.
"I think Nicolaus is being very courageous in buying locally for the Interflora World Cup. It is a very high end competition and he is representing his country and that's a lot of pressure in itself. It's very brave to not know what flowers he's going to have until he gets here and it's very brave to go with flowers that are not predictable and are not necessarily perfect. I'll be very interested to see what the judges say and do as it will be challenging a lot of the criteria.  It's exciting to see someone being so creative and so brave."
"Nicolaus understood what to expect on a flower farm and that it's not the same as turning up at a big clinical aquaponic glasshouse. If the judges say they want sustainability but mark down competitors for things with holes or small blemishes then that exercise will have completely fallen flat. You have to embrace the whole thing and adjust your criteria accordingly. Nicolaus is using what you can find on the day, which is central to sustainability."
Saija Sitolahti at Meadow at Moss Lane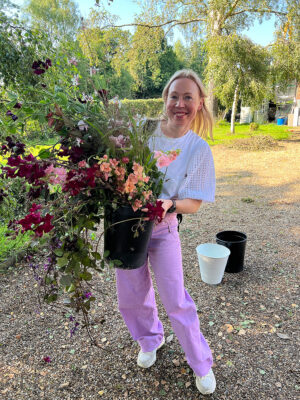 Finland's representative, Saija Sitolahti, has worked as a florist in her family's business with her parents and sister ever since she left school. Her sister, Eine-Maria, has come to Manchester as her assistant and the rest of the family are travelling over to see the show too. 
Saija turned to social media to find a local flower farm that could help in her preparations for the World Cup. Initially, she ordered just a single bucket of flowers from Rebecca Ellis (Meadow at Moss Lane), but when she arrived she was so inspired by the flower fields that she picked up her secateurs to pick more to work with her design.
"When I was preparing for the competition, I joined a Facebook group for Finnish people living in Manchester. I asked for recommendations of local flower farms and someone gave me the name of Meadow at Moss Lane. It was as simple as that. 
"Sustainability is one of the themes of the World Cup, so it's natural for me to try to find some local, seasonal flowers. I love to use material from nature and my garden – I do that all the time in my everyday work in Finland.
"Rebecca's flowers will bring me some tenderness and a luxurious finishing touch to my work. I'm really happy I found her garden and it could be possible.' 
Meadow at Moss Lane started as a lockdown idea for Rebecca Ellis as she worked from home, constantly distracted by dreams of transforming the 1.5 acre field at the back of the garden into a flower field. Having looked into single variety crops, Rebecca discovered Georgie Newbery's book 'The Flower Farmer's Year' and then signed up for a course with Carol Siddorn on the Business of Selling Flowers. Now in her second growing year, Rebecca is growing on half an acre, adding more beds as she's scaled back her full time job as a bid manager to part-time freelance work. So how does it feel to be supplying Finland's representative at the Interflora World Cup?
"I was very excited when I got the message from Saija. It's exciting to know that other countries are aware of Flowers from the Farm and the flower growing movement. 
"In our conversations, Saija said that she was looking for pinks, caramels, browns, chocolate shades, reddy-pink shades, long stems, and roses if possible. Other than that, she was very flexible. She'd seen what I'd been posting on Instagram, so knew what to expect. It's wonderful to work with a florist who understands how you work. I can't wait to see what Saija creates!"
Sustainability Award – VOTE for Flowers from the Farm!
If you're visiting the Interflora World Cup in Manchester this week on 7-9 September, please register your vote for Flowers from the Farm at the show. We have been shortlisted as one of five organisations to compete for the Interflora's Buds of Change – Most Sustainable Floristry Innovation Award. John Kennerley of Grown & Made has picked a beautiful crate of blooms from his plot near Macclesfield to sit atop our competition pedestal. Take a look, read about how Flowers from the Farm is changing the UK cut flower industry and how our flowers carry 5% of the carbon footprint of an imported bunch. And if you like what you see, please do vote for Flowers from the Farm at the show.
To book tickets for the Interflora World Cup click here.
Explore