Join us at the RHS Hampton Court Palace Garden Festival
Flowers from the Farm are thrilled to be working with the Royal Horticultural Society to stage the RHS Flower School
 at the RHS Hampton Court Palace Garden Festival. 
The show runs from 4th to 9th July and it's going to be another fabulous team effort for Flowers from the Farm. Dozens of flower farmers across the South East are coming together and bringing their flowers, energy and floristry skills to decorate the Flower School marquee with floral installations, host free floral demonstrations and hands-on workshops, and talk to visitors about the work of Flowers from the Farm.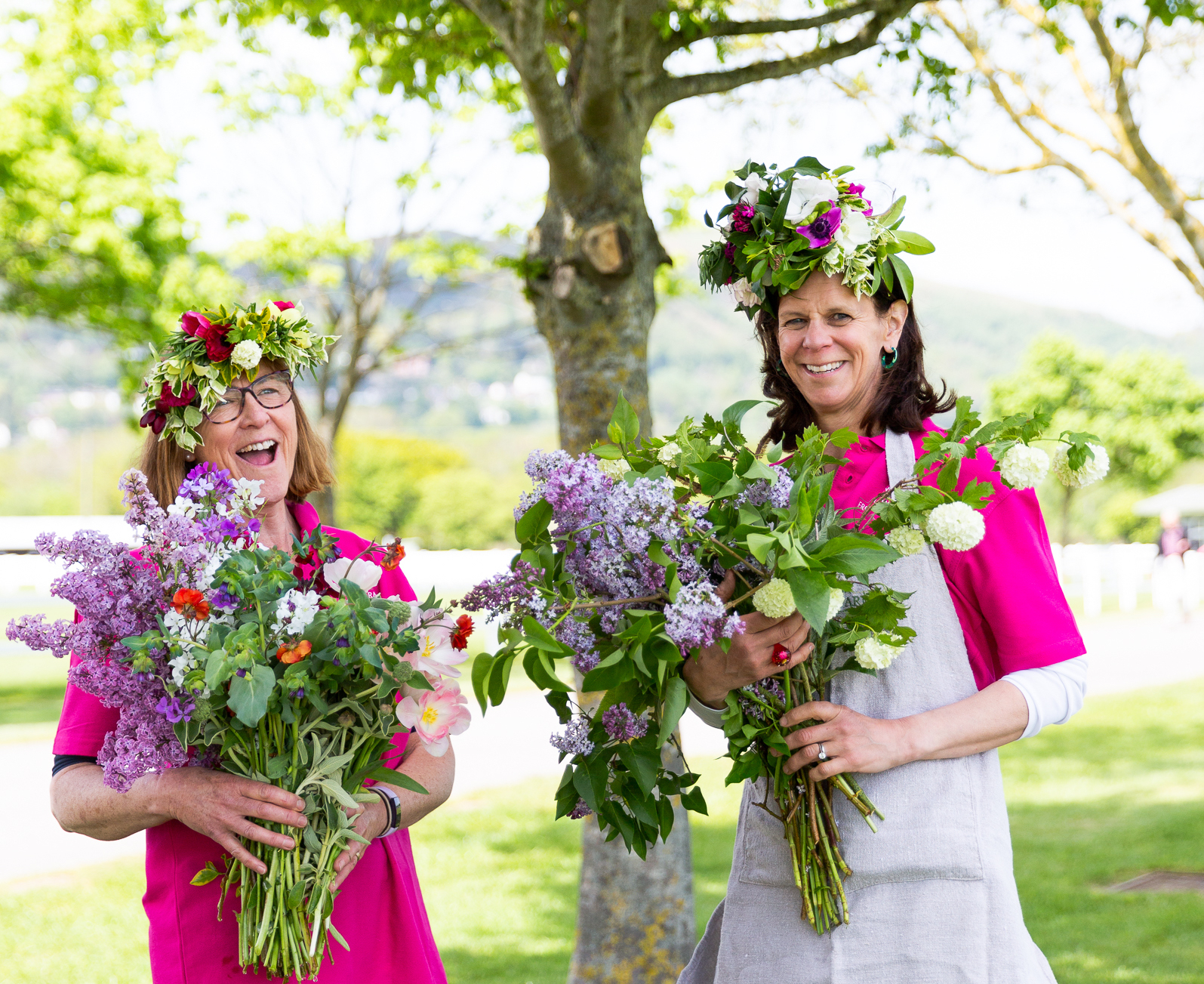 The Flower School promises to be a spectacular celebration of scented, garden-style British cut flowers grown by over 30 professional flower farmers within 30 miles of the showground. Every single stem of cut flower and foliage – both fresh and dried – used in the School will have been grown by Flowers from the Farm members.
From awe-inspiring suspended floral installations to magnificent urns bursting with colourful summer blooms, we'll be showcasing the beauty of British flowers through foam-free, sustainable floral design.
Every morning at 11am, visitors can watch floral demonstrations by creative farmer-florists, who both grow and arrange their own flowers. The morning line-up runs as follows:
In the afternoons at 2pm, some of the country's leading florists will be getting creative with the flowers and foliages from Flowers from the Farm members and talking about how British-grown flowers inspire their designs. The line-up will star:
There will be the chance for visitors to get hands-on and floral for free at 1230H and 1530H every day by creating your own buttonhole or mini posy corsage of British flowers under the guidance of the Flowers from the Farm ambassadors. Chat to them about their lives in flower farming and how to find your local flower farmer. (CLUE: use the Find Flowers search facility here on the website!)
Flowers from the Farm Ambassadors at Hampton Court
 Now, here's a Flowers from the Farm fact for you: there are currently 179 grower members of FFTF in the South East region alone, and 33 of them will be participating in this year's show. Thank you to all our Flowers from the Farm ambassadors and the many more who offered their support:
Amber Partner of Howe Farm Flowers
Abi Beszant of Ivydene Flowers
Char Johnston of Char Johnston Floral
Kat Norbury of Kat's Cut Flowers
Nicola Gibbons of Goose in the Greenhouse
Jess Naish of Lolly & The Hare
Nicola Hill of Gentle Blooms
Suzy Cubitt of Garden to Vase
Rebekah Rixon of Headley Flowers
Michaela Bunting of English Flowers by Michaela
James Greig of Stem & Green Flowers
Donna Selleck of Busy B Blooms
Louise Murray of Hydons Flowers
Rachel Collis of The Rockery
Deborah Mason of Bramshill Flowers
Tracey Bridger of Hedgerow & Bloom
Rachel Baker of Rachel's Farm Flowers
Caroline Oden of The Hidden Gate Blooms
Wendy Rose of The Chalk Rose
Andy Heslop of The Chobham Flower Garden
Chloë Eyers of Honesty Flowers
Tara Wilson of Thistle Cottage Flower Farm
Rachel Baker of Rachel's Flower Farm
Claire Brown of Plantpassion
Alice Antcliff from Meadowfolk
Jill Houston of Little Park Flowers
Katie Stone of Featherstone's English Flower Company
Bex Partridge of Botanical Tales
Camila Klich and Marianne Mogendorff of Wolves Lane Flower Company
Paul and Helen Stickland of Black Shed Flower Farm.