RHS Chelsea 2023: flower farmers bring the British blooms
The world-famous RHS Chelsea Flower Show is the highlight of the horticultural calendar. When Flowers from the Farm exhibited at Chelsea five years ago, over 70 members across the UK teamed up to contribute buckets of flowers to help win a coveted RHS Gold medal and raise awareness of UK flower farming. Read the story here. Since then, flower farmers and farmer-florists from amongst our membership have returned in their own right to showcase their creativity and share the message of local, seasonal cut flowers and sustainable foam-free floristry. Ten Flowers from the Farm members have taken on the Chelsea challenge this year and triumphed in style! Let's take a look…
Floriston Flower Farm, Marlston Farmgirl & The Unwalled Garden: London Gate
Chelsea visitors arriving at London Gate were treated to the sight of the spectacular floral installation by florist Lucy Vail.  Lucy's showstopping design, 'Not Another Blooming Heat Wave', consisted of more than 3000 stems – including tulips, ranunculus, cornflowers and sweet rocket – cut on the flower farms of Floriston Flower Farm, Marlston Farmgirl & The Unwalled Garden. The design represents the unpredictability of global warming and the challenges faced by growers.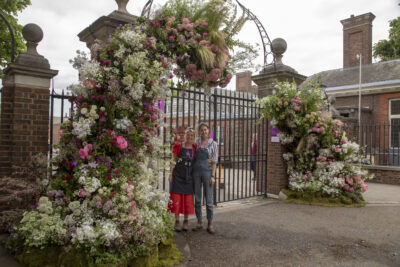 @floristonflowerfarm @marlston_farmgirl @theunwalledgarden 
Dahlia Beach: trade stand
One trade stand stood out from the Chelsea crowd: the bold and beautiful display by Dahlia Beach showcasing their dahlia tuber collections and the new Dahlia Beach merchandise. Wearing a spectacular floral headdress designed by Sophie Powell of @u.f.o.flowers, Andi was singled out by King Charles as deserving a medal as he toured the Chelsea showground with the Director General of the RHS. Andi's priceless reaction has been viewed on Instagram more than half a million times!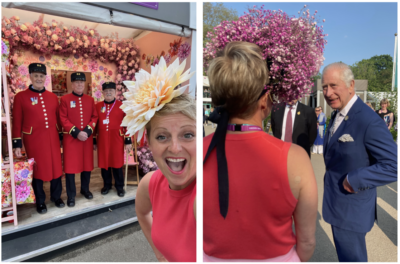 Gentle Blooms: floral exhibit
Buoyed by her experience exhibiting at the Strawberry Hill House Flower Festival, Nicola Hill applied to compete at Chelsea and has scooped a well-deserved Silver-Gilt medal for 'My Floral Soul', her first ever Chelsea exhibit featuring flowers, willow and foliage from her Warwickshire plot. She's been featured on the BBC Chelsea programme as well as on BBC regional TV and radio.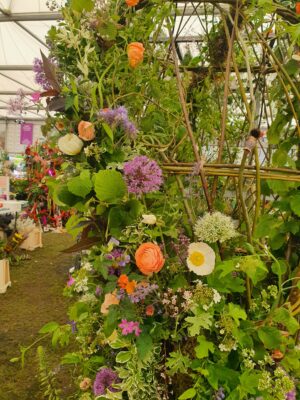 Floral Media: floral exhibit
Paula Routledge scooped an RHS Silver medal for her stunning and thought-provoking exhibit 'Wasting Time'. Every single stem of the blousy peonies, ranunculus, alliums, achillea and persicaria were grown on the nursery she runs in Newark with husband, Steve. Paula hand-crafted the roots for the exhibit to  represent the view that we all need to start putting sustainable roots down to safeguard our planet.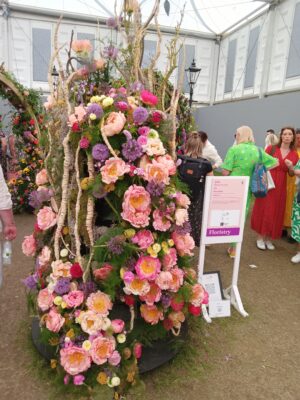 Fierce Blooms – floral installation, Great Pavilion
In her first exhibit at Chelsea, Kathryn Cronin of Fierce Blooms created the installation "Time To Change", a scented seasonal floral compass of fresh and dried ingredients that invites us all to take action to change to a more sustainable floral future, and to break the floral tradition of demanding any flower at any time in any season in any colour from anywhere in the world.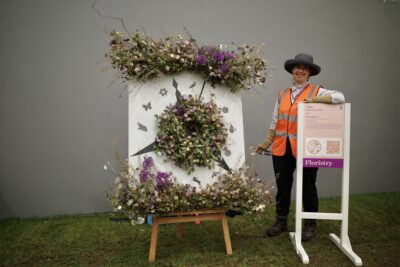 Luna Bloom: nursery exhibit 
Emma Cox of Luna Bloom of Oswestry collaborated with the award-winning local nursery, Claire Austin Hardy Plants, to create the stunning urn arrangements at the heart of Claire's two judged exhibits in Chelsea's Great Pavilion. Emma's designs using the flowers she'd cut on Claire's nursery brought the courtyard garden designs of irises, peonies and perennials together perfectly. They also framed Claire Austin and Joe Swift for their interview on Episode 2 of the BBC Chelsea programme to perfection!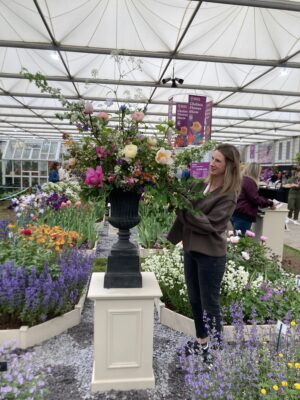 Featherstone's English Flower Company: Chelsea Lates
Invited back by the RHS to run flower workshops during Friday's Chelsea Lates evening session, Jess and Katie Stone of Featherstone's English Flower Company were inundated by show-goers keen to get up close and personal with British cut flowers. The lucky few got to work with mint, alchemilla, sweet peas, phacelia, stocks and orlaya grandiflora from the Hampshire nursery in these popular arrange-along sessions.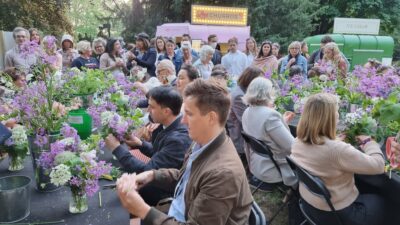 Lunaria – RHS letters
Deborah Bain of Lunaria Somerset took on the honour of decorating the iconic RHS letters at the RHS Chelsea Flower Show this year, commissioned by the Royal Horticultural Society. And what a design she delivered!
"The sculptural walk-through design brings a playful approach to interacting with flowers, plants and gardens," explained Deborah, "bringing together floristry and horticulture with block planting and sculptural form. The design creates sensory stimulus with beautifully fragrant stocks, sweet rocket and thyme, plants to touch such as spiky cypress bordering velvety lambs ear, audible grasses and crunchy paths, contrasts of dark graces adjacent to shimmering leaves and ethereal limonium forms."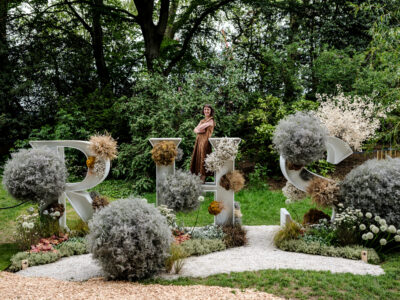 Photo credit: @emmalewisphotographer