Funeral flowers
Lynne Bramwell of The Posy Patch discusses the challenges of creating funeral designs that are both environmentally friendly and cost-effective. She gives examples from her own and other FFtF members' work.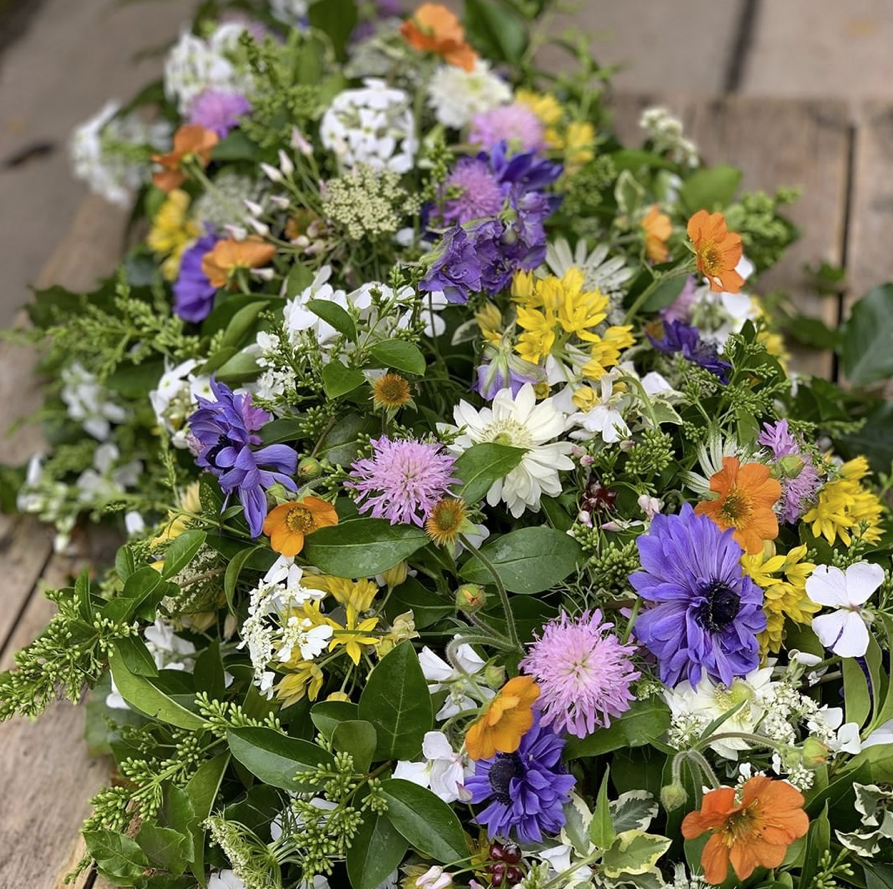 I grow my flowers in a small suburban garden, and primarily use them for funeral arrangements. My son-in-law is a funeral director, so I'm lucky to have his company recommending my services when appropriate.
When I started growing in 2015, I began a floral design course at college at the same time. Initially I didn't think twice about being told to use floral foam, but after a little investigation I found out how appalling it is for the environment. After that I spent a long time looking into alternatives. I started by filling willow frameworks with moss, but then wanted to reduce the amount of moss I was using; so I began mixing in coir fibre, and found hessian to be the best way to hold everything together.
This method worked well but was too time-consuming to be commercially viable. I'm still searching for a sustainable way to create funeral flowers that is as quick and versatile as using floral foam. One compostable option that everyone can provide is a tied sheaf, but I don't believe it's enough to offer this alone. Families want choice, and we should be able to deliver it.
Some inventive designs by other farmer-florists have tackled the problem of how to share flowers after a funeral. Cate Johnson of Green Gate Blooms, for example, has come up with the solution of a basket filled with jars of flowers that can easily be distributed after the service. Carole Patilla of Tuckshop Flowers offers the 'Miriam' casket spray, made up from several bouquets, which can either be left as a single arrangement or later shared out.
One of the options I myself offer is a "coffin blanket": a series of bamboo trays holding flowers secured in AgraWool, which appears as one large arrangement but again can be quickly taken apart after the ceremony. It's not a perfect solution because of the manufacturing process and the transport costs involved, but the whole design is at least fully compostable. Any waste materials can be used to start off seeds and root cuttings, or recycled for other large scale pieces.
I hope to find time to trial another substrate that is environmentally friendly but also quick and cost-effective to produce. I have thought about combining sheep fleece with shredded paper, compressing the materials with the kind of block press designed to make paper bricks for fire-pits. I feel this idea has potential, particularly if the resulting blocks can be rehydrated well. Watch this space…!